Houston Environmental News Update November 24, 2021
Turkey Foot grass & prairies, fried turkeys, Thanks, Understanding Houston data, Buffalo Bayou exhibition, Plastic Reduction Workgroup, Tree-rific Volunteers, All Creation Waits, Green Jobs and more
Happy Thanksgiving!
Last year, we brought you the Turkey Vulture (Cathartes aura or "cleansing breeze). In 2019, we introduced the vegeturkey. Before that, plain ol' wild turkey (Meleagris gallopavo).
This year? Turkeyfoot, a native bunch grass also known as Big Bluestem or Andropogon gerardi.
The grass's seedhead typically has three parts ("racemes") that are thought to resemble a turkey's foot. It can also be identified by its blue-green–or, in winter, russet–stems that are 4-8 feet tall (with roots of a similar length).
Big bluestem/Turkeyfoot is one of the 'big four' grasses that are characteristic of native prairies in the region. The other three grasses are Indiangrass, Switchgrass, and Little Bluestem. Before the mid- 1800's about one million acres of native prairie stretched across the Gulf coast from Louisiana to south Texas. Today, less than 1% of this unique and highly endangered ecosystem remains.
The restoration of prairie lands restores life and provides numerous benefits for the land, people and wildlife. Prairies slow down floodwater, filter stormwater run-off, sequester carbon, and are home to hundreds of grasses and other species.
Groups active in prairie conservation & education
Sources:
---
CEC NOTES
Giving Thanks–for YOU!
You care about our environment–whether it's our air, water, energy, climate, justice, plants, animals, or the future. If you are reading CEC's newsletter, you probably care about all of them. We are grateful that you are part of our community, and for everything you are doing to protect and improve our environment. It is your concern for our environmental community that motivates the CEC to continue its important work. On behalf of the CEC, thank you for caring and making a difference!
With the support of readers like you, the CEC has been able to
These are just a few of the many ways we support the Houston/Gulf Coast environmental community–but we have much more to do! You play a vital role in each of our successes. You can support our work in many ways: share the newsletter with friends, attend our events, or make a donation (on GiveLively or by sending a check to CEC, PO Box 702, Houston, TX 77001). We are grateful for your support.
In conjunction #GivingTuesday (through December 7), you can use Double the Donation to find out whether your company will match your donation.
---
CEC Programs Committee – Call for Volunteers!
Do you love CEC's Green Films events? Are you passionate about the Earth Day Houston festival? Is local environmental education an important part of your work? If so, please consider joining CEC's Programs Committee to help plan and build these exciting programs for the upcoming year. Email paige@cechouston.org to get connected.
---
Professional Development Opportunities for Teachers
Engage your students with lessons outdoors or virtually. Sign up today at hereinhouston.org.
---
Please scroll down to read about public engagement opportunities and notes from our member organizations and the community.
---
OPPORTUNITIES FOR PUBLIC ENGAGEMENT
Oil and Natural Gas Virtual Public Hearing
On Nov. 30, Dec. 1, and Dec. 2, 2021, from 10 a.m.-5 p.m. CT, the U.S. EPA will hold a virtual public hearing on the Agency's proposal to update and strengthen current requirements for new, reconstructed, and modified "sources" in the oil and natural gas industry to reduce emissions of methane and smog-forming volatile organic compounds (VOCs). The proposal would broaden the types of sources covered by the rule, and it would encourage the development and deployment of innovative technologies to further reduce pollution from oil and natural gas sources. For more information and to register, visit eventbrite.com.
---
Texas Trustee Implementation Group Annual Public Meeting
The Texas Trustee Implementation Group will hold its annual public meeting via a webinar on Dec. 1, 2021 at 6 p.m. CT. During the meeting, members will present an update on Texas Restoration Area plans, projects, and activities. There will be opportunities for attendees to submit questions as part of the webinar registration process, and during the Webinar via chat. The webinar is open to everyone. For more information and to register, visit gulfspillrestoration.noaa.gov.
---
Input Requested: San Jacinto Regional Flood Planning Group
The San Jacinto RFPG seeks input from the public regarding the development of a regional flood plan, part of a statewide flood plan. Learn more, submit input, and sign up for updates at sanjacintofloodplanning.org.
---
COALITION & COMMUNITY NOTES
We have endeavored to confirm the opportunities listed below. Please consider confirming directly with the hosts, particularly in light of concerns about the novel coronavirus (COVID-19).
---
Houston Public Works Need Public's Help in Preventing Sewer Overflows
City of Houston's "Protect Our Pipes" campaign reminds the community to dispose of fats, oils, and grease in the trash and to only flush the "3 Ps" – pee, poo, and (toilet) paper, which belong in the toilet. Everything else should go in the trash.
In case you want to recycle all the fats and grease from Thanksgiving (fried turkey, anyone?) rather than tossing, you can find a grease repository near you on Galveston Bay Foundation's Cease the Grease page or the City of Houston's Solid Waste Department's grease page.
You can dispose of leftover cooking waste with these easy steps: pour it in a jar, can, or bag; cool it; and once full, toss it in the trash. Learn more at ProtectOurPipes.org (check out the upgrades to the website–as well as the wastewater page on Engage Houston and Houston Public Works Facebook page).
---
Jennifer Hadayia named Executive Director of Air Alliance Houston
Air Alliance Houston has named Jennifer (Jen) Hadayia, MPA, its new Executive Director. Prior to joining AAH, Hadayia, a native Houstonian, worked in leadership roles at various state and county health departments and non-profit organizations. Most recently, she served as the Senior Director of Public Health at Legacy Community Health Services, where she guided the public health department of the largest Federally Qualified Health Center in Texas to grow in both focus and reach in the middle of a global pandemic. She also worked for several years at Harris County Public Health; while there she directed the design of their first-ever Health Equity strategy.
---
Schlemmer: Coastal Texas Study misses the mark
"As one of the first large-scale infrastructure proposals to address resilience in the Gulf South, if not the United States, the [Coastal Texas Study] represents a singular opportunity to protect some of the communities and ecosystems in our country that are most vulnerable to climate change. But for greater Houston, the most populous and most ethnically and ecologically diverse part of the hurricane-prone Gulf region, the proposal misses the mark," writes Kristen Schlemmer, legal director and waterkeeper for Bayou City Waterkeeper, in "Surging Ahead" for the Rice Design Alliance. Read the full opinion piece at ricedesignalliance.org.
---
Understanding Houston releases new environmental data
Understanding Houston has released new data about the greater Houston area's air and water quality and climate change impacts which affect residents' environment, health and future well-being. To read and download the full report, visit understandinghouston.org.
---
Buffalo Bayou: River of Life exhibition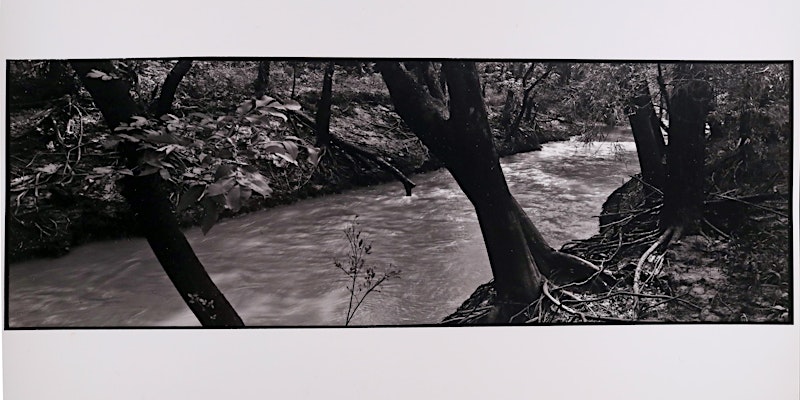 Through November 28, on Saturday and Sunday from noon-6 p.m., the exhibition Buffalo Bayou: River of Life is on view at Flatland Gallery, 1709 Westheimer Road. The exhibit features photographs and artworks by Geoff Winningham, Janice Freeman, George O. Jackson, Jim Olive and Henry Stark and photography and monoprints, 2009-2017, by Houston schoolchildren. See this video about Winningham's work along the bayou.
---
Plastic Reduction Workgroup Seeking Participants from Restaurants, Manufacturers, Delivery Services, and More
Trash Free Texas is working with Texas-based restaurants, third-party delivery services, and manufacturers to identify win-win strategies to reduce the use of single-use plastic, helping partners save money, reduce litter, and clean up communities. Beginning in late November 2021, the Plastic Reduction Work Group will meet online to discuss the challenges, opportunities, and resources available to restaurants, third-party delivery services, and manufacturers to reduce the frequency of single-use plastic use. Through these discussions, the project team will develop a Tool Kit of best practices to aid partners in implementing plastic reduction strategies, as well as Case Studies that highlight the great work already being done. Interested parties can choose to adopt those strategies, helping the project team collect data to better understand which methods are most effective for restaurants. A general overview meeting will be held Nov. 30, 2021, at 2 p.m., where participants will discuss the project and begin identifying strategies for reducing the use of single-use plastics. Registration is required. To join the Work Group email list or to learn more about the project, email Kathy Janhsen at kathy.janhsen@h-gac.com.
---
Lights Out, Houston!
Through Nov. 30, 2021, Houston Audubon invites the public to participate in Lights Out, Houston for the fall migration season. Houston Audubon's Lights Out for Birds Program, part of Lights Out Texas. Turn your non-essential, exterior lights off from 11 p.m.-6 a.m. throughout spring and fall migrations. Learn more at houstonaudublog.org.
---
Tree-Rific Volunteers
On Dec. 1 and 15, 2021, from 9-10 a.m., Mercer Botanic Gardens invites volunteers to care for nursery trees by giving them some tender love and care. The work is outdoors, so come prepared to get your hands dirty. Bring gloves and a refillable water bottle. Meet at The Mercer Society's Horticultural Propagation Center, approximately one mile from Mercer at 3602 Hirschfield Road in Spring. Register online at hcp4.net/mercer/events. For more information, call 281-353-8100 or email legacytrees@hcp4.net.
---
All Creation Waits book discussion group
On Wednesdays from Dec. 1-22, 2021, Christ the King Evangelical Lutheran Church will host an online discussion of the book All Creation Waits by Gayle Boss. The book features intimate, beautifully-written portraits of wild animals and their adaptations to the cold and dark of winter. Boss sees in these creatures lessons for adapting to the "winters" in our own lives. Although intended as a devotional for the Christian season of Advent, the book is suitable for people of all faiths, or no faith at all. For more information and to register, visit eventbrite.com.
---
Growing Kid-Friendly Communities
On Dec. 2, 2021, beginning at 9 a.m., the Houston-Galveston Area Council will host a Fall Planning Workshop for local governments featuring presentations on planning best practices for communities. The topic will be Growing Kid-Friendly Communities, with a focus on safety and strong communities. To register, visit zoom.us.
---
Birds of Houston
On Dec. 2, 2021, from noon-1 p.m., the Houston Public Library and Houston Audubon will present a webinar about the amazing array of birds soaring over Houston's parks and nesting in residents' backyards. Presented in collaboration with the December Older Adult Book Club, this is a virtual event with limited spots; registration is required to attend on Zoom. Learn more and register at houstonlibrary.libcal.com.
---
2021 Texas Children in Nature Network Summit
From Dec. 2-3, 2021, Texas Children in Nature will hold its 2021 Summit, with the theme "Inspiring Leaders for Healthier, Happier, and Smarter Kids," at the Botanical Research Institute of Texas and Fort Worth Botanic Garden. The Summit will bring together health, education, built environment, faith and conservation community leaders to shape an even brighter future for the children of Texas. TCiNN will convene over 250 community leaders to strengthen the network and develop opportunities and policies that will connect more children and families in nature. For more information and to register, visit texaschildreninnature.org.
---
Take Care of Texas Video Contest
The Take Care of Texas Video Contest is back for 2021! Texas students in grades 6 – 12 are invited to create a 30-second video about how they take care of the environment, using data from our website. The sky is the creative limit, so the most original, entertaining, and thought-provoking young filmmakers will receive prizes and scholarships. The contest begins September 13, Participating students must upload their entry on or before 4 p.m. Friday, Dec. 3, 2021, with the required documents. For some inspiration, see previous winning entries here. Find the full contest rules and other important information at takecareoftexas.org.
---
Sylvan Rodriguez Park Tree Planting Event
On Dec. 4, 2021, from 9 a.m.-noon, Houston Parks and Recreation Department will host tree planting event at Sylvan Rodriguez Park, 1201 Clear Lake City Blvd. Volunteers will plant 450 native trees in the habitat restoration area. Be sure to bring a refillable water bottle, along with shoes, gloves, and clothes that can get muddy. Pre-registration is required. Register by emailing NaturalResources@houstontx.gov
---
Unplugged Adventure: Foraging the Prairie at Rock Hollow
On Dec. 4, 2021, from 9 a.m.-1 p.m., the Katy Prairie Conservancy will host a walk through the historic Rock Hollow Prairie with foraging expert Dr. Mark "Merriwether" Vorderbruggen. During this adventure, participants will learn which prairie plants are edible and which ones have medicinal properties while exploring a portion of the historic Warren ranch, which is only accessible during scheduled events. For more information and to register, visit katyprairie.org.
---
2021 Winter Farm Dinner
On Dec. 4, 2021, from 4:30-8:30 p.m., Blackwood Living (which supports CEC member Blackwood Educational Land Institute) is hosting its 2021 Winter Farm Dinner at the Institute grounds in Hempstead. The event features Chef Cade Conlon of Longspoon Catering & Education, who has has created a five-course menu which blends tradition and experimentation, seasonal eating in a region with quirky seasons, and honors the fruits of regenerative agriculture practice for us as individuals and as a collective. For more information and to purchase tickets, visit blackwoodliving.com.
---
Environmental Justice Video Challenge for Students
EPA and partners have launched the Environmental Justice (EJ) Video Challenge for Students to enhance communities' capacity to address environmental and public health inequities. The goals of the challenge are to 1) inspire students at accredited colleges and universities in the United States and its territories to work directly with communities in the identification and characterization of EJ challenges using data and publicly available tools, and 2) help communities (including residents and other stakeholders) address EJ challenges and/or vulnerabilities to environmental and public health hazards using data and publicly available tools. A webinar about the challenge will be held on Dec. 6, 2021, from 11 a.m.-noon CT. Learn more about the challenge and how to participate at epa.gov.
---
NOAA Marine Debris Program Art Contest and Calendar
The NOAA Marine Debris Program holds an annual art contest to reach K-8 students and help raise awareness about marine debris. The resulting calendar, featuring the winning artwork, provides a daily reminder of how important it is for us to be responsible stewards of the ocean. Students are highly encouraged to check out resources on this website for information about marine debris. All students in kindergarten through eighth grade from all U.S. states and territories in recognized public, private, and home schools are eligible to participate. Entries are due by Dec. 10, 2021. For full rules and entry information, visit marinedebris.noaa.gov.
---
My Time at the Texas Parks and Wildlife Department in Houston
In the latest Houston & Nature podcast, Nivien Salah speaks with Ted Hollingsworth, director of the Land Conservation Program of the Texas Parks and Wildlife Department. He describes his work while stationed in Houston in the 1990s and early 2000s, including maintaining assets like the San Jacinto Battleground. Listen to the episode at houstonnature.com.
---
Reminders About Ongoing Opportunities
Living the Change Discussion Group. Through Dec. 14, 2021, the Interfaith Environmental Network of Houston is hosting a weekly virtual discussion group in which participants can consider how they can reduce greenhouse gas emissions related to energy, transportation and food, based on the Walk on Earth Gently principles. For more information and to register, visit eventbrite.com.
Your Body Your Air. The Houston Public Library invites you to learn about types and sources of air pollution in Houston and the effect they have on our bodies in The Health Museum's new exhibit Your Body Your Air. Created in partnership with the Environmental Defense Fund, Your Body Your Air can be seen at various Houston Public Library locations through February 2022. Learn more at houstonlibrary.org.
---
TV: Texas Parks & Wildlife
Broadcast on KUHT Channel 8 at 3 p.m. each Saturday and on municipal access cable channels in Baytown, Deer Park, Houston, Texas City, Galveston, Nassau Bay, Pasadena, Seabrook, Sugar Land, and on HCC TV. More info on the TPWD website (* indicates a segment about the Houston area). For a preview, visit TPWD's YouTube Page.
The San Antonio Zoo breeds threatened Texas horned lizards with the hope of restoring them to landscapes that may once again support them. See some captive lizards take their first steps of freedom in this bold experiment
In an urbanizing state with limited public lands, accessing the outdoors can be a tough task. But a new program, in partnership with participating landowners, is helping paddlers and anglers access rivers like never before
Alex Ahrens loves to explore trails throughout Texas, but when he is not hiking, Alex enjoys woodworking. So he has found a way to combine his passions and bring his love of the outdoors into his woodshop—preserving the places he loves to hike as wooden map mementos
Armed with a smartphone and a savvy for social media, one Austin urbanite's outdoor experience might be a little different than his grandfather's, but getting outside can still fit with a modern, urban lifestyle
Additional Upcoming Events
---
Check out the latest Green Jobs at cechouston.org/green-jobs/.