Houston Environmental News Update November 25, 2020
Turkey Vulture=Cleansing Breeze. BIG Fall Meeting, Digital Now for Resource Professionals, Bays and Bayous Symposium, Sampling the City Bike Rides, Region 4 Science Conference, Green Jobs, and more
Happy Thanksgiving!
Last year for Thanksgiving, we brought you the vegeturkey. This year: the Turkey Vulture, because don't we all need help with cleaning up?
Turkey vultures eat carrion almost exclusively, using their sense of smell to find sustenance. Despite their association with stink, Turkey Vulture's scientific name, Cathartes aura, means "cleansing breeze" or "purifying wind," from the Greek words cathartes (catharsis or cleansing purification) and aura (breeze).
If you want to learn more about Turkey Vultures, including why they defecate on their legs, the potency of their stomach acids, midnight regulations and protections for migratory birds, and how to distinguish Turkey Vultures from Black Vultures, read on:
Next week, we will share more bird content, with information about Christmas Bird Counts.
In addition to thoughts of birds, this holiday makes us thankful for you, our readers, who care enough about the environment to read a weekly newsletter with an almost excessive amount of information about environmental opportunities in the region.
We are also grateful to our supporters who have given time, talent, and treasure to help CEC connect our environmental community. 2020 has been a year full of disruptions—from the pandemic to the global call for social justice. With your support, we have been able to continue our work publishing this newsletter, curating content for our website and social media, producing two film festivals showcasing local films, providing professional development to hundreds of teachers, and hosting dozens of interns and volunteers. Thank you!
The photo above, Turkey Vulture, Cathartes aura, Photo 87148935, by Thaddeus Charles Jones, is licensed under CC BY-NC. You might also see Spreading His Wings. Cathartes Aura (turkey vulture) by RS2Photography on flickr, licensed under CC BY-NC-ND 2.0.
---
Please scroll down to read about public engagement opportunities and notes from our member organizations and the community.
---
CEC NOTES
---
Houston Climate Action Plan Educational Outreach Partners Workshop
On Dec. 11, 2020, from 9 a.m.-1 p.m., join CEC and the City of Houston to leverage community resources and create strategic opportunities for Houston-area youth to engage in civic conversations and actions around climate resilience. This virtual, collaborative planning workshop is for all Houston informal educators and community engagement coordinators. Details and free registration via eventbrite.com.
---
Virtually Wild! Field Trips
CEC is excited to partner with Houston Community Partnerships & Engagement and the National Park Foundation to deliver Virtually WILD! Join Student Conservation Association intern Emma Wilson every Tuesday and Urban Ranger Felice Yarbough every Wednesday from a different regional location. Meet the wildlife that live there, and the people working to protect them. Corresponding activities and videos for students, as well as a full schedule, are available at hereinhouston.org.
---
EarthShare of Texas and AnthepLife fundraising partnership
EarthShare of Texas is excited to announce a new fundraising partnership with AnthepLife, a handmade apparel company based in Texas. AnthepLife will contribute 10% of its holiday profits to EarthShare of Texas and its participating organizations, including CEC. EarthShare of Texas is a
501(c)(3) nonprofit federation, raising and distributing funds to qualifying member charities. Check out AntepLife and start shopping. The fundraising partnership only lasts until January 31, 2021.
---
Old CEC Newsletters?
Because of COVID-19 restrictions, CEC does not currently have access to our archive of old newsletters, which are maintained at the University of Houston and the Houston Public Library. Until we are able to access our archives, we are looking for copies of newsletters from 1970-1985, 2000, 2001, 2005, 2006. Our records are incomplete in 1994, 1996, 2002-2004, 2007, 2008. If you have any newsletters from these years, please email rachel@cechouston.org.
---
Wild About Houston Green Film Festival
The CEC was proud to host the third annual Wild About Houston Green Film Festival. You can watch all the films again, and then vote for the Fan Favorite! Watch the 2020 October and November programs on the CEC YouTube page. Then, vote for your favorite film to be included in the CEC virtual presentation of the Wild and Scenic Film Festival on Tour on January 29, 2021. Vote via Google Forms by #GivingTuesday (December 1), and remember to renew your support for CEC.
---
PUBLIC PARTICIPATION OPPORTUNITIES
Learn more about public participation opportunities at cechouston.org/public-participation-opportunities/.
---
Dec. 3, 2020: H-GAC Public Meeting on Regional Transportation Issues
H-GAC will hold a virtual public meeting to discuss important new updates affecting transportation such as the 2045 Regional Transportation Plan, updates to the agency's process to mitigate congestion and the Public Participation Plan. The meeting will take place at 6 p.m. on Wednesday, Dec. 3, 2020. H-GAC experts will present on the meeting topics, after which attendees will have the opportunity to ask questions and make public comments. The public comment period for these topics opens on Nov. 23 and will close on Jan. 7, 2021. Find more information, including how to access the meeting, at h-gac.com.
---
Public Meetings on Coastal Texas Study
The United States Army Corps of Engineers and the Texas General Land Office recently released plans for the Draft Feasibility Report and Draft Environmental Impact Statement of the Coastal Texas Protection and Restoration Study, also known as the Coastal Texas Study. Public meetings are scheduled on Dec. 3, and Dec. 8, 2020 (beginning at 11 a.m. and 6 p.m. each day). The 45-day public review period continues through Dec. 14, 2020. Find the documents and information on how to access the public meetings at swg.usace.army.mil. NOTE: Several area environmental groups have created a petition to extend the public comment period. Find the petition at seaturtles.org.
---
Through Dec. 9, 2020: North Houston (I-45) Highway Improvement Project MOU
The Houston-Galveston Area Council's Transportation Policy Council is seeking feedback on the Memorandum of Understanding between the key cooperating entities on the proposed North Houston (I-45) Highway Improvement Project. For more information, visit ih45northandmore.com or h-gac.com. Comments will be accepted until Dec. 9, 2020.
---
COALITION & COMMUNITY NOTES
We have endeavored to confirm the opportunities listed below. Please consider confirming directly with the hosts, particularly in light of concerns about the novel coronavirus (COVID-19).
Final Report: Economic Impacts of Water Quality
Severe Harmful Algal Blooms (HAB) occurred in the Gulf of Mexico between 2015 and 2019, when multiple HAB events fouled waters, ruined vacations and caused respiratory distress for vulnerable residents and visitors. The Gulf of Mexico Alliance undertook a project focused on quantifying the linkages between economic outcomes and Gulf of Mexico coastal health, specifically HABs, with results intended to enable resource managers and their state and federal partners to quantify the economic implications for HABs and their avoidance, and assess restoration investments and/or management actions. The final project report is now available at constantcontact.com.
---
Oil Spills and Harmful Algae Blooms
The Gulf of Mexico Research Initiative recently released a new outreach publication, "Oil Spills and Harmful Algal Blooms: Disasters with shared consequences for communities". Natural and human-caused disasters like harmful algal blooms and oil spills are a part of life for many coastal communities. The report compares these two types of marine disasters, exploring connections between the two and comparing and contrasting their impacts to public health and the economies of nearby communities. To read or download, go to masgc.org.
---
HARC unveils "State of the Bay" website
The Houston Advanced Research Center (HARC) recently unveiled a new website platform for State of the Bay, 4th Edition. State of the Bay, sponsored by Texas Commission on Environmental Quality's (TCEQ) Galveston Bay Estuary Program (GBEP), is a resource for historical context and up-to-date analysis of the conditions in and around Galveston Bay. The State of the Bay includes analysis based on datasets available through December 2017. The State of the Bay website is a reference for scientists, managers, and decision makers that combines a legacy of scientific monitoring and analysis with current data analysis, visualization tools, maps, success stories, and a database of GBEP supported projects. To see the new website, visit stateofgalvbay.org.
---
SFA Sustainability Degree Program
Stephen F. Austin State University offers an online bachelor's degree in sustainability, designed to accommodate community college transfers or other students wanting to stay in their hometown location. The degree builds core competencies in sustainability, including local field experiences/internships in community development, grant writing, renewable energy, or sustainability assessment and monitoring. The degree offers flexibility to choose courses that fit students' interests and schedules, merging environmental studies with economic, social and technical themes. For more information, please visit sfasu.edu or email Dr. Bill Forbes at forbesw@sfasu.edu. Additionally, the Master of Interdisciplinary Studies now has a fully online option to combine graduate courses in sustainability with those in business, geographic information systems, public administration, and social work or social science. A certificate in nonprofit management may be obtained within that program. For more information, visit sfasu.edu.
---
Woodland Park Fall Cleanup
Through Nov. 29, 2020, the Friends of Woodland Park are hosting self-organized, socially-distanced, come-when-you-like park cleanups. Woodland Park is home to diverse wildlife and is a unique hiking and recreation oasis open to all, but it suffers from excess debris, particularly during rainy periods. Learn more about prizes, guidelines, safety, and this jewel of a park near the intersection of I-45 and I-10 at friendsofwoodlandpark.org.
---
Texas Environmental Literacy Series
The Children's Environmental Literacy Program is offering its Texas Environmental Literacy Series, which explores sustainability through the lens of the environment, equity and economics. Guest teachers will share "bright spots" that model best practices to leverage these 3E's into virtual and/or hybrid K-12 classrooms. Participants will walk away from each session with ready-to-use student activities focusing on the foundations of sustainability. Remaining sessions will be held on Dec. 1, 2020, and Jan. 9, 2021. For more information and to register, visit celfeducation.org.
---
Bacteria Implementation Group (BIG) Fall Meeting
On Dec. 1, 2020, beginning at 1 p.m., the Houston-Galveston Area Council's Bacteria Implementation Group (BIG) will hold its fall meeting virtually. Topics will include the 2020 annual report, BIG Implementation Plan revisions, and Total Maximum Daily Load updates. To register, visit zoom.us.
---
THEA Greater Fifth Ward Community Meeting
On Dec. 1, 2020, beginning at 5:30 p.m., Texas Health and Environment Association, Inc. will hold a virtual community meeting to discuss the latest developments in the Greater Fifth Ward. For more information and to register, visit zoom.us.
---
The Digital Now for Natural Resource Professionals: Online in the 21st Century
From Dec. 1-2, 2020, the Texas Water Resources Institute will host a conference about how natural resources professionals involved in outreach and education can learn how to connect the consumer to important information we provide; to understand how content is found, how conversations and learning networks start, how to be discovered and what constitutes quality outreach. For more information and to register, visit twri.tamu.edu.
---
2020 Bays and Bayous Symposium
From Dec.1-3, the 2020 Bays and Bayous Symposium will be held virtually. The theme for the virtual event is "Sound Science, Sound Policy: A 2020 Vision for the Future," focusing on (but not limited to) coastal science research, education and outreach in the northern Gulf of Mexico. Scientists from universities, NGOs and government agencies share their research findings at the event, and leaders from coastal municipalities showcase their resilience and conservation efforts. Educators and extension professionals also present their research and successful outreach efforts. For more information and to register, visit baysandbayous.org.
---
TCiN Summit: Birding in the Barrio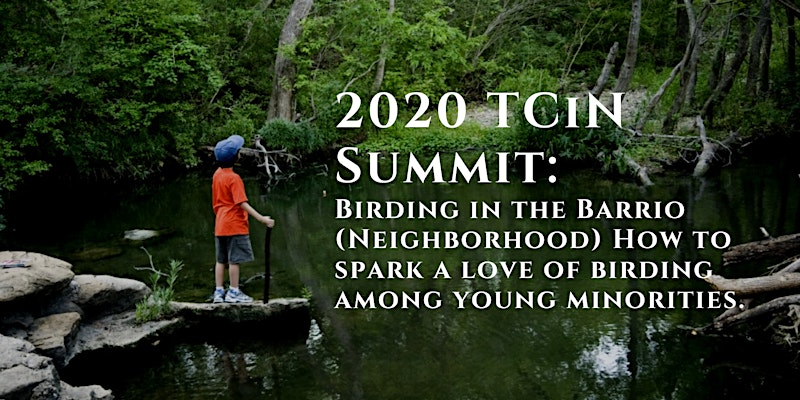 On Dec. 2, 2020, at 2 p.m. and 7 p.m., Texas Children in Nature will present a webinar called "Birding in the Barrio" on the importance of diversity for the new generation of birders and ways to help minority birders overcome the fear of birding. The presentation will also explain how The Texas Blue Jay Project helps introduce birdwatching to minorities and low-income children and teens in the communities. For more information and to register, visit eventbrite.com.
---
2020 Prairie Stampede
On Dec. 2, 2020, from 5:30-8:30 p.m., the Native Prairies Association of Texas, Houston Chapter will present the 2020 Prairie Stampede virtually. The event is a celebration of actions to save, restore and teach about prairies in the greater Houston-Galveston region. For more information and to register, visit houstonprairie.org.
---
2020 Texas Women and Girls in STEM Summit
On Dec. 4, 2020, the Texas Girls Collaborative Project will hold the 2020 Texas Women and Girls STEM Summit. The summit is designed to share best practices, connect organizations and individuals, and showcase outstanding efforts to increase the number of girls in STEM and support the retention of women in STEM careers. STEM professionals and all who are engaged in education, outreach, recruitment, and/or retention of women and girls in STEM are invited to participate. For more information and to register, visit txgcp.org.
---
Houston Audubon Young Professionals Advisory Council applications due Dec. 4
Houston Audubon is seeking young professionals who are natural leaders, hard workers, and passionate about conservation for its 2021 Young Professionals Advisory Council. The goal of the YPAC is to engage the next generation of conservationists and to build awareness of Houston Audubon's mission among young professionals. Applicants do not necessarily need to be birders or knowledgeable about birds. For more information and to apply, visit houstonaudubon.org. Applicants may also send an email to ypac@houstonaudubon.org. Applications are being accepted through Dec. 4, 2020.
---
Take Care of Texas Student Video Contest
The Texas Commission on Environmental Quality (TCEQ) invites students in 6th through 12th grades to enter the annual Take Care of Texas Video Contest. Student videos should be 30 seconds long and portray positive ways Texans can help keep air and water clean, conserve water and energy, or reduce waste. The contest deadline is Dec. 4, 2020, and the public will have the opportunity to pick their favorite videos Jan. 18-29, 2021. There will be six winners. Waste Management of Texas, Inc. will provide prizes–GoPro cameras and scholarships. The middle and high school students who win first place will be recognized by the TCEQ Commissioners and representatives from Waste Management of Texas, Inc.
---
THEA Petition: San Jacinto River Waste Pits
The Texas Health and Environment Alliance (THEA) invites you to learn about their concerns regarding the San Jacinto River Waste Pits Superfund Site. While progress has been made, THEA is urging the EPA to ensure that the toxic material is handled safely at every phase of the process. This includes safety measures for the workers handling the waste, best management practices to protect the environment, a careful plan for transporting the waste on our roadways, and proper disposal of the waste such that it will not negatively affect public health at its new location.
THEA has organized a petition to demonstrate community support.
Glenbrook Park Volunteer Tree Planting
On Dec. 5, from 9 a.m.-noon, the Houston Parks & Recreation Department's Natural Resources Management Program will host a volunteer tree planting event at Glenbrook Park, 8201 N Bayou Drive. Shovels will be provide. Be sure to bring a refillable water bottle, along with shoes, gloves, and clothes that can get muddy. Pre-registration is required. Register by emailing Naturalresources@houstontx.gov.
---
Sampling the City Social Bike Rides
On Dec. 5, 2020, beginning at 10 a.m., Air Alliance Houston will host a series of social bicycle rides all around the city. These small groups (limited to 12 riders) will cruise along as the route captain uses a personal air monitor to collect air quality data which will be mapped and aggregated for future analysis. Registration is limited due to COVID, requires either a minimum donation of $50 or a pledge to fundraise at least $150 for the campaign, and includes an AAH-branded aluminum water bottle. For more information and to register, visit airalliancehouston.org.
---
Social Change Scientists Video Competition
Enter the McMac Cx, Air Champions – Social Change Scientists Video Competition. Simply create a 30 to 90 second video about air quality using provided prompts, and enter using this Google form . A winner will be announced at the Citizens' Environmental Coalition's Green Film Series event on Jan. 29, 2021. The winner will receive a state-of-the-art Flow Personal Pollution Monitor (PPM) valued at $150.00 from McMac Cx. Questions? Want to be on the selection committee? Want to learn more about Air Champions? Contact David McLean at david.maclean@mcmaccx.net or read the details on the Google form.
---
Region 4 Science Conference
The Region 4 Education Service Center will hold the 13th Annual Region 4 Science Conference virtually on Dec. 2, 2020. "The Future of Science in Texas" will explore K–12 instructional strategies, assessment, and technology applications in science. Participate in research-based student learning strategies that integrate inquiry investigation with hands-on activities, collaborative and cooperative methods, and the 5 E instructional model. For more information about the conference and to register, visit esc4.net.
---
Submit your Ideas for Texas Restoration Area Planning
The Texas Trustee Implementation Group is beginning the process of considering restoration activities that will address injuries caused by the Deepwater Horizon oil spill. Through Dec. 10, 2020, the Implementation Group is seeking restoration project ideas that benefit wetland, coastal, and nearshore habitats, and living coastal and marine resources, and restore water quality through nonpoint source nutrient reduction in the Texas Restoration Area. In our next restoration plan, a range of projects will be considered to address injuries to these restoration types: wetlands, coastal, and nearshore habitats; nutrient reduction (nonpoint source); oysters; sea turtles; and birds. Additional information on these restoration types is available in Chapter 5 of the Trustee Council's Programmatic Restoration Plan, and the Strategic Frameworks for birds, oysters, and sea turtles.
---
Application for Harris County Community Flood Resilience Task Force
On behalf of the first five members of the Community Flood Resilience Task Force (CFRTF), Harris County is pleased to announce that applications are now open for the remaining task force positions. The CFRTF is looking for multi-disciplinary members who are committed to serving the community and represent the geographic, gender, age, racial, and ethnic diversity of Harris County. These members will join the first five nominees—Bill Callegari, Iris Gonzalez, Lisa Gonzalez, Dr. Earthea Nance, and Bob Rehak—in furthering effective flood resiliency efforts across the County. If you are interested in serving on this Task Force, please submit an application at CFRTF.harriscountytx.gov, by December 11, 2020.
NOAA Marine Debris Art Contest
The NOAA Marine Debris Program's annual art contest, designed to reach K-8 students and help raise awareness about marine debris, is now open for entries. The resulting calendar, featuring the winning artwork, provides a daily reminder of how important it is for us to be responsible stewards of the ocean. All students in kindergarten through eighth grade from all U.S. states and territories in recognized public, private, and home schools are eligible to participate. The deadline for submissions is Dec. 15, 2020. For more information, visit marinedebris.noaa.gov.
---
Citizen Science Program for Bird Observation
The Audubon Society's Texas Estuarine Resource Network (TERN) and the Harris County Department of Education are collaborating to bring a community-based citizen science program to prepare teachers and students in grades 5-12 as field researchers for bird observations. Participation in the project comes with field guides, binoculars, and a birding expert to help you learn the observation protocol. If your school is within walking distance of a waterway (pond, bayou, creek, ditch) please contact Lisa Felske (lfelske@hcde-texas.org) to inquire about the program.
---
S.P.L.A.Sh Marine Debris Education Program
S.P.L.A.Sh.(Stopping Plastic Litter Along Shorelines) is creating and sharing educational programming about marine debris, the effects it has on our environment, and how we can help stop it. With its curriculum of lessons, data collection, and beach cleanups, it aims to clean up Texas shorelines while also teaching children about science and nature. They are now looking for teachers and schools who would be interested in teaming up to give these lessons and experiences to students. Contact Celeste Silling at csilling@gcbo.org for information.
---
Recurring Events with Changing Content
Virtually WILD! field trips
Virtually WILD! offers the community a chance to interact with conservationists and wildlife live every week. On Tuesday, Dec. 1, learn about technology and digital monitoring of ecosystems Corresponding activities and archived videos, as well as registration details, are available at hereinhouston.org.
---
ABNC "Nature as Nature" blog
The Armand Bayou Nature Center offers its "Nature as Normal" blog as a means to "remember that things are still happening as normal in the bigger picture, and that we'll all be back to normal soon too." Photographs by award-winning kayaking photographer Gary Seloff and ABNC Volunteer Photo Walk Leader Lyman Brown, with commentary by ABNC's Conservation Director and Chief Naturalist, Mark Kramer. The latest entry is titled
"Pelican Outpost". Find all of the blog entries at abnc.org.
---
"Houston and Nature" podcast
In the latest "Houston and Nature" podcast, Nivien Saleh speaks with Jerry Hamby, a lead volunteer at Exploration Green in Clear Lake. He tells us how the park has come about, why it means so much to him, and why he will leave it in just a short period of time. Hear the latest episode at houstonnature.com.
---
TV: Texas Parks & Wildlife
Broadcast on KUHT Channel 8 at 3 p.m. each Saturday and on municipal access cable channels in Baytown, Deer Park, Houston, Texas City, Galveston, Nassau Bay, Pasadena, Seabrook, Sugar Land, and on HCC TV. More info on the TPWD website (* indicates a segment about the Houston area). For a preview, visit TPWD's YouTube Page.
Some owls in El Paso have a fancy new home, complete with a surveillance system, which gives biologists a bird's-eye view of owl life. Meet Lois Balin, the urban wildlife biologist who's helping keep an eye on the owls
Pronghorn antelope populations in west Texas have wavered in recent years. Using satellite tracking data, biologists are finding new information and solutions to help the Pronghorns
Follow along with some biologists that are worried about the tiny Pecos Pupfish that is on the edge of extinction. We'll also take a trip to the Fort Worth Zoo to see how breeding these fish in captivity
Bison babies start out 'small' before they get big. See some little ones as the roam on the Roam Ranch near Fredericksburg
Additional Upcoming Events
---
Check out the latest Green Jobs at cechouston.org/green-jobs/.