What's scariest, Vote, Food Waste, Art of Saving Sea Turtles, Float the Boat, Volunteer Planting at Exploration Green, Green Jobs, and more
About 1.3 billion pounds of pumpkins are produced each year in the United States. Many of them, rather than being eaten or composted, end up as food waste headed to landfills. The Intergovernmental Panel on Climate Change (IPCC) indicates that agriculture, forestry, and other land use (AFOLU) account for 26% of greenhouse gas emissions–and food waste (including scary pumpkins) is responsible for more than a third of those emissions. About a third of all food is never eaten, making those emissions even more shameful.
Does the pumpkin look a little scarier?
The good news? According to Project Drawdown, reducing food waste can be an important part of reducing emissions, although it will take large scale, infrastructure change change and individual action to accomplish such reductions. Here are a few tips:
Comment on the City of Houston Draft Long-Range Solid Waste Plan (comments due on Halloween).
When you search the web for food waste compost collection services in the Houston region, you will find multiple options around the region.
Second Servings is Houston's only prepared and perishable food rescue organization.
The Produce Rescue Center is part of an innovative new program that combines reducing food insecurity, fresh veggies (and fresher veggies longer), reducing food waste, gleaners, volunteer, compost, and innovation. Partners include the Montgomery County Food Bank, Living Earth composting, local community colleges, and Dow Chemical. For more info, read "Good Food in Landfills: A Solvable Problem" by Jennifer Ronk, and learn how you can do more.
For now, vote–or talk a few people into voting. See you on the other side of the election.
Please scroll down to read about public engagement opportunities and notes from our member organizations and the community.
---
CEC NOTES
Virtually Wild! Field Trips
CEC is excited to partner with Houston Community Partnerships & Engagement and the National Park Foundation to deliver Virtually WILD! Join Student Conservation Association intern Emma Wilson every Tuesday and Urban Ranger Felice Yarbough every Wednesday from a different regional location. Meet the wildlife that live there, and the people working to protect them. Corresponding activities and videos for students, as well as a full schedule, are available at hereinhouston.org. Here's one example:
---
Wild About Houston Green Film Festival
The CEC is proud to host the third annual Wild About Houston Green Film Festival. The virtual festival will tell the story of local environmental issues, their champions and how you can make a difference. This year, the number and quality of film submissions was so great that CEC will host two nights of programming. The second night will be November 18, 2020, with a whole new lineup of films. A few of the best local films will be shown at the January 2021 Wild and Scenic Film Festival on Tour. Tune in to the live program to vote for your favorite film, or register to receive a link to watch the on-demand program later. Register at eventbrite.com. If you are interested in sponsorship, visit cechouston.org.
---
Support the environment through workplace giving
If you work for employers such as the City of Houston, the State of Texas, or HISD, among many other public and private workplaces, remember that the fall is campaign season for most employee workplace giving programs. Employees are offered the chance to select from many charitable organizations to support through payroll contributions. You can give to CEC via EarthShare of Texas, as one of 60 local, regional and national environmental organizations supported by EarthShare of Texas. You can designate individual organizations or let EarthShare of Texas divide it equally among their participating organizations. A complete list of participating workplaces is available at www.earthshare-texas.org. For more information about EarthShare of Texas, including information about how your organization can offer workplace giving, please visit www.earthshare-texas.org or call 800-GREENTX. Look for the the CEC's code number under the EarthShare of Texas heading in workplace giving campaign literature at all state agencies (035569), at HISD (0111) and at the City of Houston (1413). Please consider CEC in your workplace giving program!
---
Be CEC's Neighbor at MECA
CEC's office is at MECA (Multicultural Education and Counseling for the Arts) in the historic Dow School in the Old Sixth Ward off of Memorial Drive just outside of downtown. Studios (aka classrooms) are available, including one right next to CEC! (We might even share our conference room.) Learn more at meca-houston.org or email rachel@cechouston.org to get the scoop.
---
PUBLIC PARTICIPATION OPPORTUNITIES
Learn more about public participation opportunities at cechouston.org/public-participation-opportunities/.
Through Oct. 30, 2020: Texas House of Representatives seeks testimony regarding aggregate mining
The recently formed Texans for Responsible Aggregate Mining (TRAM) is a statewide coalition of member groups (including CEC member organizations Bayou Land Conservancy, Bayou City Waterkeeper and Air Alliance Houston) seeking to work with lawmakers, state agencies, and good-faith industry operators to create state standards for best management practices in the rapidly expanding Aggregate Production Operation (APO) industry, and adopt those standards into law. TRAM's goal is to create a healthier, safer and more desirable community for Texans as well as a more efficient APO industry that is aligned with the concerns of the communities in which they operate. TRAM invites members of the public to submit written testimony to the Texas House of Representatives Interim Committee on Aggregate Production Operations by Oct. 30, 2020. Learn more here.
---
Texas Trustee Implementation Group Annual Public Meeting
On Nov. 4, 2020, the Texas Trustee Implementation Group for the Deepwater Horizon Oil Spill will hold its 2020 annual public meeting on via an online video presentation. The presentation will include updates on the Texas Trustee Implementation Group's current restoration planning efforts and several ongoing restoration projects, and will describe future planning efforts. The video presentation may be viewed at any time from 12:00 a.m. to 11:59 p.m. and can be viewed an unlimited number of times. The public will have the opportunity view the video, and provide comments related to the presentation topics during the same date and times through the Texas Parks and Wildlife Department's public comment portal under the heading "Texas TIG Annual Meeting Video Presentation." For more information, visit gulfspillrestoration.noaa.gov.
---
COALITION & COMMUNITY NOTES
We have endeavored to confirm the opportunities listed below. Please consider confirming directly with the hosts, particularly in light of concerns about the novel coronavirus (COVID-19).
Gulf Coast Water Conservation Symposium
Through Oct. 29, 2020, the Houston Advanced Research Center (HARC) is hosting the 9th Annual Gulf Coast Water Conservation Symposium, with the theme "Integrating Water Management on the Texas Gulf Coast: Moving Forward with a One Water Approach". This year's symposium is focused on case studies and tools to help attendees identify challenges and solutions for successfully managing water as an integrated resource. For more information and to register, visit harcresearch.networkforgood.com.
---
2020 Art of Saving Sea Turtles
On Oct. 29, 2020, from 5:30-6:30 p.m., the Turtle Island Restoration Network will hold its annual Art of Saving Sea Turtles fundraising event virtually. The event celebrates local sea turtle conservation and community art and helps raise critical funds to support Turtle Island Restoration Network's sea turtle conservation programs in the Gulf and on Galveston Island. To register for the free event, visit act.seaturtles.org.
---
Sunnyside Community Solar Town Hall
On Oct. 29, 2020, at 6:30 p.m., the Sunnyside Community Energy project will hold holding a virtual Town Hall that will provide an update on the project's progress to date and answer attendees' questions about next steps. To register, visit zoom.us.
---
Local Foods, Local Places planning assistance applications now open
Through Oct. 30, 2020, communities are invited to apply for a new round of planning assistance from the Local Foods, Local Places program, which is supported by the U.S. Department of Agriculture and the U.S. Environmental Protection Agency. Local Foods, Local Places helps communities revitalize neighborhoods through development of local food systems. For more information, visit epa.gov.
Artist Boat's Float the Boat
This year, Artist Boat's signature Float the Boat fundraising event will move from a one evening event to a dinner series from Oct. 30 to Nov. 14, 2020. The theme this year is Under the Stars and On the Prairie. Attendees will be meeting under the stars, on the coastal prairie, at Artist Boat Coastal Heritage Preserve over six dinner events honoring Joe and Becca Jaworski. The six evenings will be designed to be socially distanced and safe. The event also includes an online action. For full details and to purchase tables, visit artistboat.org.
---
Houston Botanic Garden Opening: Celebrating the Mediterranean
On Oct. 31, 2020, the Houston Botanic Garden will continue its series of opening season weekends with special educational opportunities that will showcase Houston's cultural richness and biodiversity, focusing on the Mediterranean region. The event will include a virtual lecture on the influence of Persian gardens, from Lisa Balabanlilar, Ph.D., associate professor in the Department of History at Rice University, children's activities, and more. For more information, visit hbg.org.
---
Volunteer Planting at Exploration Green
On Oct. 31, 2020, from 8 a.m.-noon, Exploration Green will host a volunteer tree planting event in Phase 2 (between Reseda Drive and El Dorado Blvd) near the entrance on Reseda Drive and Diana Lane. Please wear sturdy shoes or boots and bring your own work gloves, refillable water bottle, and snacks. Tasks range from heavy to light; there is a job for everybody. Please RSVP to Susan Parker at egcvol2@gmail.com if you plan to attend. Planting groups will be restricted to four volunteers, ages 15 and older. Masks will be required.
---
Youth-Led Discussion on Equity, Diversity, & Inclusion in the Outdoors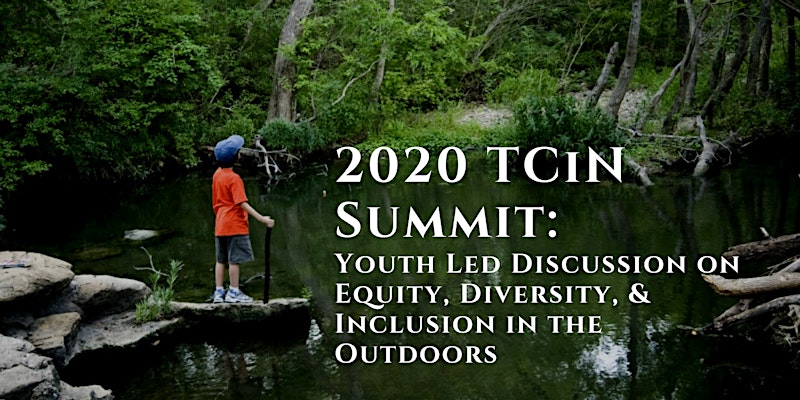 On Nov. 4, 2020, Texas Children in Nature will host two training sessions for educators, at 2 p.m. and 7 p.m., with youth leaders from the Austin Parks and Recreation Department Park Ranger Cadet Program to discuss the intersections of racial equity, connecting to the outdoors, and outdoor careers. The goal is to help the environmental field and nature-focused organizations become more inclusive, diverse and representative of all communities. For more information and to register, visit eventbrite.com.
Buffalo Bayou Partnership Picnic
On Nov. 5, 2020, from 6-9 p.m., the Buffalo Bayou Partnership will host a socially distanced
picnic in place of its annual fundraising gala at The Water Works in Buffalo Bayou Park, 105 Sabine Street. Alternatively, they will deliver a picnic for you to enjoy at home while tuning into the virtual program, which celebrates the fifth anniversary. For more information and to purchase tickets, visit buffalobayou.org.
---
Greentown Labs Climatetech Summit
From Nov. 5-6, 2020, Greentown Labs (which recently announced its new location in Houston), will hold its Climatetech Summit, a "a deep dive into scaling climate action." The virtual summit will bring together entrepreneurs, investors, business leaders, policymakers, startup support organizations, and other climate champions to chart a holistic approach to building a sustainable future for all. For more information and to register, visit greentownlabs.com.
---
CAST Reimagined 2020
From Nov. 5-7, 2020, the Texas Association for Environmental Education will hold its annual Conference for the Advancement of Science Teaching virtually. "CAST Reimagined 2020" will be a fully virtual experience with 150 recorded sessions broadcast over three days, on-demand content available within minutes and access to all content for weeks after the event. For more information and to register, visit s6.goeshow.com.
---
Open Ocean Trustee Implementation Group Annual Meeting
The Open Ocean Trustee Implementation Group will hold its annual public meeting via an interactive webinar on Nov. 5, 2020, from 11 a.m.-noon. During this meeting, the Group will present updates on the Open Ocean Restoration Area's restoration and monitoring and adaptive management activities. The Group will also provide an opportunity for questions and answers after the updates are presented. For more information and to register, visit gulfspillrestoration.noaa.gov.
---
Community Outdoor Outreach Program grants available
Texas Parks & Wildlife's Community Outdoor Outreach Program is now accepting applications for outdoor education programming. CO-OP grants provide funding to tax-exempt organizations for programming that engages under-represented populations in TPWD mission-oriented outdoor recreation, conservation and environmental education activities. Grant awards range between $5,000 – $30,000 for eligible activities that take place between March 1, 2021 – September 1, 2022. Applications are available now via the RGO 2020 system and the deadline is Nov. 6, 2020 at 5 p.m. For more information and to apply, please visit tpwd.texas.gov.
---
Texas Arbor Day at Mercer Aboretum
On Nov. 6, 2020, from 1-4 p.m., celebrate Texas Arbor Day among the trees at Mercer's West Side Arboretum with a tree planting demonstration and receive a complimentary sapling while supplies last. Bring your tree questions and get expert advice from a certified arborist. Register online now at www.hcp4.net/legacytrees/ to Foster Your Own Legacy Tree and we'll have your tree ready to take home. Learn about the Legacy Tree Program, hike along the arboretum trails, and more. There's outdoor fun for the entire family. Registration is required, as space is limited. To register or for more information, call 713-274-4160.
---
Volunteer Tree Planting at Sylvan Rodriguez Park
On Nov. 7, 2020, from 9 a.m.-noon, the Houston Parks & Recreation Department's Natural Resources Management Program will host a volunteer tree planting event at Sylvan Rodriguez Park, 1201 Clear Lake City Blvd. We will provide shovels. Be sure to bring a refillable water bottle, along with shoes, gloves, and clothes that can get muddy. Pre-registration is required. Register by emailing Naturalresources@houstontx.gov. For more information, visit volunteermatch.org.
---
Folks 'N Oysters Virtual Happy Hour
On Nov. 7, 2020, from 5:30-7 p.m., Bayou City Waterkeeper will hold its Folks 'N Oysters Happy Hour virtually. The annual fundraiser will celebrate the area's watersheds and honor Sharron Stewart – a founding member of Bayou City Waterkeeper, current board chair, and renowned Texas activist. Local chefs, including Chef Matt Baum of Grace's and Chef Jared Harvey of Downhouse, will prepare their specialty oyster dishes in a cooking demo for you to enjoy. For more information and to purchase tickets, visit bayoucitywaterkeeper.org.
---
Call for Presentations: Region 4 Science Conference
The Region 4 Education Service Center invites science educators to submit presentation proposals for the 13th Annual Region 4 Science Conference that will occur virtually on December 2, 2020. The theme for this year's conference is "The Future of Science in Texas". Region 4 encourages educators to showcase content and strategies targeted to how science is transforming as we move forward in a hybrid environment that includes face-to-face and virtual. Presenter Applications should be submitted before Nov. 9, 2020. Registration fees will be waived for lead presenters. For more information about the conference and to submit a proposal, visit esc4.net.
---
Submit your Ideas for Texas Restoration Area Planning
The Texas Trustee Implementation Group is beginning the process of considering restoration activities that will address injuries caused by the Deepwater Horizon oil spill. Through Dec. 10, 2020, the Implementation Group is seeking restoration project ideas that benefit wetland, coastal, and nearshore habitats, and living coastal and marine resources, and restore water quality through nonpoint source nutrient reduction in the Texas Restoration Area. In our next restoration plan, a range of projects will be considered to address injuries to these restoration types: wetlands, coastal, and nearshore habitats; nutrient reduction (nonpoint source); oysters; sea turtles; and birds. Additional information on these restoration types is available in Chapter 5 of the Trustee Council's Programmatic Restoration Plan, and the Strategic Frameworks for birds, oysters, and sea turtles.
---
Lights Out for Birds
Most North American migratory birds fly at night, and lights on buildings can disorient birds on their paths, resulting in fatal collisions. The Upper Texas Coast plays a key role on the Central Flyway, an important migratory path for birds. Birds that move along and across the Gulf of Mexico depend on safe passage through the Houston-Galveston area. Through Nov. 15, Houston Audubon is participating in "Lights Out for Birds," an effort to reduce light pollution in the region. For more information and to make a pledge to help reduce light pollution, visit houstonaudubon.org.
---
The Path of Hope: A Study on Climate Action for Faith Communities
On Tuesdays through Nov. 17, 2020, the Interfaith Environmental Network of Houston is presenting 15-minute videos featuring interviews with U.S. faith leaders, representatives of climate-impacted communities from the global South, and presentations by UN officials and other experts. The series focuses on how climate change is impacting the core ministries of faith communities around the world, how those impacts will increase in the future, and why these impacts create an imperative for people of faith to advocate for strong US climate action. For more information and to register, visit eventbrite.com. Contact Lisa Brenskelle at gcs.lrc@gmail.com for more information.
---
Power Tools For Nonprofits registration now open
From Nov. 17-18, 2020, the annual Power Tools for Nonprofits conference will be presented by CenterPoint Energy with community partners, United Way of Greater Houston, and the University of Houston Downtown as a full, high-quality conference all online and easily accessible. The conference will feature experts and insights across a variety of topics of most importance to nonprofit organizations working in these most unusual times. Topics will include Advocacy & Community Engagement, Diversity, Equity & Inclusion, Fundraising, Leadership, Management, and Personal Development. For more information and to register, visit eventsquid.com.
---
AAMA Graphic Design Assistance for Nonprofits
The Association for the Advancement of Mexican Americans' Work and Learn Center teaches opportunity youth graphic design through its Youth Enterprise Design Studio. Participating youth, ages 16 – 24, are not enrolled in school, employed, or in a job training program. The Youth Enterprise Design Studio supports these passionate students while providing valuable career and hands-on experience. The students create a variety of designs and branding materials for local businesses and non-profits, ensuring that your vision becomes a reality. You can help support participants by providing experience working with clients. If you are interested in supporting AAMA's students with your graphic design needs, please contact Jacob Saenz for a consultation at jsaenz@aama.org or at (218) 932–4661. Be on the lookout for the great work they have been doing for the CEC!
---
Recurring Events with Changing Content
Virtually WILD! field trips
Virtually WILD! offers the community a chance to interact with conservationists and wildlife live every week. This Tuesday, Nov. 3, travel to the Wildlife Center of Texas to meet wildlife rehabilitation experts. On Wednesday, Nov. 4, travel to a national wildlife refuge for a longer program on land conservation. Corresponding activities and archived videos, as well as registration details, are available at hereinhouston.org.
ABNC "Nature as Nature" blog
The Armand Bayou Nature Center offers its "Nature as Normal" blog as a means to "remember that things are still happening as normal in the bigger picture, and that we'll all be back to normal soon too." Each entry features photographs by award-winning kayaking photographer Gary Seloff and ABNC Volunteer Photo Walk Leader Lyman Brown, with commentary by ABNC's Conservation Director and Chief Naturalist, Mark Kramer. The latest entry is titled "Night Heron Departures". Find all of the blog entries at abnc.org.
---
TV: Texas Parks & Wildlife
Broadcast on KUHT Channel 8 at 3 p.m. each Saturday and on municipal access cable channels in Baytown, Deer Park, Houston, Texas City, Galveston, Nassau Bay, Pasadena, Seabrook, Sugar Land, and on HCC TV. More info on the TPWD website (* indicates a segment about the Houston area). For a preview, visit TPWD's YouTube Page.
There's lots to see at Colorado Bend State Park, including the flowing waters of Spicewood Springs
Additional Upcoming Events
---
Check out the latest Green Jobs at cechouston.org/green-jobs/.