Houston Environmental News Update August 3, 2022
National Oyster Day, Summer of Action continues, Great American Outdoors Day, OHBAPalooza, Moth Night, Offshore Wind, Green Jobs, and more
Dear Friends,
Since there's a day for everything, it's only right that Friday, August 5 is National Oyster Day. Designed to celebrate oysters as a delicacy, the event encourages folks to go to their favorite seafood restaurants or the many oyster festivals around the country for a taste of the salty, and – some say, aphrodisiac – mollusks.
(Speaking of festivals, our friends in the Great White North got a jump on us last week with the Halifax Oyster Festival, where a photograph of a certain mascot went viral. Check it out, if you dare.)
Here along the Texas Gulf Coast, of course, we love our oysters. Oyster harvesting is a major contributor to our economy and to Houston's celebrated food scene. As such, we take an active interest in protecting oysters in our bays and the Gulf of Mexico.
But it turns out that oysters can play a vital role in protecting our coast. As the Galveston Bay Foundation notes, one oyster filters 50 gallons of water a day helping to remove unwanted pollutants.
"That is why Galveston Bay Foundation's Oyster Shell Recycling Program is so important. It focuses on increasing the population of Eastern oysters by returning shucked oyster shells collected from local restaurants back to Galveston Bay to create new oyster habitat and a healthier Bay for all, " according to the GBF website. Learn more about the program and other ways they protect our shorelines at galvbay.org or watch this video.
Top image: Galveston Bay Foundation
---
CEC NOTES
Summer of Action 2022
Our Summer of Action is halfway over, and we're proud to report that the June community listening sessions and July skill-building sessions were a huge success. If you missed it, surf over to Houston Climate Movement's YouTube page to check out the event recordings.
Next on the agenda: virtual meetings with Members of Congress to advocate for Bipartisan Infrastructure Legislation funding in support climate resilience investments in our region. Please register at Eventbrite for these and other Summer of Action events, including the Houston Community Climate Summit at Rice University on September 10.
---
CEC seeks partner organizations for fall Candidate Forum
CEC is looking for member organizations to partner with us in hosting a Candidate Forum on October 2 focused on environmental issues. If you or your organization is interested in teaming up, please send an email to charlotte.cisneros@cechouston.org.
---
Meet new CEC Executive Director Charlotte Cisneros!
Please join the Citizens' Environmental Community and its members on August 4, from 5-8 p.m., as we publicly welcome new Executive Director Charlotte Cisneros during a Happy Hour at White Rhino, 319 Milby St. in the East End. In addition to connecting over a cold beverage, we will also provide information on upcoming CEC events and programs, and learn how White Rhino contributes to conservation and sustainability efforts. For more information, see the Facebook event.
---
Professional Development Opportunities for Teachers
Join fellow environmental educators every other Friday morning for a quick check-in to collaborate. The next meeting is August 12, beginning at 8:30 a.m. Bring your coffee (or tea) and ideas for things that are working in your programs (or questions about things that are not). The Zoom call is hosted by regional board members from the Texas Association for Environmental Education. Email Alicia.Mein@pct3.hctx.net or cwilems@galvbay.org for Zoom link and any questions.
---
Virtually Wild! Texas Student Learning Programs
Region 4 Education Service Center partners with the Virtually Wild! Texas team to provide students with engaging and interactive TEKS-aligned virtual environmental education field trips that highlight careers in conservation. These free 45-minute programs are live, and teachers and students are encouraged to engage with natural resources professionals by asking questions. Topics vary by program and have included endangered species, animal adaptations, habitat exploration, wildlife crime investigations, and more! Public, private, homeschool, hospitals, and education sites are welcome to view. See program listings and register at esc4.net.
---
Other opportunities:
---
Please scroll down to read about public engagement opportunities and notes from our member organizations and the community.
---
OPPORTUNITIES FOR PUBLIC ENGAGEMENT
---
White House Environmental Justice Advisory Council Public Meeting
On August 3-4, from approximately 2 – 6:30 pm. Central Time each day, the White House Environmental Justice Advisory Council will hold a public meeting. This free meeting is open to all members of the public. Individual registration is required and is available through the scheduled end time of the meeting day. The WHEJAC is interested in receiving public comments specific to the development of an annual public performance scorecard and the types of indicators or data that would be useful in a scorecard. This scorecard will provide a method for evaluation and accountability to assess the Federal Government's progress in addressing current and historic environmental injustice. Learn more and register for the meeting at epa.gov.
---
Harris County flood risk reduction funds surveys
The Harris County Community Services Department is collecting feedback from communities on how to prioritize the $750 million in promised CDBG-MIT funds. The Committees recently submitted this letter to request that the Method of Distribution strongly prioritize flood risk reduction projects. You can find out more at HarrisRecovery.org, and the surveys, in English and Spanish, are open throughout the summer.
---
---
Public Comment on Harris County Storm Conveyance Tunnels proposal
The Harris County Flood Control District is seeking public comment on the recently released Feasibility Study on the Countywide Large Diameter Tunnels for Stormwater Conveyance, a $30 billion, 133-mile system of 8 large underground tunnels to drain stormwater out of the county's bayous and streams. Public comment will be accepted through September 30. The next phase of the project will include community meetings. Find more information, including the presentation slides and video of a public meeting held in June, at hcfcd.org.
---
Learn about additional public comment opportunities at cechouston.org.
---
---
COALITION & COMMUNITY NOTES
We have endeavored to confirm the opportunities listed below. Please consider confirming directly with the hosts.
---
Former CEC Executive Director Rachel Powers receives Terry Hershey Bayou Stewardship Award
Rachel Powers, who served as executive director of the Citizens' Environmental Coalition for nine years before stepping down last February, has been named the nonprofit sector recipient of the Bayou Preservation Association's 12th Annual Terry Hershey Bayou Stewardship Awards. Before becoming executive director, Rachel served as a CEC volunteer for nine years. Before working at CEC, Rachel was a senior environmental planner for the Houston-Galveston Area Council, managing projects relating to water quality, the Regional Flood Management Council, the Natural Resources Advisory Committee, and the Parks & Natural Areas subcommittee. Before that, she served as the Community Services Coordinator at the Harris County Flood Control District, coordinating communications, parks and trail partnerships, wildflower and tree planting projects, and departmental budget preparation. The 12th Annual Terry Hershey Bayou Stewardship Awards will be presented during a November 1 luncheon at the Junior League of Houston.
---
Daniel Cohan: Surprise Senate deal is a clean energy game changer for Texas, US and the world
"The surprise deal announced Wednesday by Senate Majority Leader Chuck Schumer and Senator Joe Manchin, if passed, would provide the biggest boost ever to clean energy in the United States," Daniel Cohan, Rice University associate professor of civil and environmental engineering, writes in a Houston Chronicle op-ed. "Though far smaller than what the House passed last November, their proposed Inflation Reduction Act is remarkable for supporting nearly every technology needed to curb climate change. However, only by pairing the bill with other key actions can the United States hope to achieve President Biden's ambitious climate goals." Read the full op-ed at houstonchronicle.com. (Photo: Bloomberg / Al Drago)
---
NOAA: Biden Administration launches Heat.gov with tools for communities facing extreme heat
"Today, the Biden Administration through the interagency National Integrated Heat Health Information System (NIHHIS) launched Heat.gov, a new website to provide the public and decision-makers with clear, timely and science-based information to understand and reduce the health risks of extreme heat," NOAA announced in a July 26 press release. "Extreme heat has been the greatest weather-related cause of death in the U.S. for the past 30 years — more than hurricanes, tornadoes, flooding or extreme cold — killing over 700 people per year. In addition, the heat crisis does not affect people equally. Extreme heat mortality disproportionately affects Native American and Black communities, as well as those living in the urban core or very rural neighborhoods, according to the Centers for Disease Control and Prevention (CDC)." Read the full press release at noaa.gov.
---
Texas Trustees approve $39 Million, 13 project restoration plan
The Texas Trustee Implementation Group has approved its Final Restoration Plan/Environmental Assessment #2. The projects in this plan compensate for the injury to natural resources caused by the 2010 Deepwater Horizon oil spill. The 13 projects, with an estimated cost of $39 million, are intended to restore and conserve wetlands, coastal and nearshore habitat; water quality (through nutrient reduction); sea turtles; oysters; and birds injured as a result of the spill. Among the projects are Galveston Island habitat acquisition, landscape scale oyster restoration in Galveston Bay, and an Upper Texas Coast Sea Turtle rehabilitation facility. Learn more, including a full listing of projects, at gulfspillrestoration.noaa.gov.
---
Volunteer Houston offers opportunities
Volunteer Houston, an initiative of Interfaith Ministries of Greater Houston, connects individuals, groups, and companies with nonprofit agencies to transform the Greater Houston community for good through volunteerism. For opportunities to volunteer on environmental projects, visit VolunteerHouston and sort the opportunities by "environmental".
---
Vote for The Woodlands' George Mitchell Nature Preserve in the 2022 Niagara Perk Your Park Contest
The Woodlands Township has an opportunity to receive financial support in constructing a dual-purpose bird blind (a structure that allows for viewing birds without being noticed by the birds) through the Perk Your Park Contest by Niagara Water. Residents interested in helping with this effort are encouraged to vote daily online, as the three winning parks will receive $75,000 toward the upgrade. If awarded funding, the new structure will be located at the Creekside West Trailhead of George Mitchell Nature Preserve in The Woodlands. This blind has been selected as one of 10 projects in the 2022 Niagara Perk Your Park Contest from Niagara Bottling through its charitable program, Niagara Cares, and in partnership with National Recreation and Park Association (NRPA) as an initiative that focuses on park and community space revitalization across the country. Residents can vote for the new project once per day until the polls close September 12. Learn more at thewoodlandstownship-tx.gov.
---
2023 Texas Environmental Excellence Awards applications open until September 23
Each year, the Governor's Office and commissioners from the Texas Commission on Environmental Quality honor the state's most outstanding environmental projects through the Texas Environmental Excellence Awards. Winners from across the state exemplify how Texans set the standard for ensuring clean air, clean water, and the safe management of waste. The application period for the 2023 awards is now open. To see winners from 2013 to 2022, visit the Texas Environmental Excellence Awards webpage. Applications will be accepted through Friday, September 23.
---
Great American Outdoors Day
Following passage and signing of the Great American Outdoors Act in 2020, August 4 is designated each year as Great American Outdoors Day, a free entrance day at national parks and other federal lands. The Great American Outdoors Act enables national parks and other federal lands to repair and upgrade vital infrastructure and facilities that will enrich the visitor experience, protect resources, and enable increased access for all visitors. In Southeast Texas, federal lands include the Big Thicket National Preserve and the Anahuac National Widlife Refuge. (Photo: National Park Service/Scott Sharaga)
---
H-GAC Natural Resources Advisory Committee Meeting
On August 4, from 1:30-3:30 p.m., the Houston-Galveston Area Council's Natural Resources Advisory Committee will hold a meeting at the H-GAC headquarters, 3555 Timmons Ave., and also virtually. The main topic for discussion will be a review of the Draft 2022 Water Quality Management Plan Update. Brian Sims, Senior Planner at H-GAC, will discuss comments received during the public comment period. Registration is required to attend online and requested to attend in person.
---
Watershed Leaders Educator Professional Development
On August 5, from 9 a.m.-3 p.m., Galveston Bay Foundation will host a free educator workshop for to learn how to implement NOAA's Meaningful Watershed Educational Experience (MWEE), a learner-centered framework that focuses on investigations into local environmental issues and leads to informed action. Designed for both K-12 formal and informal educators, attendees will have fun implementing a hands-on MWEE at the Trinity Bay Discovery Center: 12110 FM 2354, Beach City. For more information and to register, visit this Google document.
---
E-Waste Recycling in Kingwood
On August 5, from 9 a.m.-3 p.m., CompuCycle will be at the Kingwood Metro Park & Ride lot, 3210 W Lake Houston Pkwy., to collect and responsibly recycle broken or used electronic items. If you have questions about what you can recycle at this event, visit keepingkingwoodclean.org or call 713-206-0558. If you have further questions, you can contact CompuCycle at 713-869-6700 or email them at info@compucycle.com. This service is sponsored by the City of Houston. However, everyone in the Lake Houston area is encouraged to use this service.
---
2022 EarthEcho Youth Leadership Summit: The Power of Advocasea
From August 5-6, EarthEcho International will host the 2022 EarthEcho Youth Leadership Summit: The Power of Advocasea, which will unite hundreds of young people, ages 13-25, from around the world for learning, networking, and collaboration focused on restoring and protecting our ocean planet. Leveraging EarthEcho's global network of scientists, policy leaders, influencers, and youth change-makers, this free, virtual event will convene a community of youth leaders driving #OceanEcho30x30, an initiative to mobilize support for the protection of 30% of the ocean by 2030. For more information and to register, visit earthecho.org.
---
OHBAPalooza
On August 6, from 8:30 a.m.-3:30 p.m., the Organic Horticulture Benefits Alliance will hold its OHBAPalooza, an organic fair and educational event, at the United Way, 50 Waugh Drive. The event will include presentations on such topics of permaculture, high yield gardening, disease causes, and many more. For the full schedule and a list of speakers and to register, visit ohbaonline.org.
---
Busy Bees on Buffalo Bayou
On August 6, from 9-11 a.m., Buffalo Bayou Partnership will host an activity where participants can get up close and watch bees in action through an observatory beehive. Participants will learn the role of bees in a colony, how honey is made, the life span of a bee, and so much more. Robby Robinson, BBP's Field Operations Manager, who has nearly 50 years of experience beekeeping, will share his knowledge about raising bees along Buffalo Bayou. For more information and to register, visit buffalobayou.org.
---
Houston Arboretum Docent Recruitment Open House and Breakfast
On August 6, from 10 a.m.-1 p.m., the Houston Arboretum & Nature Center will hold a docent recruitment open house and breakfast. The Arboretum is recruiting individuals for its upcoming docent trainings to prepare for fall programs. Trainings are scheduled to take place in late August, and they are seeking enthusiastic life-long learners for this opportunity. Formal discussion and Q&A will begin at 11 a.m. For more information and to RSVP, visit houstonarboretum.org.
---
Moth Night at Exploration Green
On August 6, from 8-9 p.m., Exploration Green invites the public to participate in an event to discover what species of moths and other night-flying insects are out and about in Exploration Green. White and UV lights shining on white sheets will attract them where they can be viewed and photographed. In the days after the event, participants will upload our observations to iNaturatlist for identification and so that we can track the species we have found over time. This event is family and pet friendly. For more information, see the Facebook event.
---
Fish Farm to Native Plants: Bayside Regional Park
On August 8, beginning at 6:45 p.m., the Clear Lake chapter of the Native Plant Society of Texas will hold a virtual meeting featuring a presentation by Galveston Bay Area Chapter Master Naturalist and San Leon resident Stennie Meadours and Texas Master Naturalist NPSOT Clear Lake member Sandy Parker, and Texas Master Naturalist Patty Pennington. They will discuss the project that installed native plants in a one-acre area of Bayside Regional Park in an underserved community in Bacliff. For more information and to register, visit npsot.org.
---
Vince Bayou Greenway Open House
On August 9, from 6-7 p.m., Pasadena Parks and Recreation Department will hold an Open House to help shape and reimagine Vince Bayou as the heart of a new Bayou Greenway that includes recreational elements and a hike-and-bike trail between Pasadena's Memorial Park and Strawberry Park. This bilingual family-friendly event will take place at the pavilion in Strawberry Park, 1104 Parkside Dr, Pasadena, with English and Spanish-speaking team members and interpretation support. Children's activities, such as coloring books and an Imagination Playground, as well as snacks, refreshments, and freebies will be available. For more information and to register, visit eventbrite.com.
---
Offshore Wind: The Future of Green Energy
On August 9, from 6-7 p.m., the Houston Maritime Center will hold a panel discussion about offshore wind energy generation, which is quickly becoming a major industry. The benefits of the clean energy are clear but what will it take to make a substantial dent in our power generation? What will it mean for those of us outside of the industry? What will it cost? The discussion will provide learn environmental and industry perspectives on what it will mean for Texas. The event will be held in-person at the Houston Maritime Center, 2311 Canal Street, and virtually. For more information and to register, visit houstonmaritime.org.
---
Beekeeping 101
On August 10, from noon-1 p.m., Buffalo Bayou Partnership will present a lunchtime talk for people interested in learning about beekeeping. Shannon Dietz with Texas A&M AgriLife Extension will discuss the basics of beekeeping, including gear and tools needed, beehive components, and harvesting honey. For more information and to register, visit buffalobayou.org. (USDA photo by Scott Bauer, via Wikipedia)
---
Rewiring Houston to Accelerate the Electrification of Transportation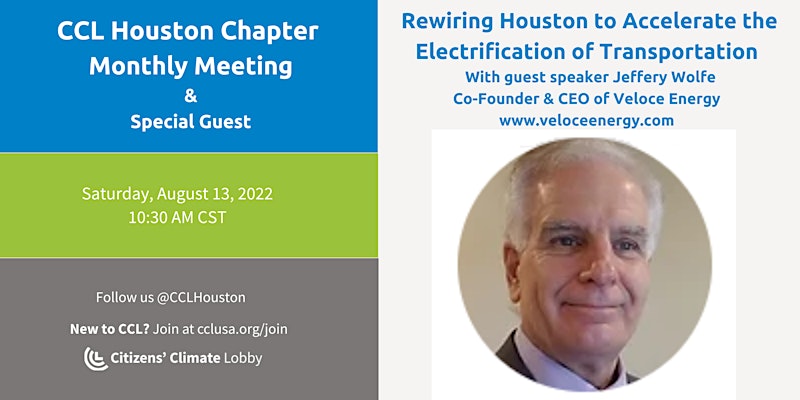 On August 10, from 10:30 a.m.-noon, the Houston chapter of the Citizens' Climate Lobby will hold a meeting featuring a presentation by Jeffery Wolfe, Co-Founder & CEO of Veloce Energy, called "Rewiring Houston to Accelerate the Electrification of Transportation". The meeting will be held at Emerson Unitarian-Universalist Church, 1900 Bering Drive, and also virtually. For more information and to register, visit eventbrite.com.
---
Memorial Park seeks Volunteers
Memorial Park is seeking Volunteers through the Fall. Most of the volunteering will be geared towards native plant species conservation, with a focus on invasive species removal during the summer. There are weekly opportunities to volunteer in the native plant nursery, which grows a large portion of the plants that go into the ground in the park every year. Volunteers work alongside our knowledgeable conservation team towards the goal of environmental restoration. Any experience level is welcome, and tools and training are provided. In August, there is availability on the 12th 18th, 24th, and 25th. Shifts run from 8-10 a.m. during heat advisory days and 8-11 a.m. during the rest of the year. There will be additional dates in August, September and October. All dates can be seen on the signup site at memorialparkconservancy.volunteerhub.com. For any questions, please send an email to volunteer@memorialparkconservancy.org
---
Unplugged Adventure: Ranger Treks on the Prairie
On August 13, from 11:30 a.m.-12:30 p.m. the Coastal Prairie Conservancy will hold a guided nature hike of the Indiangrass Preserve with the theme "Sounds of Summer." Participants will observe and learn about wildflowers, insects, and birds, finishing with pond dip-netting at the prairie potholes. All ages are welcome. For more information and to register, visit coastalprairieconservancy.org.
---
Five for 10 – Buffalo Bayou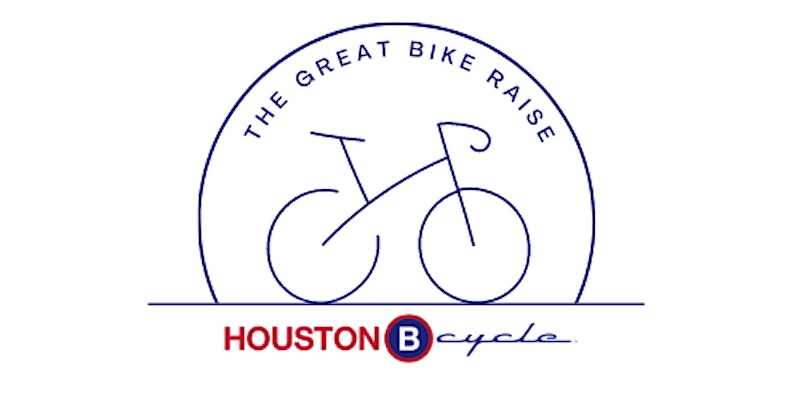 On August 13, from 5:30-8 p.m., in celebration of its 10th Anniversary, Houston BCycle will host the second of its Five for 10 Ride Series, a celebration of biking around Houston. Participants will take a private tour of Buffalo Bayou Park Cistern followed by a bike ride through Buffalo Bayou Park's bike trails leading to Waugh Bridge just before sunset where they will hear from a bat colony expert and watch the bats take flight into the night. For more information and to register, visit eventbrite.com.
---
Purple Martin Migration Watch Party
On August 13, beginning at 7:45 p.m., Houston Audubon will host its first Purple Martin Migration Watch Party of the summer. Purple Martins migrate from South America beginning in late January to nest across North America. Before heading back south for the winter, Purple Martins gather in larger numbers and feed on flying insects to fuel up for their long journey. At dusk, groups of up to 500,000 come together to roost. Grab your friends and family, bring a lawn chair, and enjoy a unique experience. This Watch Party will be held at the Willowbrook Plaza parking lot, 17395 Tomball Parkway. Learn more at houstonaudubon.org.
---
Scholarships available for 2022 Trees for Texas conference
Texas A&M Forest Service is offering scholarships for municipalities and non-profit partners to attend the 2022 Texas Tree Conference, which will be held September 27-29 in Waco. The theme of the conference is "The Changing Seasons of Aboriculture and Urban Forestry." There will be tracks for Commercial, Municipal and Utility Arborists with plenty of time to socialize and visit the exhibitors at the expanded Trade Show. To learn more about the conference and apply for the scholarship, visit isatexas.com. The deadline to apply is 5 p.m. on August 29.
---
H-GAC seeks volunteers for Plogging, Plalking, and Pladdling Pilot Group
The Houston-Galveston Area Council is seeking volunteers to help pilot and provide feedback on newly created resources designed to engage residents and recreationists in the activities of plogging, plalking, pliking and pladdling (picking up trash while doing recreational activities like jogging, walking, biking, or paddling). The project team is looking for local governments, Keep Texas Beautiful affiliates, and recreation groups willing to pilot all or specific portions of the resources and provide their feedback upon completion. The pilot period is open through September with feedback collected via a survey. Participants will be asked how the provided resources helped with the promotion, planning, or implementation of recreational cleanup activities. If you are interested in participating, contact Crysta Guzman or Kendall Guidroz at any time during the pilot period.
---
CONTESTS
Sustainable Solutions Film Fest
Artist statements are due by August 25 for submissions to the 2nd Annual Sustainable Stories Film Fest, which will be held Nov. 9–11 at the University of Houston – Clear Lake. The festival exposes the audience to ideas, concepts and stories of sustainability. This year's focus is on "Sustainable Use of Water and Environmental Activism". All participating pieces have to be about an aspect of sustainability. This does not only include environmental sustainability, such as sustainable water usage, sustainable energy usage, sustainable city planning, sustainable agriculture & gardening, resilience, etc., but also social sustainability and social justice, economic sustainability and educational sustainability. Films about sustainable outdoor fun and recreation and sustainability-themed music videos are also invited to participate. Highlights from this festival will be shown at CEC's Wild About Houston environmental movie night in Summer 2023. For full information and submission guidelines, visit sustainable-stories.org.
---
Youth Innovation Challenge 2022
The Youth Innovation Challenge, hosted by the Global Environmental Education Partnership, gives young people (aged 15–30) around the world a chance to come up with innovative solutions to the pressing environmental issue of marine debris, using EE as a key strategy. They are looking for solutions that are innovative, feasible, and informed by research. Winning solutions will receive global recognition and a $1,000 prize. Proposals must be submitted before September 1 at 11:59 PM U.S. Eastern Time. For more information and to register, visit thegeep.org.
---
Marine Debris Art Contest
Registration is open through September 1 for Artist Boat's Marine Debris Art Contest. Artists and ocean-lovers of all ages can submit pieces to display at the art gallery. Art pieces are comprised primarily of marine debris and demonstrate the effects aquatic trash can have on our oceans and the life that depends on them. Art pieces must be brought to Artist Boat (13330 Settegast Road, Galveston) by September 23. The judging and viewing of the art pieces will be held on Oct, 8 at the Galveston Art League. For full rules and submission guidelines, visit artistboat.org.
---
2022 Get Into Your Sanctuary Photo Contest
The National Marine Sanctuaries 2022 Get Into Your Sanctuary Photo Contest is underway through September 5. All photographers, regardless of skill level or experience, are invited to participate. Each photographer may submit up to 10 photos (minimum of 1200 pixels wide) that tell the stories of the National Marine Sanctuaries, including Texas's own Flower Garden Banks National Marine Sanctuary. Winning photographs will be announced in October 2022 as the Sanctuaries celebrate their 50th anniversary. For full contest rules and submission information, visit sanctuaries.noaa.gov.
---
2022 Wild "InSight" Photo Contest
TWRC Wildlife Center is holding its 4th Wild "InSight" Photo Contest, which raises funds for the Wildlife Center operations and Animal Care Program. Submissions will be accepted through September 26. TWRC Wildlife Center is also seeking sponsors for its 2023 WildInSight Calendar. Contact Anna Saxton for more information. For more information, visit twrcwildlifecenter.org.
---
Reminders About Ongoing Opportunities
Buffalo Bayou Partnership 2022 Summer Species: Bees. Buffalo Bayou Partnership has announced its second annual Summer Species – BEES. Through August, BBP will take the Houston community on a deep dive into these busy little insects. At various locations, experts will lead workshops, walks, talks, and experiential activities for participants of all ages. For the full listing of events, visit buffalobayou.org.
The Architecture of Bees. Through August 26, Architecture Center Houston offers the exhibition The Architecture of Bees in the gallery of its headquarters at 902 Commerce St. Curated by architect and beekeeper Wendy Heger, AIA, The Architecture of Bees is an immersive educational visual arts exhibition that brings together designers, architects, naturalists, and beekeepers to illustrate the importance and influence of bees on human design and construction. For more information, visit aiahouston.org.
Texas Master Naturalistâ"¢ chapters seeking fall volunteers. Several area chapters of the Texas Master Naturalistâ"¢ program – a corps of well-informed volunteers who provide education, outreach, and service dedicated to the beneficial management of natural resources and natural areas within their communities – are seeking volunteers for the fall 2022 training season. Houston-Galveston area chapters include the Galveston Bay Area chapter, the Gulf Coast chapter, and the Lower Trinity River Basin chapter. Learn more at txmn.tamu.edu.
---
TV: Texas Parks & Wildlife
Broadcast on KUHT Channel 8 at 3 p.m. each Saturday and on municipal access cable channels in Baytown, Deer Park, Houston, Texas City, Galveston, Nassau Bay, Pasadena, Seabrook, Sugar Land, and on HCC TV. More info on the TPWD website (* indicates a segment about the Houston area). For a preview, visit TPWD's YouTube Page.
Texas' premier outdoor magazine has seen some changes over the last 80 years. Meet the people who craft it each month and see what it takes to deliver the state's great outdoors to mailboxes, newsstands, and smartphones everywhere
With 5 miles of shoreline, Lake Tawakoni State Park offers visitors access to fishing, boating, swimming, and camping–all within a short drive of Dallas
Scenes from the desert oasis of Hueco Tanks State Park and Historic Site
Additional Upcoming Events
---
Check out the latest Green Jobs at cechouston.org/green-jobs/.