Houston Environmental News Update July 6, 2022
Plastic Free July, All About Ports, Gardening for Bees and Pollinators, Parks and Natural Areas Roundtable, Green Jobs, and more
Dear Friends,
Plastic Free July is a global movement that encourages millions of people to be part of the solution to plastic pollution and do their part for cleaner streets, oceans, and communities. Plastic Free July provides resources and ideas to help you (and millions of others around the world) reduce single-use plastic waste everyday at home, work, school, and even at your local café.
Here in the Upper Texas Gulf Coast region, a host of organizations are holding beach cleanups and other activities to mark the occasion.
Houston Audubon, a member of the Plastic Pollution Prevention Partnership (which also includes Texas Parks and Wildlife, the U.S. Environmental Protection Agency, Galveston Bay Area Master Naturalists, Keep Bolivar Beautiful, the American Bird Conservancy, the Gulf Coast Bird Observatory, and others) has launched the Plastic Free Houston Facebook group for folks and organizations to stay connected and share tips. Read a blog post by Berri Moffett, Conservation Specialist with Houston Audubon, about the importance of Plastic Free July here.
Houston Audubon will host a Plastic/Trash Cleanup Volunteer Work Day at the Edith L Moore Nature Sanctuary on July 23 from 9 a.m.-noon. Learn more and register at houstonaudubon.org.
The Galveston Bay Foundation also will host a family-friendly outreach or cleanup activity during Plastic Free July. Stay tuned to their events listing or more information. In the meantime, check out the Galveston Bay Report Card What You Can Do tool to learn how you can go plastic-free at home, while traveling, when eating out and more.
Houston Zoo is marking Plastic Free July with a sea turtle release. Tune in to Facebook Live on Thursday, July 7 at 11 a.m. to see the Zoo's wildlife-saving efforts in action and learn how you can help save them in the wild.
You are invited to consider joining either the Plastic Free EcoChallenge Lutherans Restoring Creation – Gulf Coast team or the Interfaith Environmental Network of Houston team. Contact Lisa Brenskelle, team captain, at gcs.lrc@gmail.com.
Have tips on other Plastic Free July events? Please send them to news@cechouston.org so that we can pass them along!
Top image: Houston Audubon
---
CEC NOTES
Summer of Action 2022
Our Summer of Action is clipping along, having produced two successful Community Listening Sessions this past week. Next on the agenda is a series of three Skill-Building Sessions designed to empower concerned citizens and local community leaders to advocate for climate resilience funding from the Justice40 initiative and Bipartisan Infrastructure Law.
Thanks to funding from EDF, these events are free and open to the public:
Jul 13 – Introduction to Climate Action
Jul 20 – Bipartisan Infrastructure Law and Justice40 Deep-dive
Jul 27 – Legislative Advocacy 101
Sep 10 – Houston Community Climate Summit at Rice University
Please register at Eventbrite for these and other Summer of Action events. We look forward to seeing you there!
---
Professional Development Opportunities for Teachers
Join fellow environmental educators every other Friday morning for a quick check-in to collaborate. The next meeting is July 15, beginning at 8:30 a.m. Bring your coffee (or tea) and ideas for things that are working in your programs (or questions about things that are not). The Zoom call is hosted by regional board members from the Texas Association for Environmental Education. Email Alicia at Alicia.Mein@pct3.hctx.net for Zoom link and any questions.
---
Virtually Wild! Texas Student Learning Programs
Region 4 Education Service Center partners with the Virtually Wild! Texas team to provide students with engaging and interactive TEKS-aligned virtual environmental education field trips that highlight careers in conservation. These free 45-minute programs are live, and teachers and students are encouraged to engage with natural resources professionals by asking questions. Topics vary by program and have included endangered species, animal adaptations, habitat exploration, wildlife crime investigations, and more! Public, private, homeschool, hospitals, and education sites are welcome to view. See program listings and register at esc4.net.
---
Texas Wildlife Foundation Summer 2022 Teacher Workshops
The Texas Wildlife Foundation is offering Teacher Workshops, both virtual and in-person through July 28. Teacher Workshops are six-hour trainings that introduce attendees to the Texas Wildlife Association, in-class and outdoor lessons and activities, and how to incorporate natural resources into classrooms or programming. Lessons focus on teaching land stewardship, native wildlife, and water conservation and are Science TEKS-aligned for Grades K-8. Learn more and register at texas-wildlife.org.
Other opportunities:
---
Please scroll down to read about public engagement opportunities and notes from our member organizations and the community.
---
OPPORTUNITIES FOR PUBLIC ENGAGEMENT
---
Informational Meeting, Public Hearing for CDBG Regional Mitigation Funds Method of Distribution
Houston-Galveston Area Council staff will hold an informational meeting to discuss a conditionally approved preliminary Method of Distribution (MOD) for $488,762,000 in U.S. Housing and Urban Development Community Development Block Grant (CDBG) Mitigation funds to provide funds to counties and local jurisdictions for risk mitigation projects related to flooding, hurricanes, and other natural disasters. The meeting will be from 5:30 to 7:30 p.m. Thursday, July 14. During the meeting, H-GAC staff will provide an overview of the conditionally approved preliminary MOD, including information about data used in its development, and will answer questions. The meeting is online, and registration is required.
H-GAC staff will take oral and written public comments during a public hearing from 5:30 to 7:30 p.m. Thursday, July 21. The hearing will be at H-GAC, second floor conference rooms, and on Zoom. Registration is requested to attend in person and required to attend online. As it is a public hearing, H-GAC staff is not permitted to respond to any questions or comments during this meeting.
---
Draft Water Quality Management Plan Update Public Comment Period open through July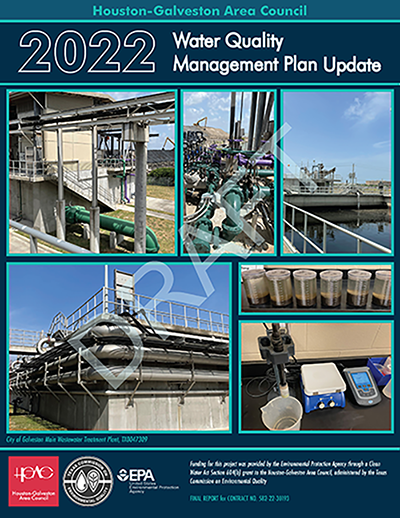 Each year, the Houston-Galveston Area Council conducts water quality management planning as part of a Clean Water Act Section 604(b) grant program funded by the U.S. Environmental Protection Agency through the Texas Commission on Environmental Quality. The Water Quality Management Plan Update describes activities that provide data and analysis regarding wastewater infrastructure, watershed planning, and sources of nonpoint source pollution that affect water quality in the Houston-Galveston region. Data collected through this project form the foundation of H-GAC's watershed-based planning efforts in the region. As part of this process, the Draft Water Quality Management Plan Update is released for a public comment period. The public comment period will close at midnight on Sunday, July 31. The public is invited to provide comments on the report. Written comments can be submitted by email to Brian Sims.
---
Harris County flood risk reduction funds surveys
The Harris County Community Services Department is collecting feedback from communities on how to prioritize the $750 million in promised CDBG-MIT funds. The Committees recently submitted this letter to request that the Method of Distribution strongly prioritize flood risk reduction projects. You can find out more at HarrisRecovery.org, and the surveys, in English and Spanish, are open throughout the summer.
---
---
Public Comment on Harris County Storm Conveyance Tunnels proposal
The Harris County Flood Control District is seeking public comment on the recently released Feasibility Study on the Countywide Large Diameter Tunnels for Stormwater Conveyance, a $30 billion, 133-mile system of 8 large underground tunnels to drain stormwater out of the county's bayous and streams. Public comment will be accepted through September 30. The next phase of the project will include community meetings. Find more information, including the presentation slides and video of a public meeting held in June, at hcfcd.org.
---
Learn about additional public comment opportunities at cechouston.org.
---
---
COALITION & COMMUNITY NOTES
We have endeavored to confirm the opportunities listed below. Please consider confirming directly with the hosts.
---
Texas Climate News: Supreme Court limits EPA authority to reduce greenhouse pollution in major ruling
"The Obama effort, called the Clean Power Plan, was stalled in the courts and then replaced by a weaker Trump administration plan for reducing power plants' emissions. The Trump plan itself was also not in effect in 2021 when the conservative-dominated Supreme Court chose to rule on a lawsuit against the Clean Power Plan," writes Bill Dawson in Texas Climate News. "Alone among the states, Texas had refused even to begin planning to implement the Obama administration plan. Market forces have rapidly reduced climate-disrupting pollution from Texas power plants anyway, with the increased production of wind power and decline of coal-fired production in the state." Read the full story at texasclimatenews.org. (Photo: NRG's coal-fired W.A. Parish Generating Station in Fort Bend County. RM VM, CC BY-SA 4.0, via Wikipedia)
---
Houston Public Media: June 2022 was the hottest June in Houston history
"June didn't just seem hotter than usual – it was. In fact, it was Houston's hottest June on record. The average temperature in June was 86.7℉, a number that accounted for the daily highs and lows. That broke the existing record set in 2011 by half a degree." reports Duaa Faquih for Houston Public Media. Meterologist Eric Berger attributes the record temperatures to both a specific weather pattern and warmer temperatures in the Gulf of Mexico as an effect of climate change. See the full story at houstonpublicmedia.org. (Photo: Allison Lee/Houston Public Media)
---
City of Houston enters Stage One of the Drought Contingency Plan
On June 21, the City of Houston activated Stage One of the Drought Contingency Plan. The Drought Contingency Plan goes into effect when there are higher-than-normal daily temperatures and an observed drop in annual rainfall amounts. During the past month, Houston has experienced record-setting high temperatures above 90 degrees and a significant drop in rainfall. Most of Houston's service area is experiencing moderate to severe drought conditions. The City is making every effort to avoid entering Stage Two of the Drought Contingency Plan, which calls for mandatory water restrictions, and can result in citations and fines. Please help us by taking small steps to prevent this from happening. Learn more, including ways you can help, at publicworks.houstontx.gov.
---
Evidence for small scale Living Shoreline restoration in Galveston Bay
In June, Restore America's Estuaries, Galveston Bay Foundation, and Lee College partnered in a webinar describing a Living Shorelines project in which data was collected at three LS sites to attempt to quantify potential benefits of small-scale restoration projects within the lower Galveston Bay system. The results suggest that living shorelines have important implications for shoreline habitat function and resiliency. Watch the video of the webinar at YouTube.com.
---
Turtle Island Restoration Network joins petition supporting youth-led constitutional climate lawsuit
Turtle Island Restoration Network recently joined a petition—directed to the Biden Department of Justice and Attorney General Merrick Garland—for individuals to call on Attorney General Garland to end the DOJ's opposition to the landmark youth-led constitutional climate lawsuit Juliana v. United States proceeding to trial. Twenty-one young Americans, including 11 Black, Brown, and Indigenous youth, filed the lawsuit against the executive branch of the U.S. government in 2015. Learn more at seaturtles.org.
---
Lone Star Legal Aid's "All About Ports" workshop series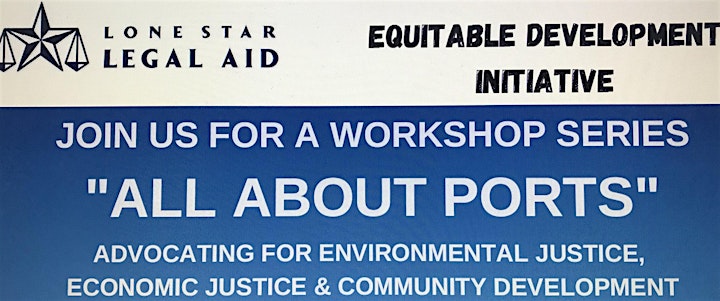 Every Thursday in July beginning July 7, Lone Star Legal Aid's Equitable Development Initiative will host an interactive webinar series about how to advocate for environmental justice and economic justice in communities affected by ports and industry along the Texas Gulf Coast. Topics include port governance, climate change, port expansions, railways, trucking and truck yards, air pollution, environmental nuisances, dredging, advocacy tools, and more. Each webinar will begin at 7 p.m. Learn more and register at eventbrite.com.
---
Residential Energy Dashboard webinar
On July 7, from noon-1 p.m., the U.S. Green Building Council Texas chapter and the Green Building Resource Center will host a webinar featuring Patricia Vega, CEO of Quantum New Energy, who will discuss residential energy dashboards, which can help homeowners manage their energy use more wisely by presenting real data in a coherent fashion. Vega will outline her company's process from conception to current day, and explain how the dashboard works in real time. This event is rescheduled from June. For more information and to register, visit usgbctexas.org.
---
Basin K Nature Walk and Talk
On July 7, from 7-8:30 p.m., the Houston Parks Board will host an evening stroll to catch a glimpse of the flora and fauna along Vogel Creek Greenway and to learn about the unique slope stabilization methods employed at Basin K, a stormwater detention basin in the Inwood Forest neighborhood and one of the main focus areas of the Inwood Recreation Plan Phase One. In addition to receiving a custom nature guide specific to this area that can be used during the walk and in surrounding greenspaces and neighborhoods, participants will enjoy light refreshments and can try their hand at the HPB prize wheel for some fun freebies. For more information and to register, visit houstonparksboard.org.
---
Gardening for Bees and Pollinators
On July 8, from noon-1 p.m., Buffalo Bayou Partnership and Architecture Center Houston will host a lunch and learn talk by Paul Winski, horticulture agent of Texas A&M AgriLife Extension, who will describe the steps needed to create a bee-friendly habitat in your own backyard. For more information and to register, visit buffalobayou.org.
---
Survive the Summer – Solar Ovens and Solar Stills
On July 9, from 11:30 a.m.-12:30 p.m., Coastal Prairie Conservancy will host an Unplugged Adventure in which participants will set up a solar oven and enjoy solar cooked nachos after a guided Ranger Trek around the prairie. All ages are welcome. For more information and to register, visit coastalprairieconservancy.org.
---
Flower Garden Picnic
On July 9, from 6-8 p.m., the Houston Parks Board and Friends of American Legion Park will host a Flower Power Picnic at American Legion Park, 3621 Golf Drive. The event will be a planet-friendly summer picnic featuring a plant swap, environmental education activities, a beer garden, concierge picnic experience, and live music. For more information, visit houstonparksboard.org.
---
Parks and Natural Areas Roundtable
On July 11, beginning at 1:30 p.m., the Houston-Galveston Area Council will hold a Parks and Natural Areas Roundtable at its headquarters at 3555 Timmons Lane. Tracey Prothro with the City of Baytown and Tom Douglas with the Houston Canoe Club will discuss recreational waters around the region and how parks programs can make use of them. For more information, visit h-gac.com.
---
How Does Your Prairie Grow?
On July 11, beginning at 6:30 p.m., the Clear Lake chapter of the Native Plant Society of Texas will hold a virtual meeting featuring Iris Poteet of the Coastal Prairie Conservancy, who will focus on native and non-native plants found in the coastal prairie landscape with some discussion on selectively working to control non-native invasive species. For more information and to register, visit npsot.org.
---
---
ULI Net Zero Imperative – Accelerating Decarbonization
On July 12, from noon-1 p.m., the U.S. Green Building Council Texas will host a webinar featuring Ashley Besic senior manager for the Greenprint Center for Building Performance at the Urban Land Institute, and Phoebe Romero of the City of Austin Office of Sustainability. They will discuss the recommendations from the City of Austin's technical assistance panel and the next steps the city should take to move forward on Austin's Climate Equity Plan. For more information and to register, visit usgbctexas.org.
---
Drones in Environmental Enforcement
On July 14, from 1-4 p.m., the Houston-Galveston Area Council will hold a workshop about using drones in environmental enforcement at its headquarters at 3555 Timmons Lane. For more information and to register, visit h-gac.com.
---
Houston Sierra Club: Update on Sea Turtles in the Gulf of Mexico
On July 14, from 7:30-9 p.m., the Houston chapter of the Sierra Club will hold a virtual meeting featuring a presentation by Joanie Steinhaus, the Gulf Program Director for the Turtle Island Restoration Network. She will provide an update on the situation with sea turtles in the Gulf. The Turtle Island Restoration Network celebrated 30 years of ocean conservation projects in 2019, and this presentation will cover their work in the Gulf of Mexico. For more information and to register, visit meetup.com.
---
Terry Hershey Bayou Stewardship Award nominations due July 15
Each year, the prestigious Terry Hershey Bayou Stewardship Award recognizes individuals in the community who have demonstrated an outstanding commitment to aiding in the conservation, preservation, restoration, and/or advocacy of Houston's waterways. Nominees can be from the non-profit, public, or private sectors. To nominate an individual for the Terry Hershey Bayou Stewardship Award, please complete and submit a digital nomination form to info@bayoupreservation.org. The Award will be presented at the 12th Annual Terry Hershey Bayou Stewardship Award Luncheon on November 1, at the Junior League of Houston. Nominations are open until July 15.
---
Pollinator Walk at Buffalo Bayou Park
On July 16, from 9-10:30 a.m., Buffalo Bayou Patnership will host a guided Pollinator Walk. Dr. Gabriela Sosa, BBP's Conservation Manager, and a representative from Texas A&M AgriLife Extension, will lead participants on a walk along Buffalo Bayou Park to identify those native plants and flowers that attract the necessary pollinators that the Buffalo Bayou ecosystem relies on. For more information and to register, visit buffalobayou.org.
---
World Ocean Day Youth Advisory Council applications due July 27
The World Ocean Day Youth Advisory Council is a group of 20-25 young people from countries around the world who are already actively engaged in ocean conservation efforts in their communities. They come together to share their efforts with each other and the world, develop their leadership skills to strengthen their impact, and inspire millions of other people to take action for our blue planet. The application period for the 2022-2023 cohort is now open through July 27. To learn more about the Council and to apply, visit worldoceanday.org.
---
Program funding opportunity: Improving Coastal Community Resilience with Green Infrastructure
The Gulf of Mexico Alliance's Integrated Planning Cross-Team Initiative seeks to fund a green infrastructure project that will improve community resilience and reduce water pollution in one of three areas in Texas and Louisiana, including Brazoria, Chambers, Galveston, Harris and Jefferson Counties.
Up to $41,000 is available for a 12 month project; matching funds are not required. Applications are due by July 29. Find the full Request for Proposals and Application at gulfofmexicoalliance.org.
---
Texas Master Naturalist™ chapters seeking fall volunteers
The Texas Master Naturalist™ program, funded by Texas Parks and Wildlife and Texas A&M AgriLife Extension, is a corps of well-informed volunteers who provide education, outreach, and service dedicated to the beneficial management of natural resources and natural areas within their communities for the state of Texas. Several chapters are getting ready for a new crop of volunteers to for the fall 2022 training season. Houston-Galveston area chapters include the Galveston Bay Area chapter, the Gulf Coast chapter, and the Lower Trinity River Basin chapter. Learn more at txmn.tamu.edu.
---
Deep in the Heart in Texas theaters
Deep in the Heart, a visually stunning celebration of what makes Texas unique — its diverse landscapes and remarkable wildlife behavior that cannot be found anywhere else in the world, is now in theaters. Narrated by Matthew McConaughey and featuring state-of-the-art cinematography, this family-friendly film journeys from the highest peaks in West Texas, through our aquifers, rivers, and bays, and deep into the Gulf of Mexico. See the trailer. Learn more about the film at deepintheheartwildlife.com. Find a theater near you and purchase tickets here.
---
CONTESTS
Marine Debris Art Contest
Registration is open through September 1 for Artist Boat's Marine Debris Art Contest. Artists and ocean-lovers of all ages can submit pieces to display at the art gallery. Art pieces are comprised primarily of marine debris and demonstrate the effects aquatic trash can have on our oceans and the life that depends on them. Art pieces must be brought to Artist Boat (13330 Settegast Road, Galveston) by September 23. The judging and viewing of the art pieces will be held on Oct, 8 at the Galveston Art League. For full rules and submission guidelines, visit artistboat.org.
---
2022 Get Into Your Sanctuary Photo Contest
The National Marine Sanctuaries 2022 Get Into Your Sanctuary Photo Contest is underway through September 5. All photographers, regardless of skill level or experience, are invited to participate. Each photographer may submit up to 10 photos (minimum of 1200 pixels wide) that tell the stories of the National Marine Sanctuaries, including Texas's own Flower Garden Banks National Marine Sanctuary. Winning photographs will be announced in October 2022 as the Sanctuaries celebrate their 50th anniversary. For full contest rules and submission information, visit sanctuaries.noaa.gov.
---
2022 Wild "InSight" Photo Contest
TWRC Wildlife Center will host its 4th Wild "InSight" Photo Contest to raise money for its Wildlife Center operations and Animal Care Program. You can begin capturing the wildlife living around you now then enter your best photos in the Wild "InSight" Photo Contest when it opens on July 11. Submissions will be accepted through September 26. TWRC Wildlife Center is also seeking sponsors for its 2023 WildInSight Calendar. Contact Anna Saxton for more information. For more information, visit twrcwildlifecenter.org.
---
Reminders About Ongoing Opportunities
Buffalo Bayou Partnership 2022 Summer Species: Bees. Buffalo Bayou Partnership has announced its second annual Summer Species – BEES. Through August, BBP will take the Houston community on a deep dive into these busy little insects. At various locations, experts will lead workshops, walks, talks, and experiential activities for participants of all ages. For the full listing of events, visit buffalobayou.org.
The Architecture of Bees. Through August 26, Architecture Center Houston offers the exhibition The Architecture of Bees in the gallery of its headquarters at 902 Commerce St. Curated by architect and beekeeper Wendy Heger, AIA, The Architecture of Bees is an immersive educational visual arts exhibition that brings together designers, architects, naturalists, and beekeepers to illustrate the importance and influence of bees on human design and construction. For more information, visit aiahouston.org.
---
TV: Texas Parks & Wildlife
Broadcast on KUHT Channel 8 at 3 p.m. each Saturday and on municipal access cable channels in Baytown, Deer Park, Houston, Texas City, Galveston, Nassau Bay, Pasadena, Seabrook, Sugar Land, and on HCC TV. More info on the TPWD website (* indicates a segment about the Houston area). For a preview, visit TPWD's YouTube Page.
The business of oystering has changed a great deal over the last three decades. Meet an oysterman who has endured every hurricane, flood, and drought over that time, and see what is being done to make Texas' bays and oyster fishery more resilient
Visit a Brazos County ranch where management of grasslands and wetland habitat have exemplified land stewardship while rolling out the welcome mat for waterfowl
Sarah Robertson works to keep Texas rivers clean and flowing, which impacts all the living things that depend on the health of these ecosystems to survive
Building materials, natural lighting, and solar panels make Austin's central library a very green building. But the library's greenest feature may be up on top. Its rooftop garden, landscaped with native plants, is a rest stop for library patrons and urban pollinators alike
At the far southeast corner of Texas lies a unique coastal park that is not widely known. From coastal fishing, to crabbing and kayaking the marshland, the sights and sounds of Sea Rim State Park are worth a drive*
Additional Upcoming Events
---
Check out the latest Green Jobs at cechouston.org/green-jobs/.