Houston Environmental News Update May 18, 2022
Renewing ties, Welcome to Clean Water Action, The Architecture of Bees, Food Equity, Houston Bike Summit, Bike to Work Day, Green Jobs, and more
Dear Friends,
As we all know, the past two years have taken a toll on society in innumerable ways, most especially the incredible loss of life and health. The pandemic has also had a huge impact on all of our social and professional connections.
That's also true of the nonprofit sector, which relies on the goodwill of members and contributors to accomplish our good work. In the face of these challenges, we at the Citizens' Environmental Coalition have worked hard to maintain our connections with and among the wider environmental community. We're also undergoing a change in leadership, which of course presents its own challenges.
While the pandemic is by no means over, CEC wants to make a concerted effort this summer to extend a new invitation to our members, both institutional and individual, to reconnect with us and engage with our offerings – whether through our newsetters, online, or events like Earth Day Houston (such as the highly successful one held in April at Discovery Green) or our Environmental Summit, which after a two-year hiatus will return in-person this fall.
In the weeks ahead, look for a survey of our institutional members to get ideas about how CEC can better serve our member organizations, including such opportunities as appearances on KPFT-FM's "Open Journal" program. We'll also be featuring member organizations in profiles in this newsletter. (See an example in our profile of new member organization Clean Water Action and Clean Water Fund Texas below.)
---
CEC NOTES
---
CEC welcomes Clean Water Action and Clean Water Fund Texas as newest member organization
Citizens' Environmental Coalition is proud to announce that Clean Water Action and Clean Water Fund Texas is our newest member organization. Founding during the campaign to pass the landmark Clean Water Act in 1972, Clean Water Action has worked to win strong health and environmental protections by bringing issue expertise, solution-oriented thinking and people power to the table. Its stated mission is "to protect our environment, health, economic well-being and community quality of life. Clean Water Action organizes strong grassroots groups and coalitions, and campaigns to elect environmental candidates and to solve environmental and community problems."
Clean Water Fund Texas Director Becky Smith states, "We are pleased to join Citizens' Environmental Coalition to be part of the long-trusted cadre of activists and educators who have restored natural and human health in our region for many decades. I look forward to joining and supporting the ongoing work of CEC's member groups using our grassroots organizing approach along with policy advocacy and building electoral power at the local, state, and federal levels. We are honored to be part of such a team."
Please stay tuned for an invitation for a "CWA Meet & Greet" with outgoing and incoming Texas Directors, David Foster and Becky Smith, at a local Houston watering hole during the first week of June.
In the meantime, Clean Water Action asks you to make comments to the Environmental Protection Agency on its proposed Clean Water Act Hazardous Substance Worst Case Discharge Planning Regulations (Worst Case Discharge Rule). Essentially, the proposal deals with protecting communities and drinking water from chemical spills during extreme weather events. Learn more and make comments through cleanwater.salsalabs.org. EPA is accepting comments through May 27.
---
Citizens' Environmental Coalition seeks Executive Director
Citizens' Environmental Coalition is seeking a new, permanent Executive Director to lead the organization, and to design and direct strategies to support the mission of fostering dialogue, education, and collaboration on environmental issues in the Greater Houston Area. Duties for the executive director will include overseeing the administration, financial performance, programs, and strategic plan of the organization. Other key duties include board governance, fundraising, marketing, and community engagement as they fit into the CEC mission. The position reports directly to the Board of Directors. For the full job description and application instructions, visit cechouston.org.
---
Professional Development Opportunities for Teachers
Join fellow environmental educators every other Friday morning for a quick check-in to collaborate. The next meeting is May 20, beginning at 8:30 a.m. Bring your coffee (or tea) and ideas for things that are working in your programs (or questions about things that are not). The Zoom call is hosted by regional board members from the Texas Association for Environmental Education. Email Alicia at Alicia.Mein@pct3.hctx.net for Zoom link and any questions.
---
Virtually Wild! Texas Student Learning Programs
Region 4 Education Service Center partners with the Virtually Wild! Texas team to provide students with engaging and interactive TEKS-aligned virtual environmental education field trips that highlight careers in conservation. These free 45-minute programs are live, and teachers and students are encouraged to engage with natural resources professionals by asking questions. Topics vary by program and have included endangered species, animal adaptations, habitat exploration, wildlife crime investigations, and more! Public, private, homeschool, hospitals, and education sites are welcome to view. See program listings and register at esc4.net.
---
CAST22 Call for Proposals
The Science Teachers Association of Texas (STAT) has announced the CAST22 Call for Proposals is now open. The annual Conference for the Advancement of Science Teaching (CAST), presented by the Science Teachers Association of Texas, traditionally features hundreds of breakout sessions presented by educators who generously share their best strategies for inspiring discovery of the world through science. STAT invites you to turn your innovative teaching strategies and lesson plans into proposals for sessions that could benefit educators and students across Texas and beyond. Submit your proposal by Tuesday, May 31 to share your expertise at CAST22, November 10–12 in Dallas.
---
Please scroll down to read about public engagement opportunities and notes from our member organizations and the community.
---
OPPORTUNITIES FOR PUBLIC ENGAGEMENT
---
Transportation Policy Council Meeting
On May 20, beginning at 9:30 p.m., the Houston-Galveston Area Council's Transportation Policy Council will hold a monthly meeting. The meeting will include action on the proposed North Houston Highway Improvement Project (NHHIP). Members of the public are invited to attend the meeting in-person at the H-GAC offices, 3555 Timmons Lane, or virtually and will be able to make comments on the proposal. For information on the meeting, including how to connect virtually, visit h-gac.com.
---
San Jacinto Regional Flood Planning Group open houses
The San Jacinto Regional Flood Planning Group will be hold a series of open houses in late May. On March 24, from 5:30-7:30 p.m., an in-person open house will be held at the Recreation Center at Rob Fleming Park in The Woodlands. On May 26, from 5:30-7:30 p.m., there will be a virtual open house. On May 31, from 5:30-7:30 p.m, there will be an in-person open house at the Clear Lake Shores Clubhouse. Find the public notices and other meeting materials at sanjacintofloodplanning.org.
---
Policy Assessment for the Reconsideration of the Ozone National Ambient Air Quality Standards
The Environmental Protection Agency is making available to the public a draft document titled, Policy Assessment for the Reconsideration of the Ozone National Ambient Air Quality Standards, External Review Draft (Draft PA). This draft document was prepared as a part of the current reconsideration of the 2020 final decision on the national ambient air quality standards (NAAQS) for ozone. When final, the PA is intended to ''bridge the gap'' between the scientific and technical information assessed in the 2020 Integrated Science Assessment for Ozone and Related Photochemical Oxidants (2020 ISA), as well as any air quality, exposure and risk analyses available in the reconsideration, and the judgments required of the Administrator. The primary and secondary ozone NAAQS are set to protect the public health and the public welfare from ozone and other photochemical oxidants in ambient air. Visit the April 29, 2022, Federal Register announcement for information on how to submit comments. Comments must be received on or before May 31.
---
2045 Regional Transportation Plan public meetings, survey
The Houston-Galveston Area Council is planning for the region's next 20 years and wants to forge a new vision that prioritizes safety, convenience, accessibility, and sustainability for the entire Gulf Coast region. It is asking the public to participating in its 2045 regional transportation plan update. You can take the digital survey or register to attend one or more public meetings through June 2.
---
Air Quality Conformity
The Houston-Galveston Area Council is accepting public comments through June 3 on the proposed air quality conformity determination in the the long-term regional transportation plan (RTP). To submit a public comment, you can: email public comments to: PublicComments@h-gac.com or make public comments by phone at 1-855-363-2516. For more details, visit h-gac.com.
Learn about additional public comment opportunities at cechouston.org.
---
---
COALITION & COMMUNITY NOTES
We have endeavored to confirm the opportunities listed below. Please consider confirming directly with the hosts.
---
Flower Garden Banks National Marine Sanctuary recruiting Advisory Council members
Flower Garden Banks National Marine Sanctuary is currently seeking applicants for five (5) seats on its advisory council, a community-based group of individuals established to provide advice for sanctuary management. The sanctuary is accepting applications for the following five council seats: Education, Oil & Gas Industry, Recreational Diving, Recreational Fishing, and Research. The application and associated information can be found at flowergarden.noaa.gov. Applications are due by Wednesday, June 8.
---
The Architecture of Bees exhibit
This week, Architecture Center Houston opened the exhibition The Architecture of Bees in the gallery of its headquarters at 902 Commerce St. in downtown Houston. Curated by architect and beekeeper Wendy Heger, AIA and on view through August 26, The Architecture of Bees is an immersive educational visual arts exhibition that brings together designers, architects, naturalists, and beekeepers to illustrate the importance and influence of bees on human design and construction. The Architecture of Bees is accompanied by several public programs including bee-keeping courses and pollinator walks in collaboration with Buffalo Bayou Partnership; a Biophilia and Bees lecture; and a beehive-inspired architectural workshop for kids. For more information, visit aiahouston.org.
---
Rice Design Alliance Civic Forum: Food Equity
On May 18, beginning at 5:30 p.m., the Rice Design Alliance will host its spring Civic Forum devoted to the topic of food equity and accessibility in Houston. The roundtable discussion will address the spatial implications of urban food distribution and consumption systems in Houston and its region, including the existence of food deserts and lack of accessibility to quality food. Panelists will be asked to analyze and shed light on the growing inequity between Houston's communities based on appropriate access to healthy and sustainable food. The event will be held at POST Houston, 401 Franklin St. For more information and to register, visit ricedesignalliance.org.
---
Riparian Restoration Workshop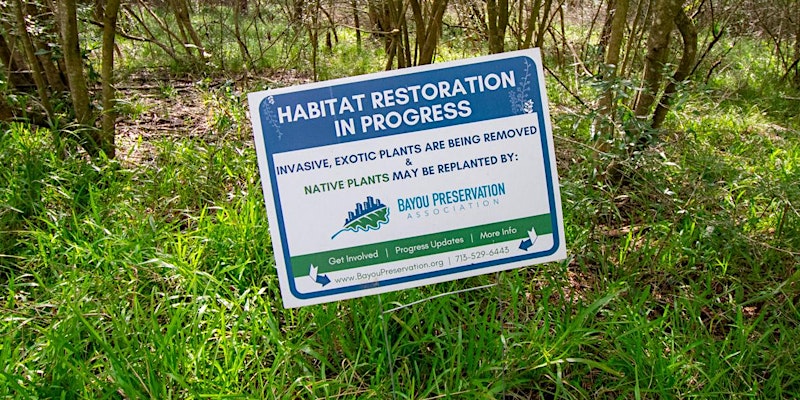 On May 19 and 20, Bayou Preservation Association will host a hybrid workshop to learn about watersheds, riparian restoration, and invasive species. The workshop will include a virtual presentation on Thursday from 10:30 a.m-noon. followed by an in-person site visit to Challenger Seven Memorial Park in Webster the following day. For more information and to register, visit eventbrite.com.
---
Sea Level Rise and Its Impacts Within the Mission-Aransas Estuary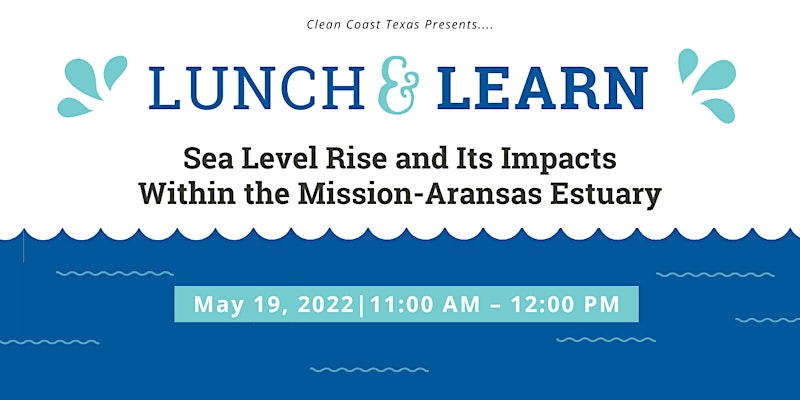 On May 19, from 11 a.m.-noon, the Texas General Land Office and the Coastal Management Program, facilitated by The Meadows Center for Water and the Environment – Texas State University, will present a webinar featuring Katie Swanson, Stewardship Coordinator at the Mission-Aransas National Estuary Research Reserve, about sea level rise in the Mission-Aransas Estuary. The presentation will provide insight into the Reserve's current monitoring and research efforts on how sea level rise is impacting the region now and what it means for its future. For more information and to register, visit Eventbrite.com.
---
Houston Solar Co-op Info Session Webinar
On May 19, beginning at 4 p.m., Solar United Neighbors will hold a final webinar for the 2022 Houston Solar Co-op. Participants will learn about solar energy and how the nonprofit co-op model simplifies the process of going solar on your home or small business from the comfort of your own home. This will be a live presentation so you'll be able to ask questions. For more information and to register, visit solarunitedneighbors.org.
---
Teaching The Prairie
On May 19, beginning at 7 p.m., the Houston chapter of the Native Plant Society of Texas will hold a meeting featuring a presentation by Della Barbato, education director at the 50+ acre Lawther-Deer Park Prairie, who will present an overview of some no-fail, interactive lessons to teach the prairie on the prairie. Attendees will learn the tools necessary to educate your friends, family, and neighbors about the prairie. The meeting will be held at the Houston Arboretum & Nature Center, 120 W Loop N. Freeway. For more information, visit npsot.org.
---
Endangered Species Day
On May 20, the National Wildlife Foundation celebrates Endangered Species Day, which marks the passage of the federal Endangered Species Act (ESA). The ESA was devised to protect plant and animal species from extinction. Species are put into two categories, "endangered" and "threatened." According to the U.S. Fish & Wildlife Service, as of April, 2022, there are a total of 500 animal species and 768 plant species listed as endangered and 231 animal species and 171 plant species listed as threatened. For more information about Endangered Species Day and ways to get involved, visit nwf.org.
---
Bike to Work Day
On Friday, May 20, the City of Houston and partnering organizations will host Bike to Work Day with with a ride starting at the Lost Lake Visitor Center, riding along Buffalo Bayou Greenway and ending at City Hall. The ride starts promptly at 7:30 a.m. Learn more at houstonbikeplan.org.
---
Houston Bike Summit
The Houston Bike Summit, hosted by BikeHouston, kicks off May 20, from 6-9 p.m., with the Houston Bike Summit Soirée at The Grove at Discovery Green. Along with food and drinks, the event will feature a silent auction and a discussion on the politics of building a bike-friendly city with Houston City Council Member Abbie Kamin, Emeryville, CA Mayor John Bauters, and ABC 13 political reporter Miya Shay. The Summit will conclude May 21 with a special Summit Ride featuring a tour of the newest additions to the Bayou City's rapidly-growing bikeway network. Along this 16-mile route, we'll stop and hear from the people who designed and built Houston's bike infrastructure. Find the full listing of events with links to registration at bikehouston.org/summit.
---
Planting at the Skyfarm
On May 20 and 21, Blackwood Educational Land Institute and POST Houston will host the first planting at the Skyfarm, the one-acre rooftop farm atop the historic building formerly known as the Barbara Jordan Post Office in Downtown Houston. The harvests from this inaugural planting at a central Houston location will be a powerful (and delicious) educational tool and illustration of the concept of food miles and how organic food can be produced with a greatly reduced carbon footprint through "regenerative practices" in an urban setting. Volunteers are invited to participate on one or both days from 8 a.m.-noon to to plant the inaugural summer crop of eggplant, okra, peppers, tomatoes, roselle, and herbs. Learn more and sign up to volunteer at blackwoodland.org.
---
John Paul Landing Environmental Education Center Grand Reopening
Harris County Precinct 4 invites the public to attend the grand reopening of the John Paul Landing Environmental Education Center at John Paul Landing Park, Saturday, May 21, from 10 a.m. to 2 p.m., at 9950 Katy Hockley Road in Cypress. Originally opened on Feb. 14, 2020, the Center couldn't receive the fanfare it deserved at the time because of the advent of COVID-19. A ribbon cutting, crafts, games, and prizes will mark the reopening celebration, as well as fishing opportunities, nature activities, food trucks, a DJ, a street performer, and archery. The education center offers many ways to learn about the wildlife and ecology of the area. Nestled inside the 865-acre park, the center houses several permanent displays, as well as games and activities for all to enjoy.
---
Houston Art Bike Festival
The inaugural Houston Art Bike Festival will be held May 21, featuring music, food, art bikes, art cars, community groups, activities, and a special parade. Students from participating HISD schools will proudly pedal and accompany their art bikes along a pre-determined path within MacGregor Park. An organized bike route along Brays Bayou Greenway from MacGregor Park to Fonde Park will ultimately end up at Smither Park, followed by an afternoon festival of awards, activities, and art. Learn more at artbikehouston.com.
---
Why Did Artist Boat Cross The Road?
On May 22, Artist Boat invites the public to see first-hand the newest and the next land conservation purchase. With the most recent purchase of 125 acres, the Coastal Heritage Preserve crossed the coastal prairie all the way to 3005. Visitors will experience a shuttle ride through our preserve on Settegast Road to a street party on Pabst Road. Tours will be held every hour from 3 p.m. to 6 p.m. For more information and to purchase tickets, visit artistboat.org.
Surfside Cleanup
On May 22, from 9 a.m.-noon, SPASh Texas will host a volunteer cleanup at Surfside's Thunder Road and Boat Ramp. All volunteers are required to sign waivers. For more information and to register, see this Google document.
---
How Long Will Our Aquifers Last?
On May 22, from 6-7 p.m., Christ the King Evangelical Lutheran Church will host a webinar with Robert Mace, Ph.D., executive director of The Meadows Center for Water and Environment at Texas State University, who will present what he has learned about groundwater sustainability through a 2021 report he published titled "Five Gallons in a Ten-Gallon Hat: Groundwater Sustainability in Texas" and in a forthcoming book titled "Groundwater Sustainability: Its Birth, Development, and Application." Listeners will have a better understanding of what groundwater sustainability is, how Texas and the greater Houston area is doing with sustainable groundwater management, and what people can do to achieve groundwater sustainability. For more information and to register, visit eventbrite.com.
---
Entrepreneurship and the Energy Transition Part II: The Houston Ecosystem
On May 23, from 3-4 p.m., the Baker Institute for Public Policy at Rice University will present a webinar bringing together key leaders of the energy entrepreneurship ecosystem in Houston to discuss these challenges and explore how entrepreneur-driven innovation can help the city maintain its preeminence as the energy capital of the world. The panel's focus on Houston builds on Part I of the series, which explored national perspectives on the business and policy considerations affecting energy entrepreneurship. For more information and to register, visit bakerinstitute.org.
---
Texas Vision Zero Summit
From May 23-24, Vision Zero Texas, which advocates for reducing traffic deaths in the state, is hosting the Texas Vision Zero Summit at the Midtown Arts & Theater Center Houston (MATCH). Advocates, elected officials, nonprofit professionals working to change the transportation system, and others are invited to attend the summit, which will include keynote speeches, panel discussions, pecha kucha style lightning rounds, and breakouts for participants to join the discussion. Learn more and register at visionzerotexas.org.
---
Texas Watershed Coordinator Roundtable
On May 24, from 9 a.m.-3 p.m., the Texas Water Resources Institute will host the Texas Watershed Coordinator Roundtable at the Texas A&M University Equine Complex located at 3240 F and B Rd., College Station. The Roundtable will include an agency panel for federal and state non-point source program updates, presentations from several state programs commonly included in watershed plans, an interactive discussion session with round table attendees and ample time for networking. For more information and to register, visit twri.tamu.edu.
---
Texas Power, Mitigating Climate Risk and Moving to Resilience
On May 24, from noon-1 p.m., the Center for Houston's Future will host a webinar ramed around position papers from the Houston Advanced Research Center's new Climate Risk and Resilience series, specifically focused on the just released paper, "Powering the Future: Texas Power Sector Pivoting to Climate Resilience." The virtual panel discussion will focus on how the Texas power sector is responding to climate risks in a fast-changing regulatory landscape as well charting a path to a climate-resilient future for the Texas power sector. For more information and to register, visit centerforhoustonsfuture.org.
---
Bacteria Implementation Group (BIG) Spring Meeting
On May 24, from 1-3 p.m., the Houston-Galveston Area Council's Bacteria Implementation Group (BIG) will hold its Spring Meeting, both in-person and online. Topics will include the BIG Implementation Plan (I-Plan) revisions and Total Maximum Daily Load (TMDL) updates. For more information and to register, visit h-gac.com.
---
The Future of Electric Vehicles: The EV Ecosystem and Society
On May 24, from 11:15-noon, the Baker Institute for Public Policy at Rice University will present a hybrid event featuring fellows Rachel Meidl and Michelle Michot Foss, and Robert Kleinbaum, a technical fellow at General Motors working to address the challenges of electrifying transport. They will discuss advancements in EV research and development, challenges with materials sourcing, the role of recycling, federal policy actions and emerging views on the "EV ecosystem." For more information and to register, visit bakerinstitute.org.
---
May Green Team
On May 25, from 9 a.m.-noon, the Houston Parks Board will host a volunteer event at the Coolwood conservation site, 767 Coolwood Dr. off the Hunting Bayou Greenway near Maxey Park. We will be planting wetland plants along a new drainage area. Participants are asked to wear closed-toed shoes, clothes you don't mind getting dirty, work gloves if you have them. You may want to consider rubber boots or waterproof hiking boots as we may run into mud if it's rained recently. HPB will have water, snacks, gloves, and any tools needed. For more information and to register, visit houstonparksboard.volunteerhub.com.
---
Ike Dike community meeting
On May 25, from 10-11:15 a.m., Turtle Island Restoration Network and Bayou City Waterkeeper will host a virtual community meeting to discuss the proposed $29 million "Ike Dike", a coastal barrier meant to prevent damages from severe storms in the vicinity of Galveston Bay and the Houston Ship Channel. The meeting will feature advocates who argue that for greater Houston, the most populous and most ethnically and ecologically diverse part of the hurricane-prone Gulf region, the proposal misses the mark, and that there are better solutions. For more information and to register, see the Facebook event.
---
How to Keep Yourself Healthy in Today's World
On May 25, beginning at 5 p.m., the Organic Horticulture Benefits Alliance will hold a special social/dinner and lecture featuring Dr. Arden Andersen. He will discuss epigenetics, needed changes to the food system, financial bias, cultural habits and psychological addiction. The event will be held at the United Way of Greater Houston, 50 Waugh Drive. For more information and to purchase tickets, visit ohba.app.neoncrm.com.
---
Texas Land Conservancy Prairie Management
On May 25, beginning at 7 p.m., the Houston chapter of the Native Prairies Association of Texas will hold a virtual meeting featuring a presentation by Tyler Brady, Texas Land Conservancy's East Texas Program Director, who will discuss the properties across Texas that are owned and/or protected by the Texas Land Conservancy. The Texas Land Conservancy has 22 owned preserves and 124 conservation easements totaling 129,294 acres. To register for the meeting, visit zoom.us.
---
Foraging Workshop with Dr. Mark Vorderbruggen
On May 26, from 8 a.m.-noon, Blackwood Educational Land Institute will present a foraging class with Dr. Mark Vorderbruggen, founder of the popular foragingtexas.com blog and the Medicine Man Plant Co. plant medicine line. Participants will learn what hidden forageable bounties exist around the 33-acre property, which encompasses three different biomes each possessing their own trove of native edible and medicinal flora. With Dr. Vorderbruggen guiding a small group setting, participants will learn how to identify, harvest, and use the native Texas plants which surround us. For more information and to register, visit blackwoodland.org.
---
Going Green lecture: San Jacinto Regional Flood Planning Group
On May 26, beginning at 6 p.m., The Woodlands G.R.E.E.N. will host a Going Green lecture featuring Neil Gaynor, a voting member of the San Jacinto Regional Flood Planning
Group who represents the Upper Watershed and is secretary of the Technical Committee of SJRFPG. Gaynor will provide background on the SJRFPG, its approaches to flood planning, and the outlook for flood potential in the Woodlands area. Some examples of flood events, models and forecasts will also be discussed. For more information and to register, visit thewoodlandsgreen.org.
---
Bayou City Riverkeeper presents "Tributary"
On May 28, from 9 a.m.-2 p.m., Bayou City Riverkeeper will host "Tributary," a community event connecting to and honoring the region's waterways and communities, at Armand Bayou Nature Center. Attendees can explore the Center's wetlands, bayou, and prairie habitats through guided hikes, kayaking, and pontoon tours. Attendees will also learn of the histories of the Akokisa people who previously inhabited this watershed. On Tuesday, May 24, beginning at noon, there will be a kickoff virtual event honoring three community leaders working around water advocacy and water justice — Doris Brown, Danielle Goschen, and Yudith Nieto. Learn more about and register for the Tributary event at bayoucitywaterkeeper.salsalabs.org. To register for the kickoff event, visit zoom.us.
---
SPRING MIGRATION
---
Birdathon 2022 Awards Ceremony
The Awards Celebration for Birdathon 2022 will be held May 21, from 10 a.m.-noon, at the Edith L. Moore Nature Sanctuary. Birdathon is Houston Audubon's annual spring fundraiser where participants compete to count as many bird species as possible in a 24-hour period while fundraising for bird conservation. All contributions support Houston Audubon's mission to advance the conservation of birds and positively impact their supporting environments. For more information and to register, visit houstonaudubon.org.
---
Destination: High Island
Through May 22, Houston Audubon invites the public to High Island and Bolivar Peninsula for the unrivaled spectacle of bird migration on the Upper Texas Coast. Among the vantage points, visitors can use the new Kathrine G. McGovern Canopy Walkway. High Island sanctuaries are open every day from dawn to dusk. Free admission for children, students, and High Island residents. For more information, visit houstonaudubon.org.
---
Lights Out, Texas!
Lights Out, Texas!, a campaign of education, awareness, and action that focuses on turning out lights at night during the spring and fall migrations to help protect the billions of migratory birds that fly over Texas, is under way. The full Spring Migration period runs through June 15. Texan by Nature and Audubon Texas lead Lights Out, Texas! efforts across the state. For more information on how to participate, visit texanbynature.org.
---
Reminders About Ongoing Opportunities
Ocean Awareness Contest. The 11th annual Ocean Awareness Contest is a platform for young people to learn about environmental issues through art-making and creative communication, explore their relationship to a changing world, and become advocates for positive change. Students ages 11-18 from around the world are invited to participate. The deadline for submissions is June 13. For more information, visit bowseat.org.
Feral Atlas Summer Intensive Program at Rice University. The Houston Climate Justice Museum will host a week-long summer study intensive on the campus of Rice University from July 18-22, based on the digital humanities project Feral Atlas and led by Rice students and museum staff. Participating students will have the opportunity to be involved in workshops led by local artists and conservationists, travel to nearby museums and collections to meet with museum professionals, and get hands-on experience with disaster recovery. Interested students should fill out this form.
---
TV: Texas Parks & Wildlife
Broadcast on KUHT Channel 8 at 3 p.m. each Saturday and on municipal access cable channels in Baytown, Deer Park, Houston, Texas City, Galveston, Nassau Bay, Pasadena, Seabrook, Sugar Land, and on HCC TV. More info on the TPWD website (* indicates a segment about the Houston area). For a preview, visit TPWD's YouTube Page.
In the southwestern borderlands of Texas, the San Pedro Ranch has a rich history and ranching tradition, kept alive since 1932 by the Fitzsimons and Howard families. Today this 23,000 acre ranch is managed for cattle and a diverse wildlife population, in balance with a habitat that can be both harsh and delicate. On the edge of the Chihuahuan Desert, drought is an expectation, so the San Pedro Ranch works to make the most of every raindrop
Texas has long been known for its robust quail populations, but habitat loss has impacted all four quail species in the state. Though their homes range from desert floodplain and brush land to prairie grasslands, these quail species need native habitat to thrive. Find out how researchers, non-profits, landowners and land managers are working together to keep quail numbers healthy statewide
Enjoy the soothing sounds of flowing water and the breeze in the cypress trees at Guadalupe River State
Additional Upcoming Events
---
Check out the latest Green Jobs at cechouston.org/green-jobs/.