Houston Environmental News Update May 11, 2022
Bike Month, Coastal Prairie Conservancy, Bay Day Festival, Kinder Institute Luncheon, Green Jobs and more
Dear Friends,
In Houston, May is Bike Month, and there is a wealth of opportunities to celebrate.
First and foremost, BikeHouston is hosting the multi-event Houston Bike Summit. The festivities begin Thursday, May 19, with a talk with Jessie Singer, journalist and author of the new book, There Are No Accidents: The Deadly Rise of Injury and Disaster—Who Profits and Who Pays the Price. Singer will be joined by Megan Kimble, an Austin-based author and investigative reporter.
On May 20, from 6-9 p.m., the Houston Bike Summit Soirée will be held at The Grove at Discovery Green. Along with food and drinks, the event will feature a silent auction and a discussion on the politics of building a bike-friendly city with Houston City Council Member Abbie Kamin, Emeryville, CA Mayor John Bauters, and ABC 13 political reporter Miya Shay.
The Summit will conclude May 21 with a special Summit Ride featuring a tour of the newest additions to the Bayou City's rapidly-growing bikeway network. Along this 16-mile route, we'll stop and hear from the people who designed and built Houston's bike infrastructure. Find the full listing of events with links to registration at bikehouston.org/summit.
In a related event, Bike Houston will host a Bike for Ukraine ride on May 12. See details in Coalition & Community Notes below.
On Friday, May 20, the City of Houston and partnering organizations will host Bike to Work Day with with a ride starting at the Lost Lake Visitor Center, riding along Buffalo Bayou Greenway and ending at City Hall. The ride starts promptly at 7:30 a.m. Learn more at houstonbikeplan.org.
If you're interested in bikes with a more artistic flair, you can check out the inaugural Houston Art Bike Festival on May 21, featuring music, food, art bikes, art cars, community groups, activities, and a special parade. Students from participating HISD schools will proudly pedal and accompany their art bikes along a pre-determined path within MacGregor Park. An organized bike route along Brays Bayou Greenway from MacGregor Park to Fonde Park will ultimately end up at Smither Park, followed by an afternoon festival of awards, activities, and art. Learn more at artbikehouston.com.
From May 23-24, Vision Zero Texas, which advocates for reducing traffic deaths in the state, is hosting the Texas Vision Zero Summit at the Midtown Arts & Theater Center Houston (MATCH). Advocates, elected officials, nonprofit professionals working to change the transportation system, and others are invited to attend the summit, which will include keynote speeches, panel discussions, pecha kucha style lightning rounds, and breakouts for participants to join the discussion. Learn more and register at visionzerotexas.org.
---
CEC NOTES
---
Citizens' Environmental Coalition seeks Executive Director
Citizens' Environmental Coalition is seeking a new, permanent Executive Director to lead the organization, and to design and direct strategies to support the mission of fostering dialogue, education, and collaboration on environmental issues in the Greater Houston Area. Duties for the executive director will include overseeing the administration, financial performance, programs, and strategic plan of the organization. Other key duties include board governance, fundraising, marketing, and community engagement as they fit into the CEC mission. The position reports directly to the Board of Directors. For the full job description and application instructions, visit cechouston.org.
---
Professional Development Opportunities for Teachers
Join fellow environmental educators every other Friday morning for a quick check-in to collaborate. The next meeting is May 6, beginning at 8:30 a.m. Bring your coffee (or tea) and ideas for things that are working in your programs (or questions about things that are not). The Zoom call is hosted by regional board members from the Texas Association for Environmental Education. Email Alicia at Alicia.Mein@pct3.hctx.net for Zoom link and any questions.
---
Virtually Wild! Texas Student Learning Programs
Region 4 Education Service Center partners with the Virtually Wild! Texas team to provide students with engaging and interactive TEKS-aligned virtual environmental education field trips that highlight careers in conservation. These free 45-minute programs are live, and teachers and students are encouraged to engage with natural resources professionals by asking questions. Topics vary by program and have included endangered species, animal adaptations, habitat exploration, wildlife crime investigations, and more! Public, private, homeschool, hospitals, and education sites are welcome to view. See program listings and register at esc4.net.
---
CAST22 Call for Proposals
The Science Teachers Association of Texas (STAT) has announced the CAST22 Call for Proposals is now open. The annual Conference for the Advancement of Science Teaching (CAST), presented by the Science Teachers Association of Texas, traditionally features hundreds of breakout sessions presented by educators who generously share their best strategies for inspiring discovery of the world through science. STAT invites you to turn your innovative teaching strategies and lesson plans into proposals for sessions that could benefit educators and students across Texas and beyond. Submit your proposal by Tuesday, May 31 to share your expertise at CAST22, November 10–12 in Dallas.
---
Please scroll down to read about public engagement opportunities and notes from our member organizations and the community.
---
OPPORTUNITIES FOR PUBLIC ENGAGEMENT
---
White House Environmental Justice Advisory Council Public Meeting
The White House Environmental Justice Advisory Council (WHEJAC) will hold a public meeting May 11-12 from approximately 3 – 7 p.m. E.T. each day. This free meeting is open to all members of the public. Individual registration is REQUIRED and is available through the scheduled end time of the meeting day. Members of the public are encouraged to provide comments relevant to climate resilience, the beta version of the Climate and Economic Justice Screening Tool, and the WHEJAC draft recommendations on the implementation of the Justice40 Initiative. Register at usepa.zoomgov.com.
---
San Jacinto Regional Flood Planning Group public meeting
The San Jacinto Regional Flood Planning Group will be hold a public meeting on May 12 at 9 a.m. at 9900 Northwest Fwy.,Conference Room 100. This meeting is also being held virtually. Members of the public may attend, participate and/or address the RFPG in-person or may virtually access the meeting at: https://bit.ly/3xS3Qmg. Find the agenda and other meeting materials at sanjacintofloodplanning.org.
---
Policy Assessment for the Reconsideration of the Ozone National Ambient Air Quality Standards
The Environmental Protection Agency is making available to the public a draft document titled, Policy Assessment for the Reconsideration of the Ozone National Ambient Air Quality Standards, External Review Draft (Draft PA). This draft document was prepared as a part of the current reconsideration of the 2020 final decision on the national ambient air quality standards (NAAQS) for ozone. When final, the PA is intended to ''bridge the gap'' between the scientific and technical information assessed in the 2020 Integrated Science Assessment for Ozone and Related Photochemical Oxidants (2020 ISA), as well as any air quality, exposure and risk analyses available in the reconsideration, and the judgments required of the Administrator. The primary and secondary ozone NAAQS are set to protect the public health and the public welfare from ozone and other photochemical oxidants in ambient air. Visit the April 29, 2022, Federal Register announcement for information on how to submit comments. Comments must be received on or before May 31.
---
2045 Regional Transportation Plan public meetings, survey
The Houston-Galveston Area Council is planning for the region's next 20 years and wants to forge a new vision that prioritizes safety, convenience, accessibility, and sustainability for the entire Gulf Coast region. It is asking the public to participating in its 2045 regional transportation plan update. You can take the digital survey or register to attend one or more public meetings through June 2.
---
Air Quality Conformity
The Houston-Galveston Area Council is accepting public comments through June 3 on the proposed air quality conformity determination in the the long-term regional transportation plan (RTP). To submit a public comment, you can: email public comments to: PublicComments@h-gac.com or make public comments by phone at 1-855-363-2516. For more details, visit h-gac.com.
Learn about additional public comment opportunities at cechouston.org.
---
---
COALITION & COMMUNITY NOTES
We have endeavored to confirm the opportunities listed below. Please consider confirming directly with the hosts.
---
Katy Prairie Conservancy is now the Coastal Prairie Conservancy
The Katy Prairie Conservancy, a CEC member organization, is now the Coastal Prairie Conservancy. The new name was made public in a surprise announcement on the night of May 4 during its 2022 Bash: Here We Grow Again by Board Chairman Darryl Anderson. The hundreds of guests at the Bash applauded the news and agreed that the new name captures the growth of KPC's original mission – to sustain a resilient Texas by preserving coastal prairies, wetlands, farms, and ranches. "We look at our name change as a more accurate depiction of where we are today and where we want to be tomorrow," Mary Anne Piacentini, president and CEO of the Coastal Prairie Conservancy, said in a press release. "Coastal Prairie Conservancy better reflects the expansion of our mission. While the Katy Prairie is still a critical part of our DNA and we will continue to find ways to expand the Katy Prairie Preserve, the success of our endeavors during the past 30 years means we've greatly expanded the area that we now preserve for Texans. Between our acquisitions and our partnerships, we stretch from Katy to the Gulf Coast." See the organization's revamped website at coastalprairieconservancy.org.
---
Houston ranks 70th among U.S. large cities in Trust for Public Land's 2022 ParkScore® index
The Trust for Public Land recent released its 2022 ParkScore® index, ranking the park systems of America's 100 largest cities. The ParkScore index grades cities' park systems on a five-part scale, consisting of access, investment, acreage, amenities, and equity. The data show that the majority of cities are pursuing nature-based strategies, setting goals, and implementing policies to reduce emissions, absorb atmospheric carbon, mitigate drought and flooding, and address environmental injustice. See Houston's complete ranking measure at tpl.org. and the rankings of all the cities here. You can also read the related report, "The Power of Parks to Address Climate Change."
---
2022 Scenic Star Reception
On May 12, from 5:30-7 p.m., Scenic Houston will hold its 2022 Scenic Star Reception, celebrating Hermann Park Conservancy and the SPARK Park program. The event will be held at Lott Hall at Hermann Park, 6201 Hermann Park Drive. For more information and to purchase tickets, visit scenichouston.org.
---
Bike for Ukraine
On May 12, beginning at 6 p.m., Bike Houston will kick off its Houston Bike Month activities with a ride with HTX4Ukraine, an all-volunteer group of Ukrainians and Ukrainian-Americans in the Houston region who are working to coordinate efforts to provide aid for Ukraine. The ride will begin at Electric Avenue in the Heights. For more information, visit bikehouston.org.
---
---
Sierra Club meeting: Restoration of Sheldon Lake State Park and Bayou Greenways
On May 12, from 7:30-9 p.m., the Houston Sierra Club chapter will hold a virtual meeting featuring a presentation by Marissa Llosa, conservation manager for the Houston Parks Board, who will discuss the wetland restoration process and 10 years of monitoring data collected at Sheldon Lake State Park and its implications in plant community dynamics. Then move to an overview of the larger conservation effort along the Bayou Greenways. For more information and to register, visit Meetup.com.
---
Parks and Natural Areas Roundtable Field Trip
On May 13, beginning at 9 a.m., the Houston-Galveston Area Council is hosting a Parks and Natural Areas Roundtable Field Trip for a tour of Clear Creek Nature Center, 1220 Egret Bay Blvd N, League City. Participants will learn more about the nature center and League City's award-winning Outdoor Education Initiative project. Participants will meet at the Nature Center. Registration is requested. For more information, contact Andrea Tantillo.
---
Smarter About Sustainability Seminar
On May 14, from 9 a.m.-noon, The Woodlands Township will present a webinar featuring Justin Bower, principal planner of community and environmental planning for the Houston-Galveston Area Council, who will discuss how riparian areas are the last line of defense for slowing and filtering stormwater before it reaches the creeks and lakes we depend on, the direct link between our lawns and landscapes and healthy riparian zones and waterways, and other topics. For more information and to register, visit thewoodlandstownshipblog-environment.com.
---
Bay Day Festival
On May 14, from 11 a.m.-4 p.m., The Galveston Bay Foundation's annual Bay Day Festival will return to the Kemah Boardwalk. This year's entertainment lineup includes a pair of performances by musician and environmental educator Billy B andwill also feature several interactive exhibits including hands-on encounters with alligators, snakes, crabs, and more! For more information, visit galvbay.org.
---
---
TAMEST Natural Hazards Summit: Responding to and Mitigating the Impacts
On May 16, the The Academy of Medicine, Engineering & Science in Texas (TAMEST) will hold the second part of its Natural Hazards Summit: Responding to and Mitigating the Impacts at the National Wind Institute at Texas Tech University in Lubbock. highlight the influence of natural hazards on the economy and well-being of communities in Texas. The summit convenes government officials, research leaders and insurance industry representatives to take a hard look at what the state needs to know and do to prepare for future natural disasters, unprecedented weather events and global pandemics, including response, recovery and mitigation of the impacts. For more information and to register, visit tamest.org.
---
Kinder Institute Luncheon 2022
On May 17, from 11:30 a.m.-1:30 p.m., the Kinder Institute for Urban Research will hold its annual Luncheon at the Marriott Marquis Houston. Founding Director and Rice Univeristy sociology professor Stephen L. Klineberg will share findings from the 41st Kinder Houston Area Survey, and the institute will celebrate Dr. Klineberg's retirement after decades of transformational research. The institute will also honor Dr. Anne S. Chao, community leader, philanthropist, educator and historian, for her passionate efforts advancing the appreciation for diversity in Houston. For more information and to register, visit kinder.rice.edu.
---
Galveston Bay Foundation's Annual Meeting
Galveston Bay Foundation members and friends are invited to attend our Annual Meeting on May 17 from 6-8:30 p.m. at The United Way Community Resource Center Auditorium, 50 Waugh Drive in Houston. The meeting will feature a panel discussion on the state of oysters in Texas and where we might go from here. For more information and to register, click here.
---
Rice Design Alliance Civic Forum: Food Equity
On May 18, beginning at 5:30 p.m., the Rice Design Alliance will host its spring Civic Forum devoted to the topic of food equity and accessibility in Houston. The roundtable discussion will address the spatial implications of urban food distribution and consumption systems in Houston and its region, including the existence of food deserts and lack of accessibility to quality food. Panelists will be asked to analyze and shed light on the growing inequity between Houston's communities based on appropriate access to healthy and sustainable food. The event will be held at POST Houston, 401 Franklin St. For more information and to register, visit ricedesignalliance.org.
---
H-GAC Workshop Series: Drones in Environmental Enforcement
On May 19, from 9 a.m.-noon, the Houston-Galveston Area Council host a workshop for public officials offering information on using drones in environmental enforcement. The event will be held at the H-GAC offices, 3555 Timmons Lane, Conference Room B&C, Second Floor. To register, visit constantcontact.com.
---
Sea Level Rise and Its Impacts Within the Mission-Aransas Estuary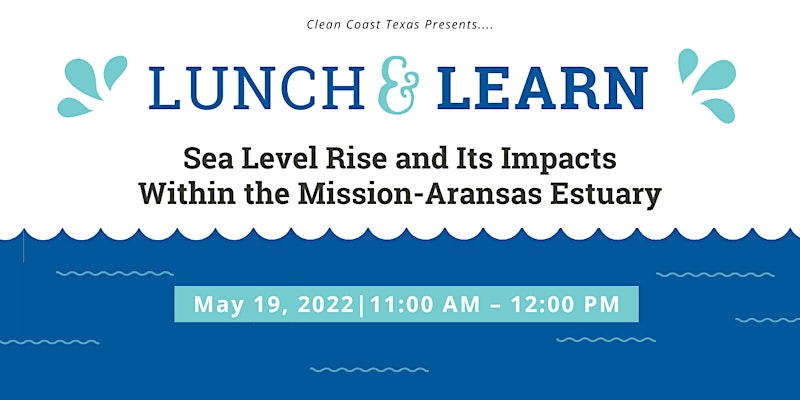 On May 19, from 11 a.m.-noon, the Texas General Land Office and the Coastal Management Program, facilitated by The Meadows Center for Water and the Environment – Texas State University, will present a webinar featuring Katie Swanson, Stewardship Coordinator at the Mission-Aransas National Estuary Research Reserve, about sea level rise in the Mission-Aransas Estuary. The presentation will provide insight into the Reserve's current monitoring and research efforts on how sea level rise is impacting the region now and what it means for its future. For more information and to register, visit Eventbrite.com.
---
Houston Solar Co-op Info Session Webinar
On May 19, beginning at 4 p.m., Solar United Neighbors will hold a final webinar for the 2022 Houston Solar Co-op. Participants will learn about solar energy and how the nonprofit co-op model simplifies the process of going solar on your home or small business from the comfort of your own home. This will be a live presentation so you'll be able to ask questions. For more information and to register, visit solarunitedneighbors.org.
---
Endangered Species Day
On May 20, the National Wildlife Foundation celebrates Endangered Species Day, which marks the passage of the federal Endangered Species Act (ESA). The ESA was devised to protect plant and animal species from extinction. Species are put into two categories, "endangered" and "threatened." According to the U.S. Fish & Wildlife Service, as of April, 2022, there are a total of 500 animal species and 768 plant species listed as endangered and 231 animal species and 171 plant species listed as threatened. For more information about Endangered Species Day and ways to get involved, visit nwf.org.
---
Planting at the Skyfarm
On May 20 and 21, Blackwood Educational Land Institute and POST Houston will host the first planting at the Skyfarm, the one-acre rooftop farm atop the historic building formerly known as the Barbara Jordan Post Office in Downtown Houston. The harvests from this inaugural planting at a central Houston location will be a powerful (and delicious) educational tool and illustration of the concept of food miles and how organic food can be produced with a greatly reduced carbon footprint through "regenerative practices" in an urban setting. Volunteers are invited to participate on one or both days from 8 a.m.-noon to to plant the inaugural summer crop of eggplant, okra, peppers, tomatoes, roselle, and herbs. Learn more and sign up to volunteer at blackwoodland.org.
---
John Paul Landing Environmental Education Center Grand Reopening
Harris County Precinct 4 invites the public to attend the grand reopening of the John Paul Landing Environmental Education Center at John Paul Landing Park, Saturday, May 21, from 10 a.m. to 2 p.m., at 9950 Katy Hockley Road in Cypress. Originally opened on Feb. 14, 2020, the Center couldn't receive the fanfare it deserved at the time because of the advent of COVID-19. A ribbon cutting, crafts, games, and prizes will mark the reopening celebration, as well as fishing opportunities, nature activities, food trucks, a DJ, a street performer, and archery. Once you've learned about the local environment and its inhabitants, explore the 170-acre lake, fishing piers, trails, and playgrounds.
---
How to Keep Yourself Healthy in Today's World
On May 25, beginning at 5 p.m., the Organic Horticulture Benefits Alliance will hold a special social/dinner and lecture featuring Dr. Arden Andersen. He will discuss epigenetics, needed changes to the food system, financial bias, cultural habits and psychological addiction. The event will be held at the United Way of Greater Houston, 50 Waugh Drive. For more information and to purchase tickets, visit ohba.app.neoncrm.com.
---
SPRING MIGRATION
---
The Dark Migration
On May 12, beginning at 7 p.m., Houston Audubon will hold a special speaker event with Cin-Ty Lee, professor of geology at Rice University and a longtime avid birder, who will discuss the "invisible migration" of birds that migrate primarily during nighttime. During the pandemic, Lee and associates took advantage of the solitude to listen to the skies through continuous acoustic recording. Join us on an acoustic symphony of this invisible migration and how such data reveal new information on the nature of avian migration. The event will be held at United Way of Greater Houston, 50 Waugh Drive. For more information, visit houstonaudubon.org.
---
World Migratory Bird Day in the Americas
World Migratory Bird Day in the Americas is celebrated on May 12. The Smithsonian Migratory Bird Center created the occasion in 1993, and the educational campaign focused on the Western Hemisphere celebrated its 25th year in 2018. Since 2007, WMBD has been coordinated by Environment for the Americas, a non-profit organization that strives to connect people to bird conservation. WMBD celebrates and brings attention to one of the most important and spectacular events in the Americas – bird migration. To learn more, visit migratorybirdday.org.
---
Planting and Birding Event
On May 14, from 8-11 a.m., Houston Parks and Recreation's Natural Resources Management Program and Houston Audubon will hold an event to celebrate World Migratory Bird Day at Sylvan Rodriguez Park. Participants will start with a bird walk around the park, and then plant grasses and wildflowers in the prairie. This will be a fun opportunity to learn about migratory birds while also helping improve their habitat. To register, please email NaturalResources@houstontx.gov.
---
Avian Conservation and Ecology Symposium
Birds are an important part of our world. Many are so common we subconsciously take them for granted as part of the landscape. However, approximately 15% of our planet's birds are considered threatened or endangered for a number of reasons, with habitat loss and non-sustainable hunting being the primary causes. On May 14, beginning at 10 a.m., the Houston Museum of Natural Science, in order to recognize Global Migratory Bird Week, will present an all-star cast of conservation biologists who will share their cutting-edge avian research. These are real scientists presenting real data. Guests will have a chance to directly interact with the speakers one-on-one after the event. There are two options for this lecture: in-person and virtual.
---
Birdathon 2022 Awards Ceremony
The Awards Celebration for Birdathon 2022 will be held May 21, from 10 a.m.-noon, at the Edith L. Moore Nature Sanctuary. Birdathon is Houston Audubon's annual spring fundraiser where participants compete to count as many bird species as possible in a 24-hour period while fundraising for bird conservation. All contributions support Houston Audubon's mission to advance the conservation of birds and positively impact their supporting environments. For more information and to register, visit houstonaudubon.org.
---
Destination: High Island
Through May 22, Houston Audubon invites the public to High Island and Bolivar Peninsula for the unrivaled spectacle of bird migration on the Upper Texas Coast. Among the vantage points, visitors can use the new Kathrine G. McGovern Canopy Walkway. High Island sanctuaries are open every day from dawn to dusk. Free admission for children, students, and High Island residents. For more information, visit houstonaudubon.org.
---
Lights Out, Texas!
Lights Out, Texas!, a campaign of education, awareness, and action that focuses on turning out lights at night during the spring and fall migrations to help protect the billions of migratory birds that fly over Texas, is under way. The full Spring Migration period runs through June 15, and the critical Spring Peak Migration period runs through May 12. Texan by Nature and Audubon Texas lead Lights Out, Texas! efforts across the state. For more information on how to participate, visit texanbynature.org.
---
Reminders About Ongoing Opportunities
---
TV: Texas Parks & Wildlife
Broadcast on KUHT Channel 8 at 3 p.m. each Saturday and on municipal access cable channels in Baytown, Deer Park, Houston, Texas City, Galveston, Nassau Bay, Pasadena, Seabrook, Sugar Land, and on HCC TV. More info on the TPWD website (* indicates a segment about the Houston area). For a preview, visit TPWD's YouTube Page.
Hunting is not only a tradition in small towns across Texas, it is also an important part of the local economy. The people of Goldthwaite, Texas look forward to deer season as quality time with friends and family, and as a time when hunters spend vital dollars in the town's stores, gas stations and restaurants. Travel to Goldthwaite for the opening weekend of deer season to see how this quiet community comes alive when the hunters arrive
The story of the Pigfoot Ranch is not one of stark before and after, but rather of a long-time legacy of excellent land stewardship. Dating back to 1885, the Head Family has worked to preserve Pigfoot's pristine native prairie savannas and its crystal-clear creeks
Like so much of the Central Texas Hill Country, Mills County is a great place to find white-tailed deer
Additional Upcoming Events
---
Check out the latest Green Jobs at cechouston.org/green-jobs/.