Houston Environmental News Update April 13, 2022
Earth Day events, Walk on the Wild Side, Powered for Good, EarthX2022, Spring Migration events, Green Jobs and more
Dear Friends,
What an amazing Earth Day Houston at Discovery Green on Sunday! The weather was beautiful, save for some late-afternoon high gusts of wind (thankfully, nothing like the sudden winds which forced the festivities to be moved to Avenue de las Americas a years ago!), and the turnout was greater than we could have hoped. It seems after two years of being cooped up, folks were very anxious to get outside and share their love for the environment.
People seemed to really enjoy the bird demonstrations, the musical performances by some great local acts, the exhibitors and vendors, and the series of Earth Talks, including one by Mayor Sylvester Turner, who discussed all the ways Houston is moving toward transitioning into the green energy capital of the world.
We're still crunching the numbers on attendance, waste diverted and materials recycled, and we'll post an update when they're available.
While Earth Day Houston happened last Sunday, there are a wealth of opportunities coming up in our region to mark the official Earth Day, which is celebrated on Friday, April 22. First observed in 1970, Earth Day grew from a proposed small, teach-in event to one celebrated every year by millions of people worldwide.
Among those listed below are several organized by new-based Ocean Music Action, including performances by the Grammy-nominated orchestra The Knights at Rothko Chapel and the Moody Center for the Arts. There will also be prairie plantings, bayou cleanups, a conservation about climate solutions, and a celebration at the Houston Arboretum & Nature Center. For full details, see "Coalition & Community Notes" below.
Top photo: UHD Professor Natacha Poggio (who led the student team in the creation of the original bird artwork for Earth Day Houston 2022), left, and Felice Yarbough, U.S. Fish and Wildlife Service
---
CEC NOTES
---
Professional Development Opportunities for Teachers
Join fellow environmental educators every other Friday morning for a quick check-in to collaborate. The next meeting is April 22, beginning at 8:30 a.m. Bring your coffee (or tea) and ideas for things that are working in your programs (or questions about things that are not). The Zoom call is hosted by regional board members from the Texas Association for Environmental Education. Email Alicia at Alicia.Mein@pct3.hctx.net for Zoom link and any questions.
---
Virtually Wild! Texas Student Learning Programs
Region 4 Education Service Center partners with the Virtually Wild! Texas team to provide students with engaging and interactive TEKS-aligned virtual environmental education field trips that highlight careers in conservation. These free 45-minute programs are live, and teachers and students are encouraged to engage with natural resources professionals by asking questions. Topics vary by program and have included endangered species, animal adaptations, habitat exploration, wildlife crime investigations, and more! Public, private, homeschool, hospitals, and education sites are welcome to view. See program listings and register at esc4.net.
---
CAST22 Call for Proposals
The Science Teachers Association of Texas (STAT) has announced the CAST22 Call for Proposals is now open. The annual Conference for the Advancement of Science Teaching (CAST), presented by the Science Teachers Association of Texas, traditionally features hundreds of breakout sessions presented by educators who generously share their best strategies for inspiring discovery of the world through science. STAT invites you to turn your innovative teaching strategies and lesson plans into proposals for sessions that could benefit educators and students across Texas and beyond. Submit your proposal by Tuesday, May 31, to share your expertise at CAST22, November 10–12 in Dallas.
---
Houston Inspira Public Health Storytelling Campaign: Call for Artists deadline extended!
Citizen's Environmental Coalition is proud to be an Environmental Partner with the City of Houston in the just-launched the Houston Inspira project. Houston Inspira, an EPA-funded project, seeks artists, musicians, playwrights, dancers, writers, and all creatives to engage with communities to educate, inform and activate via storytelling in all forms/disciplines. The project, headed by Houston Mayor's Office of Cultural Affairs, will occur in five Complete Communities – Acres Homes, Alief/Westwood, Kashmere Gardens, Near Northside, and Second Ward. This project will focus on risks communities face from elevated levels of environmental pollutants, primarily PM2.5 (strongly associated with concrete batch plants) and benzene both of which can increase and exacerbate the health risks associated with COVID-19. The selected storyteller will work with the City of Houston, environmental and community stakeholders over a six-month period in a selected community. The deadline for artists' submissions has been extended to April 18, 2022. Houston artists/creatives can learn more about the project and apply at houstontx.gov/inspira.
---
#MyEarthMyTexas
Through April 22, EarthShare of Texas invites the public to participate in #MyEarthMyTexas, a a social media challenge encouraging individuals to share their sustainability achievements, green tips and tricks, and showcase community organizations doing great environmental work across the state. Registrants will have the opportunity to win green prizes. Learn more and register at earthshare-texas.org.
---
---
"For the Love of Earth" exhibition at Archway Gallery
Through May 5, 2002, Archway Gallery, 2305 Dunlavy Street in the Montrose area, is presenting the exhibition "For the Love of Earth." This group exhibition of Archway artists "challenges the viewer to consider the fragility of our planet and all living things on it and to take actions which will bring beneficial change." Archway Gallery has chosen to partner with Citizens' Environmental Coalition. Twenty-five percent of the sales of the works featured in "For the Love of Earth" will be donated to CEC.
On April 21, beginning at 6:30 p.m., Archway Gallery will present a talk titled "Circular Economy", given by CEC Board member Steve Stelzer, Program Director at the City of Houston Green Building Resource Center.
---
Please scroll down to read about public engagement opportunities and notes from our member organizations and the community.
---
OPPORTUNITIES FOR PUBLIC ENGAGEMENT
Community Conversation on Flood Mitigation and Recovery
On April 14, from 6-7 p.m., U.S. Rep. Lizzie Fletcher will host a a virtual community conversation to discuss the progress on the Buffalo Bayou and Tributaries Resiliency Study, changes to the National Flood Insurance Program, and the effects Hurricane Harvey continues to have on area residents. Fletcher will be joined by U.S. Army Corps Galveston District Commander Colonel Timothy Vail and incoming District Commander Colonel Rhett Blackmon, Harris County Flood Control District Deputy Director of Engineering and Construction Alan Black, and City of Houston Chief Recovery Officer Steve Costello. To register, visit fletcher.house.gov.
---
Information Session in Advance of Public Hearing
On April 19, beginning at 6 p.m., the Healthy Port Communities Coalition will hold an information meeting on the upcoming public hearing of the Texas Commission on Environmental Quality on a Union Pacific hazardous waste permit/compliance plan renewal application to address the creosote plume in the Fifth Ward. The information meeting will be held at YES Prep Fifth Ward, 1305 Benson St. The TCEQ public hearing will be held May 3, beginning at 7 p.m., at the DeLUXE Theater, 3303 Lyons Ave.
---
CEER's "People's Hearing for TCEQ" Education Workshops
On April 30. CEER (Coalition for Environment, Equity, and Resilience) will hold a "People's Hearing for TCEQ." The Hearing will take place in-person at the Carl Walker Jr. Multi-Service Center, 4300 Noble St. Houston, and will accommodate up to 250 attendees from across Brazoria, Fort Bend, Harris, Jefferson, and Liberty Counties. Leading up to the hearing, CEER representatives will answer the public's questions about a people's hearing and the Texas Commission on Environmental Quality and more at learning workshops through Zoom on Saturday, April 16 and 23 from 11 a.m.-1 p.m. Register for each of the events at zoom.us.
---
Learn about additional public comment opportunities at cechouston.org.
---
---
COALITION & COMMUNITY NOTES
We have endeavored to confirm the opportunities listed below. Please consider confirming directly with the hosts, particularly in light of concerns about the novel coronavirus (COVID-19).
---
Information from Texas' Second Draft Restoration Plan Webinar Available
The Texas Trustee Implementation Group held a webinar on the Draft Restoration Plan/Environmental Assessment #2 on March 9, 2022. The presentation provided details on the draft restoration plan and the proposed preferred alternatives. During the webinar, comments from the attendees were received for consideration in the final plan. Materials from the webinar presentation are now available at gulfspillrestoration.noaa.gov.
---
City of Houston joins the Wyland National Mayor's Challenge for Water Conservation
Houston Mayor Sylvester Turner invites Houstonians to participate in the City of Houston in the Wyland National Mayor's Challenge for Water Conservation. The Challenge is a friendly competition among U.S. cities to encourage people to take a pledge to conserve water. The city with the highest percentage of people who take the pledge in their population category wins! Last year Houston took 2nd place in our size category – just behind Dallas. People who take the pledge to conserve water and save energy during the month of April could win $3,000 toward their annual utility bills, water saving fixtures, and hundreds of prizes. Taking the pledge is free and only takes a minute. Learn more and take the pledge at mywaterpledge.com.
---
2nd Annual Stop Food Waste Series
Houston-based nonprofit Second Servings has launched the 2nd Annual Food Waste Series in April to raise awareness of the severity of food waste and its mission to fight hunger and end food waste in the community. Nearly 40% of the food produced in America is thrown away, yet more than 16% percent of Houstonians are considered food insecure. Additionally, food waste contributes to 8% of the global greenhouse gas emissions. In honor of Stop Food Waste Day, 15 local restaurants will showcase a zero-waste inspired dish or cocktail for the month of April. Find full information about the participating restaurants and their specific dishes or cocktails here.
---
Feral Atlas Summer Intensive Program at Rice University
The Houston Climate Justice Museum will host a week-long summer study intensive on the campus of Rice University during the month of July 18-22, based on the digital humanities project Feral Atlas and led by Rice students and museum staff. Participating students will have the opportunity to be involved in workshops led by local artists and conservationists, they will travel to nearby museums and collections to meet with museum professionals, and get hands-on experience with disaster recovery. Students interested in art, science, history, literature, and other fields are encouraged to apply. Transportation costs and meals are fully covered, and this is a free opportunity that will be held at Rice University with occasional off-site field trips. Interested students should fill out this form.
---
Walk on the Wild Side
On April 16, beginning at 10 a.m., the Nature Discovery Center will host a socially distanced walk through the park to see lizards, peer into the trees for looks at birds, discover the latest blooms and their pollinators in the Pocket Prairie, spy on the secret life of animals that hide under logs, and investigate more seasonal nature surprises! Learn some tips to explore nature with your family in your own backyard or on your travels. This event is a family event for kids 4 and up with their parents or adult caregivers. For more information and to register, visit naturediscoverycenter.org.
---
Powered for Good – Powered on for Texans
On April 20, beginning at 11 a.m., the Houston Advanced Research Center (HARC) will present a webinar featuring key HARC researchers who will discuss how climate change is impacting Texans and HARC's role in lessening the impacts from this risk. Content is formatted with 30 minutes of presentations and 15 minutes of discussion. The program is free to attend, but pre-registration is required by Monday, April 18. For more information and to register, visit harcresearch.org.
---
---
Mercer Botanic Gardens Volunteer Orientation
On April 20, from 6-7 p.m., Mercer Botanic Gardens will hold an orientation for prospective volunteers. The orientation will detail the various volunteer opportunities, from helping maintain our gardens, to plant propagation and sales, to educational programs and the Mercer Ambassadors. This orientation will be off site at the Timber Lane Community Center, 1904 Naplechase Crest Drive in Spring. Participants must be 16 or older or 12-15 if accompanied by a parent or guardian. Limited space is available, and registration is required. For more information, see the Facebook event.
Bird Conservation and Restoration on the Texas Coast
On April 20, from 7-8:30 p.m., the Bay Area chapter of the Sierra Club will hold a virtual meeting featuring a presentation by Dr. Matthew Strausser, a wildlife biologist at NASA's Johnson Space Center at PAE (Pacific Architects & Engineers). He will discuss different projects that work with birds in the southeast Texas coastal region. For more information and to register, visit eventbrite.com.
---
EarthX2022
From April 20-24, EarthX2022 will be held at the Kay Bailey Hutchison Covention Center in Dallas. This world-renowned green gathering hosted by Dallas-based international environmental organization EarthX, returns in-person for the first time since 2019 in a new location in the Dallas Arts District. The 11th annual event brings together world leaders, government officials, NGOs, scientists, business executives, youth advocates, artists, and experts to inspire action toward a more sustainable future worldwide. For more information and to register, visit earthx.org.
---
Texas Beach Watch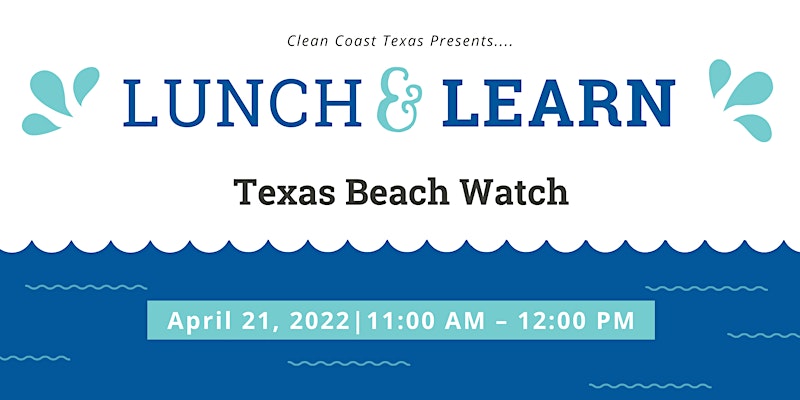 On April 21, from 11 a.m.-noon, the Texas General Land Office will hold a Clean Coast Texas webinar featuring GLO's Lucy Flores, Project Manager, and Brian DeSanti, NOAA Coastal Management Fellow, who will discuss Texas Beach Watch comes in, a GLO program that monitors quality of the state's coastal recreational waters for the presence of disease-causing pathogens to ensure that Texas' beaches remain safe and clean. For more information and to register, visit eventbrite.com.
---
Greentown Houston's First Anniversary
On April 21, from 12:30-7 p.m, Greentown Houston will celebrate its first anniversary as Houston's first-ever climatetech startup incubator. The event will be a celebration of entrepreneurship, collaboration, and innovation, which together with the engineering strength and talent of the region's energy industry will power Houston's climate leadership. The festivities will include celebratory remarks, lightning pitches from some of our outstanding startups, a member showcase, networking, and more. For more information and to register, visit eventbrite.com.
---
Mapping Climate, Equity, and Education Workshop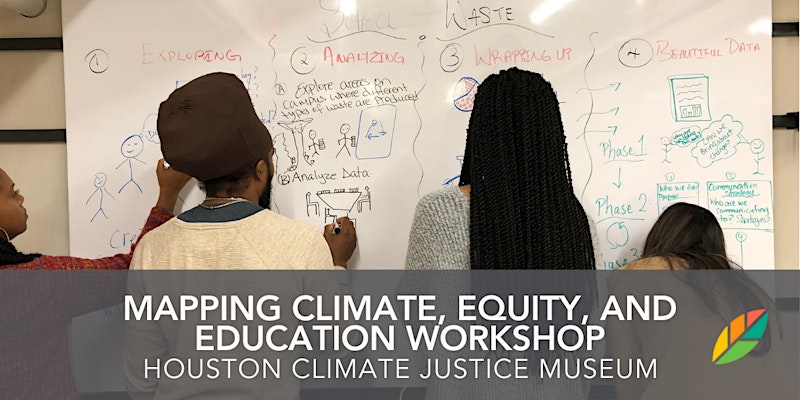 On April 21, from 6-7:30 p.m., EcoRise will hold an interactive workshop introducing participants to Gen:Thrive, a collaborative initiative providing shared data and technology tools to accelerate sustainability education and advance health, equity and climate resilience in K-12 schools. Participants will learn how to use GIS mapping and data visualization to track environmental education programs alongside equity and climate challenges in order to identify gaps in services, partnership opportunities, and strategies for effectively serving our most vulnerable communities. The event will be held at the new Houston Climate Justice Museum, 3308 Garrow St. For more information and to register, visit eventbrite.com.
---
The Path of Hope: A Study on Climate Action for Faith Communities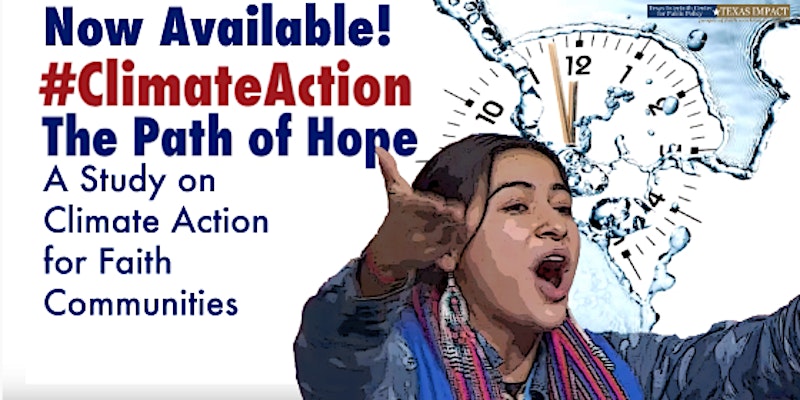 From April 21 through May 12, the Interfaith Environmental Network of Houston will host a weekly online discussion series built around 15-minute videos featuring interviews with U.S. faith leaders, representatives of climate-impacted communities from the global South, and presentations by UN officials and other experts. The series focuses on how climate change is impacting the core ministries of faith communities around the world, how those impacts will increase in the future, and why these impacts create an imperative for people of faith to advocate for strong US climate action. For more information and to register, visit eventbrite.com.
---
Leveraging Houston's Financial and Human Capital for Sustainable Energy Transitions
Enabling energy transitions requires connecting, attracting and growing relationships among corporations, innovators, capital providers and the workforce to establish the supply chain depths needed to achieve the scale required. On April 22, from 8 a.m.-1:30 p.m., the Baker Institute for Public Policy at Rice University and Real Energy Alliance Houston will host a conference in which corporate, national and local leadership across supply chains for different forms of energy will discuss how Houston is seeking to leverage its comparative advantages to lead in energy transitions. For more information and to register, visit bakerinstitute.org.
---
Green Opportunities Houston Career Expo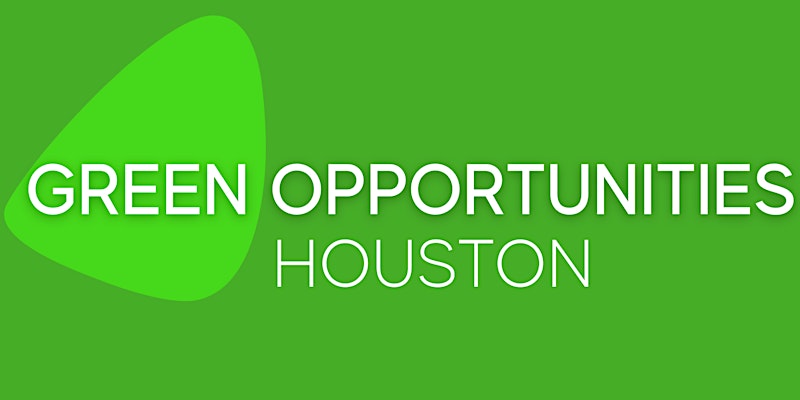 From April 22-23, the City of Houston and Houston Community College South Camus, 1990 Airport Blvd., will host a Green Opportunities Career Expo. There will be job opportunities at City of Houston, CenterPoint, Port Houston, and many more. The event will include food options and live music. For more information and to register, visit eventbrite.com.
---
Ocean Music Concert for Earth Day featuring The Knights
Rothko Chapel and Ocean Music Action, a new nonprofit led by Houston Symphony Principal Harpist Megan Conley, will bring members of the Grammy-nominated chamber orchestra The Knights to Houston for a weekend of music and community service. The first event will be a special program on Friday, April 22, featuring live music performances, dance, and a visual art display, all inspired by the ocean. Ocean Music Action will lead additional Earth Day weekend events, including a Saturday, April 23 morning clean-up at Buffalo Bayou, a Saturday evening concert at Moody Center for the Arts, and a Sunday, April 24 lecture by National Geographic photographer David Liittschwager at the Houston Museum of Natural Science. For more information on the concert and related events, visit rothkochapel.org.
---
Earth Month Prairie Planting
On April 23, from 9-11 a.m., Galveston Bay Foundation will host a volunteer event to restore coastal prairie habitat, and plant a bioswale at its headquarters in Kemah. All ages are welcome, children under 18 must have an adult guardian participate with them. Pre-registration is required to participate. For more information and to register, visit galvbay.org.
---
---
---
Witness: Seeds of Hope Planting
On April 23, from 9-11 a.m., Houston Against Hate will host the third of a 4-part series designed to bring communities together through dialogue. Since Houston's founding, African Americans have had complex relationships to the land, some uplifting and celebratory, some rooted in oppression and injustice. Join the Houston Parks & Recreation Department for an Earth Week prairie planting at Clinton Park. In addition to the prairie planting, participants will explore the deep roots between local prairies and legendary Black Cowboys and the rodeo. For more information and to register, visit houstonagainsthate.org.
---
Navigating Buffalo Bayou East
On April 23, from 9-11:30 a.m., Architecture Center Houston and the Buffalo Bayou Partnership will host a bike ride and tour exploring Houston's past and future at Buffalo Bayou East. In Houston's earliest days, Buffalo Bayou was key to Houston's future as a major trading and transportation center. Today, the eastern section of the bayou is dotted with abandoned industrial relics, but Buffalo Bayou Partnership's Master Plan East re-envisions the area as a network of trails, parks, and multi-modal connections that create a continuous link between destinations and surrounding communities. For more information and to register, visit aiahouston.org.
---
Turkey Bend Waterway Cleanup
On April 23, from 9 a.m.-noon, Keep Texas Beautiful and Black Cat GIS, in partnership with the American Bird Conservancy and SPLASh invite Houston-area kayak and canoe volunteers to participate in cleaning up Turkey Bend on Buffalo Bayou. Participants will meet at the boat ramp across from Marron Park, 808 N. York Street, Houston. For morew information and to register, visit tfaforms.com.
---
"Conversations About Climate" an Earth Day Event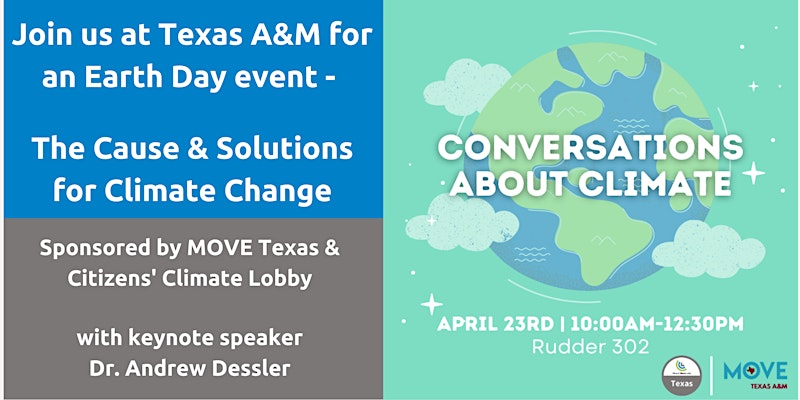 On April 23, from 10 a.m.-12:30 p.m., the Houston chapter of the Citizens Climate Lobby will hold a hybrid event about the science of climate change and ways to address the problem. The keynote speaker will be Dr. Andrew Dessler, Professor and Director of Texas A&M University's Texas Center for Climate Studies. The in-person event will be held at TAMU's Rudder Tower, Room 302, 401 Joe Routt Boulevard, College Station. For more information and to register (either in-person or virtual), visit eventbrite.com.
---
Earth Day Celebration at Houston Arboretum
On April 23, from 10 a.m.-2 p.m., the Houston Arboretum & Nature Center will host a celebration of Earth Day, featuring art, poetry, drawing, photography, and more. Get creative and explore informative booths, nature hikes, fun displays in the Discovery Room, and Earth-friendly crafts and activities. For more information and to register, visit houstonarboretum.org.
---
Pollination Celebration
On April 23, from 10 a.m.-4 p.m., the Armand Bayou Nature Center will host its annual Pollination Celebration. Pollination is essential not just for our survival, but also the survival of every living thing. The event will highlight how vital pollinators are to everyday life, shed light on the pollinators that often get overlooked, and empower attendees to become pollinator champions while having a fun time outdoors with your friends and family. For more information and to register, visit abnc.org.
---
Twilight on the Prairie
On April 23, from 5:30-8:30 p.m., the Houston chapter of the Native Prairies Association of Texas will host Twilight on the Prairie. The evening will celebrate NPAT members and partners, while raising important funds for the Lawther-Deer Park Prairie Education Program. Education Director Della Barbato will also share how members are saving Texas prairie by educating youth and the public about the beauty and benefits of native prairies. For more information and to register, visit texasprairie.org.
---
Energy Transitions in Underserved Communities Request for Applications
Rapid large-scale transformations of energy and transportation systems to low-carbon, renewable, and energy efficient sources and technologies are essential to avoiding the most severe impacts of climate change. These energy transitions provide challenges and opportunities to improve environmental and public health in ways that also reduce the inequities prevalent in the current energy and transportation systems, such as the disproportionate impact of environmental hazards on low-income communities and communities of color. U.S. EPA, as part of its Science to Achieve Results (STAR) program, is seeking applications proposing community-engaged research that will address the drivers and environmental impacts of energy transitions in underserved communities. The application period closes April 28, 2022. Learn more at epa.gov.
---
It's Breeding Season at the Smith Oaks Rookery
In the latest edition of "Houston & Nature," host Nivien Saleh joins Houston expert bird guide Glenn Olsen at the Smith Oaks Rookery on High Island, which teems with life in springtime. Several species of colonial nesting birds visit the Rookery to raise their young. And they do so right in front of human onlookers, without signs of fear. To hear the full episode, visit houstonnature.com.
---
SPRING MIGRATION
Sierra Club Meeting: Lights Out for Birds!
On April 14, from 7:30-9 p.m., the Houston chapter of the Sierra Club will hold an online meeting fearuing a presentation by Houston Audubon's Kathy Sweezey, who will explain how the Houston-Galveston region is helping migratory birds through Lights Out, Texas! She will discuss spring migration and birds to look out for, the Lights Out, Texas! initiative, collision monitoring, and actions that everyone can take to limit threats to birds. For more information and to register, visit meetup.com.
---
Virtual Bird Bash
On April 16, beginning at 8 a.m., the Gulf Coast Bird Observatory will present its annual Bird Bash virtually over Facebook Live. Virtual Bird Bash connects people all over the world to Gulf Coast Bird Observatory and the birds that it protect. Watch volunteers band birds, attend our virtual workshops, learn more about our conservation efforts, enter the raffle, and more. The event is free and public to view, so even if you don't have a Facebook account, you can still view the videos and other content. All proceeds go to GCBO and our conservation efforts. Find the full schedule and information on how to participate at gcbo.org.
---
Galveston FeatherFest
From April 21-24, the Galveston Nature Tourism Council will host the 20th anniversary Galveston FeatherFest. Thousands of birds take wing to Galveston Island each spring during an arduous northward migration across the Gulf from Central and South America. And hundreds of tourists and neighbors follow suit to see more than 200 species of brightly-colored birds strut their stuff around Galveston – a prime location along the Great Texas Coastal Birding Trail. FeatherFest is a fun four days of excellent birding and nature photography field trips. For more information and to register, visit galvestonfeatherfest.com.
---
Unplugged Adventure: Birding the Katy Prairie
On April 22, from 8 a.m.-noon, the Katy Prairie Conservancy will host an event celebrating spring migration on the Katy Prairie. Guides will lead partcipants on a bird walk highlighting our various stopover habitats for migrating birds. Attendees will meet at the Indiangrass Preserve and then caravan to other preserves depending on the birds. Binoculars and scopes available for use. Ages 10 and up – novice birders are welcome. For more information and to register, visit constantcontact.com.
---
Birdathon 2022
Birdathon 2022 is Houston Audubon's annual spring fundraiser where participants compete to count as many bird species as possible in a 24-hour period while fundraising for bird conservation. The birding period runs through May 5, 2022. Team reports are due on May 9. Houston Audubon and partners will offer guided birding opportunities around town in conjunction with Birdathon. These bird walks will give participants some hands-on birding experience so you can feel comfortable forming your own Birdathon team afterward and competing. The Awards Celebration will be held May 21 at the Edith L. Moore Nature Sanctuary. All contributions support Houston Audubon's mission to advance the conservation of birds and positively impact their supporting environments. For more information and to register, visit houstonaudubon.org.
---
Spring Fling at Gulf Coast Bird Observatory
Through May 8, the Gulf Coast Bird Observatory is hosting its annual Spring Fling at the Quintana Neotropic Bird Sanctuary on Lamar Street across from the Quintana town hall building. Spring Fling is an opportunity to see and celebrate the return of migratory songbirds as they arrive at stopover habitat along the coast. This is great time to enjoy the wide variety of species that migrate through Texas dressed in their spring finery and to see colorful birds like orioles, grosbeaks, tanagers, and numerous warbler species, to name just a few. Knowledgeable volunteers and staff will be on hand to answer your questions, keep a daily list, and sell water, snacks, and field guides. For more information, visit gcbo.org.
---
Destination: High Island
Through May 22, 2022, Houston Audubon invites the public to High Island and Bolivar Peninsula for the unrivaled spectacle of bird migration on the Upper Texas Coast. Among the vantage points, visitors can use the new Kathrine G. McGovern Canopy Walkway. High Island sanctuaries are open every day from dawn to dusk. Free admission for children, students, and High Island residents. For more information, visit houstonaudubon.org.
---
Lights Out, Texas!
Lights Out, Texas!, a campaign of education, awareness, and action that focuses on turning out lights at night during the spring and fall migrations to help protect the billions of migratory birds that fly over Texas, is under way. The full Spring Migration period runs through June 15, and the critical Spring Peak Migration period runs April 22 – May 12. Texan by Nature and Audubon Texas lead Lights Out, Texas! efforts across the state. For more information on how to participate, visit texanbynature.org.
---
CONTESTS
---
Houston Teens Care About Clean Air Video Contest
Environmental Defense Fund and Environmental Youth Council are hosting the 5th annual Houston Teens Care About Clean Air student video contest. High school students in Houston and the surrounding areas are challenged to create a 1-2 minute video about air pollution, climate change, or environmental justice. First prize is a $2,500 Visa gift card. Teachers also have the opportunity to earn their own Visa gift card. For more information, visit enviroyouthcouncil.org. Teachers can find information and sign up your school to participate by completing the form HERE on the contest website or email Shannon Thomas at sthomas@edf.org. Submissions are due April 22.
---
Ocean Awareness Contest
The 11th annual Ocean Awareness Contest is a platform for young people to learn about environmental issues through art-making and creative communication, explore their relationship to a changing world, and become advocates for positive change. Students ages 11-18 from around the world are invited to participate. The 2022 Ocean Awareness Contest—THE FUNNY THING ABOUT CLIMATE CHANGE—challenges students to learn about climate change and its impact on the ocean, and to explore new ways to communicate the urgency of the climate crisis.The deadline for submissions is June 13. For more information, visit bowseat.org. (Image: Student artist Luyi Song)
---
Reminders About Ongoing Opportunities
Earth Month EcoChallenge. The Interfaith Environmental Network of Houston invites you to celebrate Earth Day/Month in April by joining its team for the online Earth Month EcoChallenge. This EcoChallenge focuses on the sustainable development goals of the United Nations, with categories of: basic needs; security, health & equity, education; livelihood, economy; communities and climate; and ecosystems. To sign up or to learn more, visit earthmonth.ecochallenge.org. Contact Lisa Brenskelle at gcs.lrc@gmail.com for any questions.
Rain Barrel and Compost Bin 2022 Sale. Through May 1, the City of Houston's Green Building Resource Center is selling 50-gallon Ivy rain barrels and compost bins at a discounted price while supplies last. Pickup will be May 14 at the Green Building Resource Center. For more information, visit rainwatersolutions.com.
Living the Change. On Tuesdays through May 17, the Interfaith Environmental Network of Houston hosts an online course developed in response to the Walk on Earth Gently multifaith statement presented at the COP23 UN Climate Change Conference. This program focuses on making personal lifestyle changes in three areas: transportation, energy, and food. For more information and to register, visit eventbrite.com.
---
TV: Texas Parks & Wildlife
Broadcast on KUHT Channel 8 at 3 p.m. each Saturday and on municipal access cable channels in Baytown, Deer Park, Houston, Texas City, Galveston, Nassau Bay, Pasadena, Seabrook, Sugar Land, and on HCC TV. More info on the TPWD website (* indicates a segment about the Houston area). For a preview, visit TPWD's YouTube Page.
Bat biologists climb deep into culverts to fight the deadly White-nose Syndrome. It's a new spray away concept that they hope will save a rare Texas bat species
Visit Guadalupe River State Park to camp under the trees, swim, take a bike ride, and find some fun for the whole family
If you're looking for an alternative to the mainstream, take a ride down the Sabine Sandbar Paddling Trail. Hidden deep in East Texas, this meandering trail is a great place to find some peace and quiet
A morning in the swamp at North Toledo Bend Wildlife Management Area
Additional Upcoming Events
---
Check out the latest Green Jobs at cechouston.org/green-jobs/.