CEC is pleased to welcome the Coalition for Environment, Equity, and Resilience (CEER) as a member organization. CEER's mission is to raise awareness about the connections between pollution, place, and the public's health. CEER envisions a Houston region that is equitable, environmentally sustainable and economically strong; where residents have the opportunity to live, work, learn, play, and pray free from environmental hazards.
To make that vision a reality, CEER advocates for public and private investment in protecting communities by cleaning up hazards that contaminate air, water, and land. At the same time, these investments must prevent or reduce flooding.
CEER is a coalition that brings together 27 organizations and their expertise, resources, and tools to meet the needs of communities. Citizens' Environmental Coalition is proud to be a founding member organization of CEER. CEER works with communities impacted by environmental pollution, hazards and climate change. Each CEER member organization has a mission and vision that advances one or more areas of environment, equity, and resilience. The collective work of CEER coalition members focuses on advancing policy that will transform systems to put people over profits, center communities of color who are disproportionately impacted, and address the legacy of environmental injustice. CEER works directly with community, government officials, regulatory bodies and other stakeholders to act on policy solutions that strengthen equity, public health and resilience.
---
---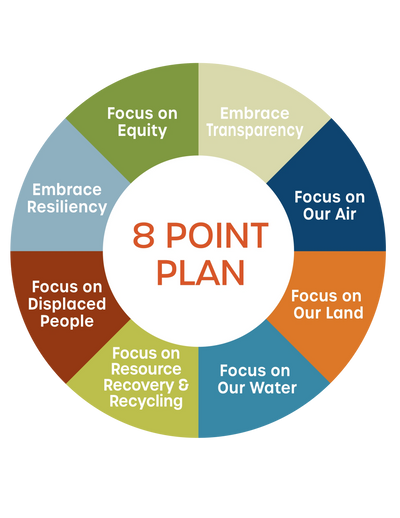 CEER's work is guided by its 8 Point Plan, which was developed by its founding coalition members. CEER's 27 member organizations have committed to working together to advance the 8 Point Plan:
Embrace Transparency
Focus on Air
Focus on Land
Focus on Water
Focus on Resource Recovery and Recycling
Focus on Displaced People
Embrace Resiliency
Focus on Equity
CEER is a program of Healthy Gulf, headquartered in New Orleans, Louisiana. Healthy Gulf is committed to uniting and empowering people to protect and restore the natural resources of the Gulf Region.
CEER is presenting a series of Climate Justice Trainings in the spring of 2021. The free virtual trainings will focus on uncovering the past, understanding the present, and envisioning a more just and equitable future. Local experts and community members will share how racism shaped policies in the past and how those policies are impacting the climate crisis right here in Houston. Community members, local leaders, government officials, activists, youth and nonprofits are invited to attend any or all of the workshops.
CEER hosts candidate forums, town halls, trainings and calls to action connected to its advocacy campaigns that relate to the 8 Point Plan. In addition, CEER publishes stories, op-ed pieces, action alerts, events, letters to politicians, and informative reports. For example, see CEER's detailed letter to Harris County Flood Control about community questions and concerns in northeast Houston, and Flood Control's response. A sampling of reports on their website includes Creating Lasting Change in a Climate Altered Future; Eyes on the Future, Connected to the Past: Climate Justice in Northeast Houston; Our Local Vision of Just Recovery; and Community Conservation.
Non-profit organizations that would like to join CEER should contact CEER about the membership process.