Plastic Free EcoChallenge, Breakfast with Bakeyah, State of the City Planning, Houston Green New Deal Town Hall, Green Jobs, and more
The use of plastics, especially single-use plastics, has increased exponentially since the Industrial Revolution. One of the most ubiquitous forms of single use plastic is the plastic bag. According to the Center for Biological Diversity, the United States uses about 12 million barrels of oil per year to manufacture enough plastic bags to meet American demand, amounting to around 100 billion plastic bags. Unfortunately, only 1% of those plastic bags are recycled, with the rest ending up in landfills, where it takes 500 years for them to degrade.
However, there are many steps you can take to reduce your use of plastic bags and single use plastics in general. On July 1, the Coalition of North American Zoos and Aquariums begins their Plastic Free EcoChallenge, which will last the entire month. Challenges include using reusable water bottles, bags, and straws, replacing disposable razors with steel razors, and making homemade pet treats, along with many others activities that affect all aspects of everyday life. The Environmental Protection Agency details the many ways that plastic pollution is affects the globe and what you can do to help.
Additionally, July 3 is International Plastic Bag Free Day. You can participate by refusing a single use plastic bag when you buy groceries or other products from stores, opting instead to carry items or use a reusable bag made out of cloth, canvas, or even old old vinyl banners (Astros champs or Houston youth poetry anyone?).
Here are a few regional organizations that are highlighting how plastic pollution threatens the Gulf Coast:
And check out this episode on KUHF's Houston Matters on "The Pros And Cons Of Houston's Complicated Relationship With Plastics," featuring CEC's own Rachel Powers.
---
CEC NOTES
Save the Dates: Green Films, Greater Houston Environmental Summit, Environmental Educators Exchange, Earth Day
Houston Green Films: Please join CEC, the Houston Green Film Series, the Rice Media Center, and additional partners on July 17, 2019, at 6:30 p.m. for conversation, networking, and a light meal, followed by a film at 7 p.m. and panel discussion at 8 p.m. Free to the public, though donations are kindly appreciated. Sign up for information about this event and other green film news at constantcontact.com. Events are held the third Wednesday of each month.
Greater Houston Environmental Summit: Friday, August 2, 2019, from 8:30 a.m.-3 p.m. at the United Way of Greater Houston's Community Resource Center. In addition to excellent presentations, we will again offer small-format table talks. Details and registration will be available early summer 2019. The theme this year with be the Sustainable Development Goals set forth by the United Nations.
Earth Day Houston, part of the 50th worldwide observance, will be held at Discovery Green on Sunday, April 19, 2020.
The Environmental Educators' Exchange next quarterly meeting will be on Wednesday, August 7, 2019, at 4:30 p.m. Location TBD.
Candidate Forums and Questionnaires
Are you organizing a candidate forum or questionnaire for the November 2019 election? CEC is gathering information about election-related activities within our environmental communities. Let us know what you are planning, and we'll keep you in the loop. CEC is interested in either hosting, coordinating, and/or supporting the efforts of local environmental nonprofits leading up to the election. Send your comments to [email protected] Note: the filing deadline for the November City of Houston elections is August 26, 2019. We have heard that CEER Houston will be hosting a mayoral candidate forum on Saturday, September 21, 2019.
---
Interested in serving on the CEC Board or a Committee?
CEC is seeking individuals who might be interested in joining our board of directors in January 2020, or volunteering to serve on one of our committees starting this year. Over the next few months, we are hosting information sessions for prospective board and committee members to learn more about the commitment and opportunities. Upcoming sessions include the evenings of June 24, July 29, September 23, and October 15. For more information (including directions to our top secret world headquarters), please email [email protected]
---
Scroll down to read notes from our member organizations and the community, or view the emailed version of the newsletter, which includes a green job listing.
---
COALITION & COMMUNITY NOTES
We have endeavored to confirm the opportunities listed below. Please consider confirming directly with the hosts.
NOAA appoints Farron Wallace as Galveston Laboratory Director
The National Oceanographic and Atmospheric Administration recently named Farron Wallace as the new Galveston Laboratory Director for its Southeast Fisheries Science Center. Previously, Wallace served as a senior fisheries research scientist at the Alaska Fisheries Science Center in Seattle, Washington. The SEFSC conducts multi-disciplinary research programs to provide management information to support national and regional programs of NOAA's National Marine Fisheries Service. For more details, visit noaa.gov.
---
Deepwater Horizon Natural Resource Trustees events materials available
Outreach materials are now available from the June 5 and 6, 2019 Deepwater Horizon Natural Resource Trustees' public events in Pensacola, Florida. The first event, a community outreach workshop, helped community members and stakeholders learn more about restoration funding and processes, and how to get involved in Gulf restoration by proposing projects to the Trustees. The second event, the Trustees' fourth annual public meeting, provided an update on work since the last meeting in July 2018. To view the materials, visit gulfspillrestoration.noaa.gov.
---
Texas GLO Disaster Recovery Mitigation Survey
Texas will receive $4.297 billion in federal disaster mitigation funds to help vulnerable communities prepare for future disasters. The Texas General Land Office is working to write a Mitigation Action Plan that outlines what types of activities will be funded, who will receive these funds, and how much funding will be available to each community. This survey is one of the many ways GLO is generating feedback on needs and challenges faced by communities. The survey may be used to generate an allocation methodology. Completion of this survey does not guarantee allocation of funds nor is it required to receive funding. To take the survey, visit surveymonkey.com.
---
Texas Wildlife Association Outreach Teacher Workshops
Through July 25, 2019 in the Houston area, the Texas Wildlife Association is offering Outreach Teacher Workshops, 6-hour hands-on trainings which introduce attendees to the TWA, in-class and outdoor L.A.N.D.S. Outreach lessons and activities, and how to incorporate natural resources into classrooms or programming. Lessons focus on teaching land stewardship, native wildlife, and water conservation and are TEKS-aligned. This workshop is ideal for educators grades K-8 (ages 5-14) and is free.  All educators who attend and complete the workshop will receive six CPE hours. For more information and to register, visit texas-wildlife.org.
---
Air Alliance Houston's Breakfast with Bakeyah
On June 27, 2019, beginning at 8 a.m., Air Alliance Houston will host a breakfast discussion with Executive Director Bakeyah Nelson, who will discuss the Alliance's recently released report about potential adverse health impacts of TxDOT's impending I-45 freeway expansion, reaction from the community, next advocacy steps, and how the public can get involved in efforts to move the region towards a more sustainable and equitable transportation future. The event will be held at the Buffalo Bayou Partnership Office, 1019 Commerce Street. RSVP to [email protected] or call 713-528-3779.
---
Prairie Teacher Workshop
On June 27, 2019, from 9 a.m.-3 p.m., the Native Prairies Association of Texas will hold a free Prairie Teacher Workshop at the Lawther-Deer Park Prairie Preserve. The workshop will use a multi-disciplinary approach to teach about the history and benefits of the coastal prairie. Extra credit hours are offered. Space is limited. RSVP to [email protected] or call 832-283-0383.
---
State of the City Planning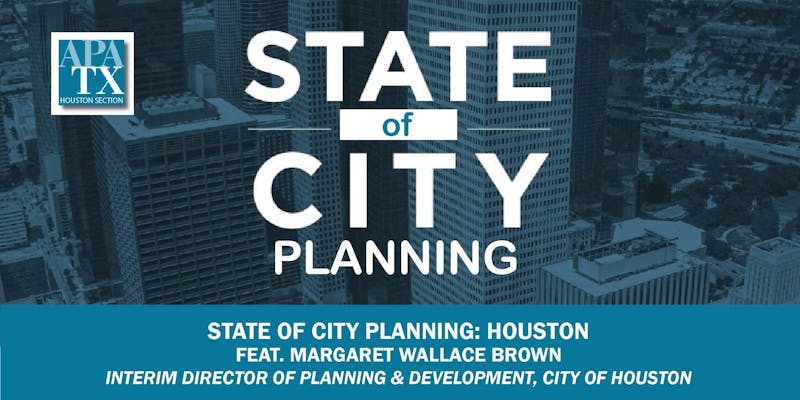 On June 27, 2019, from noon-1:30 p.m., the Houston chapter of the American Planning Association and Blueprint Houston will host a Q&A lunch session on the state of city planning in Houston. Attendees will learn how recent efforts in long-range planning for complete communities, resilience, historic preservation, parks and greenspace, and transportation are building the Houston of tomorrow. The event will be held at Texas Southern University. For more information and to register, visit eventbrite.com.
---
Regional Air Quality Planning Committee meeting
On June 27, 2019, beginning at 2 p.m., the Houston-Galveston Area Council's Regional Air Quality Planning Committee will host a regular meeting. Featured speakers will be Kevin Stewart of the American Lung Association on the "2018 State of the Air Report," and Matt Kurla of BakerBotts with an overview of air quality concerns in the Houston-Galveston region. For more information, visit h-gac.com.
---
Houston Green New Deal Town Hall
On June 29, 2019, from 1:30-5 p.m., the Houston hub of the Sunrise Movement will host a Green New Deal Town Hall at Impact Hub Houston, 410 Pierce St., Suite 215. The event will examine who stands to benefit from the Green New Deal and what's at stake. For more information and to register, visit actionnetwork.org or the Facebook event.
---
Bringing Nature Home
On June 27, 2018, from 5-7:30 p.m., the Organic Horticulture Benefits Alliance will present Doug Tallamy, author of Bringing Nature Home, who will discuss how sustainable biodiversity through plant choice can help implement an encouraging environment for wildlife of all kinds. The event will take place at the United Way of Greater Houston. For more information and to purchase tickets, visit ohbaonline.org.
---
Milby Park Cleanup
On June 28, 2019, from 9 a.m.-noon, the Natural Resources Management Program of the City of Houston's Parks and Recreation Department will host a volunteer cleanup of the riparian restoration area at Charles H. Milby Park, 2001 Central St. Volunteers will clean up litter and plant trees. To RSVP, send an email to [email protected]
---
Book reading: Hill Country Birds & Waters
On June 29, 2019, starting at 7 p.m., Brazos Bookstore will host a book reading and signing by Jim Blackburn and Isabelle Scurry Chapman, authors of Hill Country Birds & Water, a collection of art and poetry that celebrates the beauty of the birds that make their home between Austin and San Antonio. A paean to the peace of the Hill Country and the grace of its wildlife, the book also warns readers and calls out modern threats to spring-fed waterways and the birds that depend on them. For more information, visit brazosbookstore.com.
---
Wildflowers of Jones Park
On July 6, 2019, beginning at 10 a.m., volunteer and native plant expert Paul Roling will discuss the vast array of native wildflowers found in Jesse H. Jones Park & Nature Center and the wider area. Participants will also get some real-life field experience on an engaging hike to spot some the park's most beautiful displays.Ages 10 and up. For more information visit hcp4.net.
---
World Ocean Day Youth Council applications open through Aug. 11
The World Oceans Day Youth Advisory Council is searching for 10 young ocean leaders from around the world to bring the Council to a total of 25 members. Applications are due by Aug. 11, 2019. Applicants should be between the ages of 16-22, able to make a 2-year commitment – including approximately 10 hours per month to Council activities – and have a passion for ocean conservation. To apply, visit surveymonkey.com.
---
Deadline extended for Draft Restoration Plan 2 comments
On May 15, 2019, the Open Ocean Trustee Implementation Group released the Draft Restoration Plan 2 for a 45-day public comment period, ending on July 1. It proposes 18 preferred restoration alternatives for fish, sea turtles, marine mammals, and mesophotic and deep benthic communities. Based on requests, the Trustees have extended the deadline to submit comments to July 15, 2019. Members of the public are encouraged to review the plan, fact sheets and other materials, and provide your comments by the July 15 deadline. More information on where to send public comments is in the latest Gulf Spill Restoration web update.
---
TV: Texas Parks & Wildlife
Broadcast on KUHT Channel 8 at 3 p.m. each Saturday and on municipal access cable channels in Baytown, Deer Park, Houston, Texas City, Galveston, Nassau Bay, Pasadena, Seabrook, Sugar Land, and on HCC TV. More info on the TPWD website (* indicates a segment about the Houston area). For a preview, visit TPWD's YouTube Page.
Richard Heilbrun reaches a wide and diverse audience as an urban biologist
Project WILD empowers teachers to teach urban youngsters about how wildlife affects the world
History is the highlight at Fort Richardson State Park
---
Additional Upcoming Events