Houston Heat Mapping, Sea Turtles Update, Pollinator Walk, Purple Martin Migration Watch Party, Gardening with Native Plants, Green Jobs, and more
Dear Friends,
Hot enough for you? Just kidding, we know the answer. As Houston and Southeast Texas experience record temperatures this early summer, with little relief in sight, we thought this week we would offer a reminder about the the urband heat island effect and heat-mapping efforts in our region.
Almost two years ago, on August 7, 2020, residents of Houston and Harris County took part in the largest single-day, community-led heat mapping effort in Houston. As reported by Carson Sartain of The Nature Conservancy, around 75 community scientists took to the streets with specially-designed thermal sensors attached to their cars or bicycles. They embarked on a 300-square-mile effort to measure and map urban heat in the region.
"Ultimately, the urban heat island effect can impact many aspects of human health and well-being," Dr. Meredith Jennings, Ph.D., said. "This study will be an important first step to help communities understand urban heat islands, guide policymakers on next steps, and move forward with science-backed solutions to improve quality of life."
The study, called the Houston Harris Heat Team (or H3AT), is a combined effort of The Nature Conservancy Texas, Resilient Houston, the City of Houston, Harris County Public Health, and the Houston Advanced Research Center.
A wealth of data, stories and other resources from the project are available at h3at.org.
Top image: Houston Harris Heat Team
---
CEC NOTES
Summer of Action 2022
Our Summer of Action is clipping along, having produced two successful Community Listening Sessions.
Next on the agenda is a series of three Skill-Building Sessions designed to empower concerned citizens and local community leaders to advocate for climate resilience funding from the Justice40 initiative and Bipartisan Infrastructure Law.
Thanks to funding from EDF, these events are free and open to the public:
Please register at Eventbrite for these and other Summer of Action events. We look forward to seeing you there!
---
Professional Development Opportunities for Teachers
Join fellow environmental educators every other Friday morning for a quick check-in to collaborate. The next meeting is July 15, beginning at 8:30 a.m. Bring your coffee (or tea) and ideas for things that are working in your programs (or questions about things that are not). The Zoom call is hosted by regional board members from the Texas Association for Environmental Education. Email Alicia at Alicia.Mein@pct3.hctx.net for Zoom link and any questions.
---
Virtually Wild! Texas Student Learning Programs
Region 4 Education Service Center partners with the Virtually Wild! Texas team to provide students with engaging and interactive TEKS-aligned virtual environmental education field trips that highlight careers in conservation. These free 45-minute programs are live, and teachers and students are encouraged to engage with natural resources professionals by asking questions. Topics vary by program and have included endangered species, animal adaptations, habitat exploration, wildlife crime investigations, and more! Public, private, homeschool, hospitals, and education sites are welcome to view. See program listings and register at esc4.net.
---
Texas Wildlife Foundation Summer 2022 Teacher Workshops
The Texas Wildlife Foundation is offering Teacher Workshops, both virtual and in-person through July 28. Teacher Workshops are six-hour trainings that introduce attendees to the Texas Wildlife Association, in-class and outdoor lessons and activities, and how to incorporate natural resources into classrooms or programming. Lessons focus on teaching land stewardship, native wildlife, and water conservation and are Science TEKS-aligned for Grades K-8. Learn more and register at texas-wildlife.org.
Other opportunities:
---
Please scroll down to read about public engagement opportunities and notes from our member organizations and the community.
---
OPPORTUNITIES FOR PUBLIC ENGAGEMENT
---
Informational Meeting, Public Hearing for CDBG Regional Mitigation Funds Method of Distribution
Houston-Galveston Area Council staff will hold an informational meeting to discuss a conditionally approved preliminary Method of Distribution (MOD) for $488,762,000 in U.S. Housing and Urban Development Community Development Block Grant (CDBG) Mitigation funds to provide funds to counties and local jurisdictions for risk mitigation projects related to flooding, hurricanes, and other natural disasters. The meeting will be from 5:30 to 7:30 p.m. Thursday, July 14. During the meeting, H-GAC staff will provide an overview of the conditionally approved preliminary MOD, including information about data used in its development, and will answer questions. The meeting is online, and registration is required.
H-GAC staff will take oral and written public comments during a public hearing from 5:30 to 7:30 p.m. Thursday, July 21. The hearing will be at H-GAC, second floor conference rooms, and on Zoom. Registration is requested to attend in person and required to attend online. As it is a public hearing, H-GAC staff is not permitted to respond to any questions or comments during this meeting.
---
Regional Flood Management Committee Meeting
On July 20, from 1:30-3:30 p.m., the Houston-Galveston Area Council will hold a hybrid meeting of the Regional Flood Management Committee. For more information and to register, visit h-gac.com.
---
Draft Water Quality Management Plan Update Public Comment Period open through July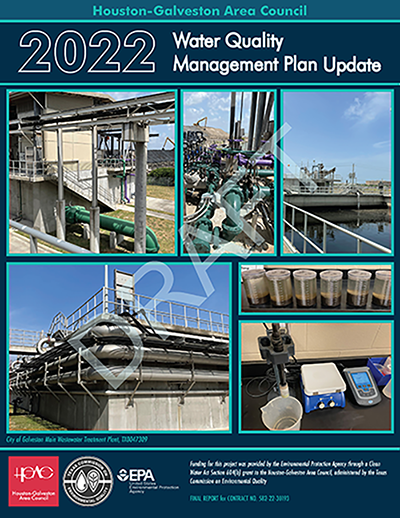 Each year, the Houston-Galveston Area Council conducts water quality management planning as part of a Clean Water Act Section 604(b) grant program funded by the U.S. Environmental Protection Agency through the Texas Commission on Environmental Quality. The Water Quality Management Plan Update describes activities that provide data and analysis regarding wastewater infrastructure, watershed planning, and sources of nonpoint source pollution that affect water quality in the Houston-Galveston region. Data collected through this project form the foundation of H-GAC's watershed-based planning efforts in the region. As part of this process, the Draft Water Quality Management Plan Update is released for a public comment period. The public comment period will close at midnight on Sunday, July 31. The public is invited to provide comments on the report. Written comments can be submitted by email to Brian Sims.
---
Harris County flood risk reduction funds surveys
The Harris County Community Services Department is collecting feedback from communities on how to prioritize the $750 million in promised CDBG-MIT funds. The Committees recently submitted this letter to request that the Method of Distribution strongly prioritize flood risk reduction projects. You can find out more at HarrisRecovery.org, and the surveys, in English and Spanish, are open throughout the summer.
---
---
Public Comment on Harris County Storm Conveyance Tunnels proposal
The Harris County Flood Control District is seeking public comment on the recently released Feasibility Study on the Countywide Large Diameter Tunnels for Stormwater Conveyance, a $30 billion, 133-mile system of 8 large underground tunnels to drain stormwater out of the county's bayous and streams. Public comment will be accepted through September 30. The next phase of the project will include community meetings. Find more information, including the presentation slides and video of a public meeting held in June, at hcfcd.org.
---
Learn about additional public comment opportunities at cechouston.org.
---
Continue reading