Houston Environmental News Update January 19, 2022
Rachel's departure, Wild & Scenic Film Fest Jan 29, The Energy Transition, Bald Eagles of Houston, Houston Arbor Day, Permaculture, Bird Survey, Green Jobs and more
---
A note from Rachel Powers, CEC's Executive Director:
It has been my profound pleasure and privilege to serve the environmental community as the executive director of the CEC for the past nine years (and as a volunteer for nine years before that). My last day on staff will be on Friday, February 4, 2021.
However, I'm not leaving entirely! I will be leaving with a supportive, capable, and committed board in place, along with a fabulous team of staff, interns, and volunteers. I will transition into the role of an advisor and mentor for CEC's staff, board, and interns, as CEC evolves into an even stronger organization. I will volunteer, donate, attend events, and serve as a member of CEC's communications committee and advisory council as I prepare for my next adventure.
I am proud of the accomplishments of the CEC over the past several years. With the help of staff, contractors, volunteers, and interns, we have continued the 50-year legacy of CEC's newsletter, expanded the reach of our websites and social media, strengthened our commitment to environmental justice, coordinated environmental training and resources for educators and students, connected job searchers with job openings, hosted tens of thousands of event participants, launched Houston Green Films & Festivals, welcomed hundreds of volunteers, spoken with dozens of media outlets, coordinated collaborative grants, supported the launch of several brand new environmental organizations, and participated in numerous policy initiatives.
I am especially proud of our interns, who inspire me every day with their commitment, curiosity, diversity, accomplishment, and desire to change the world. They have overcome adversity; graduated from high school, community college, university, and graduate school; won national and international awards; landed jobs with CEC member organizations and at the White House (!); and have come back to tell me of their adventures. (Hint.)
My resignation is part of a larger trend. The Great Resignation has hit nonprofit organizations especially hard; the nonprofit workforce has shrunk more than most industries, even though the demand for services has only increased. CEC has been growing and adapting, but support from our readers will be critical to our continued success. I hope you will consider joining me in making a donation to the CEC–to celebrate CEC's accomplishments and to help ensure our future.
It has been an honor and a joy to meet and work with so many of you. Keep doing good.
---
---
CEC NOTES
Wild & Scenic Film Festival on Tour January 29, 2022
The Wild & Scenic Film Festival On Tour is returning to Houston on January 29, 2022. Hosted by the Citizens' Environmental Coalition, this year's film fest will be a hybrid event, taking place both online and masked-in-person at MATCH to accommodate everyone's COVID safety preferences. Virtual viewing will be available through February 3, 2022.
SPONSORS
Thank you to our 2022 Sponsors:
---
Professional Development Opportunities for Teachers
Engage your students with lessons outdoors or virtually. Sign up today at hereinhouston.org.
---
Please scroll down to read about public engagement opportunities and notes from our member organizations and the community.
---
OPPORTUNITIES FOR PUBLIC ENGAGEMENT
---
National Environmental Justice Community Engagement Call
EPA invites Environmental Justice (EJ) advocates to participate in the next National Environmental Justice Community Engagement Call on Jan. 25, 2022 from 1 p.m. to 3 p.m. (CST). These calls are free and open to the public. The purpose of these calls is to inform the community and other stakeholders about EPA's EJ work and enhance opportunities to maintain an open dialogue with EJ advocates. This call will touch on upcoming grant funding and technical assistance as well as regional listening sessions on a draft strategy to address lead exposures and disparities in communities. To register, visit eventbrite.com.
---
White House Environmental Justice Advisory Council meeting
The White House Environmental Justice Advisory Council, which advises the Chair of the Council of Environmental Quality and the newly established White House Environmental Justice Interagency Council to increase the federal government's efforts to address environmental injustice. will hold a two-day public meeting Jan. 26-27, 2022 from approximately 2-6:30 PM (CST) each day. The meeting is open to all members of the public. Members of the public are encouraged to provide comments relevant to the specific issues being considered by WHEJAC that include potential solutions and recommendations. Registration is required at zoom.us.
---
Community Flood Resilience Task Force seeks member
The Harris County Community Flood Resilience Task Force is accepting applications to fill a vacant seat. The Task Force is especially interested in candidates from the Greenspoint and Aldine areas, but all Harris County residents are invited to apply. These members will join the inaugural membership in working to further equitable flood resilience efforts across Harris County. If you are interested in serving on this Task Force, please submit an application to cfrtf.harriscountytx.gov by 11;59 p.m. on Jan. 31, 2022.
---
Revised Definition of "Waters of the United States"
On Dec. 7, 2021, EPA and U.S. Army Corps of Engineers published in the Federal Register a proposed new "Waters of the United States" definition. Find the proposed Revised Definition at federalregister.gov. The public comment period for the proposed rule continues through Feb. 7, 2022. Learn more and submit comments at federalregister.gov.
---
COALITION & COMMUNITY NOTES
We have endeavored to confirm the opportunities listed below. Please consider confirming directly with the hosts, particularly in light of concerns about the novel coronavirus (COVID-19).
---
Enhanced Air Quality Monitoring for Communities grant opportunity
EPA has announced the availability of $20 million in competitive grants to conduct ambient air monitoring of pollutants in communities with environmental and health outcome disparities from pollution and the COVID-19 pandemic. EPA will award funds to support community and local efforts to monitor their own air quality and to promote air quality monitoring partnerships between communities and tribal, state, and local governments. The application period will be open until Feb. 25, 2022, 11:59 PM EST and EPA expects to award the grants in summer 2022. To learn more, visit epa.gov.
---
The Energy Transition: Why, How, Who, When, How Much
On Jan. 20, 2022, from 11 a.m.-noon, the Argentina-Texas Chamber of Commerce will present a webinar featuring Sergio Kapusta, Ph.D., professor of the School of Engineering at Rice University and director of the Rice Energy and Natural Resources Initiative. He will discuss the energy transition in perspective; why climate negotiations are frustrating; and the main drivers, opportunities, and challenges in the future energy landscape. For more information and to register, visit argentinatexas.org.
---
Aggregate Mining in the San Jacinto Watershed: Issues and Opportunities
On Jan. 20, 2022, from noon-1 p.m., the Texas Association of Environmental Professionals will hold a virtual luncheon meeting featuring a presentation by Jill Boullion, executive director of the Bayou Land Conservancy. She will discuss aggregate mining in the San Jacinto Watershed. For more information and to register, visit taep.memberclicks.net.
---
The Bald Eagles of Houston
On Jan. 20, 2021, from 6:30-8 p.m., Houston Audubon will host a special speaker event featuring Trey Morris, who will provide a deep dive into the bald eagles of Houston. Morris has been following several pairs of local eagles for over 12 years and will share photographs and stories from his personal life with these birds. For more information and to register, visit houstonaudubon.app.neoncrm.com.
---
Native Plant Propagation & Board Elections
On Jan. 20, 2022, beginning at 7 p.m., the Houston chapter of the Native Plant Society of Texas will hold a monthly meeting featuring a presentation by Mark Morganstern of Morning Star Prairie Plants, who will share the tips and tricks for successful plant propagation. Following the presentation, the chapter will hold its annual board elections. For more information and to register, visit npsot.org.
---
Regionally Coordinated Transportation Plan Update
Every five years, the Houston-Galveston Area Council updates its Regionally Coordinated Transportation Plan to look for new opportunities to provide efficient and effective public transportation services across the entire 13-county region, especially for seniors, persons with disabilities, persons with low incomes, veterans, and youth. With the public's help, guidance, and active participation, h-GAC has developed an update based on the region's needs. You can learn more about each theme below, or read the entire RCTP update at engage.h-gac.com. H-GAC also encourages you to attend any of our virtual open houses: January 20 at 6:30 p.m., January 25 at 2:30 p.m., or January 26 at 2:30 p.m. During that time, H-GAC staff will be on-hand to answer any questions you may have. For more information and to register, visit engage.h-gac.com.
---
Houston Arbor Day at Cypress Creek
On Jan. 22, 2022, Bayou Land Conservancy and partnering organizations will hold a volunteer tree-planting event at Harris County Precinct 4's Kickerillo-Mischer Park. Volunteers will plant native trees that will help protect water quality and community health. There are two shifts (either from 9-10:30 a.m. or 11 a.m-12:30 p.m.). Volunteers can register for one or both. For more information and to register, visit bayoulandconservancy.org.
---
Spring Branch Virtual Bike Ride
The Spring Branch Bike Ride, originally scheduled for Saturday, Jan. 22, 2022, has transitioned into a virtual challenge to complete anytime over the course of a month. Post a social media photo of your trip using the hashtag #ParksByYou, and tag Houston Parks Board when you cycle the trail between January 22 and February 22 to receive a Houston Parks Board swag bag, mailed directly to you. Spring Branch Trail Phase One was completed in December 2020 and plans are in motion for the Spring Branch Trail Phase Two to expand the trail west towards Baseball USA. To read more about the Spring Branch Trail projects, visit houstonparksboard.org.
---
Sustainable Living Through Permaculture
On Jan. 23, and Jan. 30, 2022, Urban Harvest is offering a two-part course titled Sustainable Living Through Permaculture, coordinated by Shawn McFarland. Permaculture is a design methodology that focuses on sustainable practices using effective principles and process found in nature. In a post-Harvey Houston, permaculture principles directly address the ways to be more sustainable and flood resistant in both garden and home design. This two-part module is part of a five-module Permaculture Design Certificate Class Series hosted by Urban Harvest in partnership with the Permaculture Guild of Houston. Learn more at UrbanHarvest.org. Find Urban Harvest's full listing of Spring courses at here.
---
2022 Science Is For Everyone webinars
The American Meteorological Society Board on Outreach and Informal Education presents SCIENCE IS FOR EVERYONE, a series of science education opportunities aimed at improving the scientific literacy of all community members across the globe. The 2022 Science Is For Everyone will kick off with three evening webinars during the American Meteorological Society Annual Meeting in Houston from Jan. 24-26, 2022. Webinars, which begin at 7 p.m. each evening, feature subject matter experts on extreme weather and air quality and are hosted by local on-air meteorologists from KPRC, Fox26, and ABC13. On Monday, the topic will be Water, Friend of Foe? On Tuesday, the topic will be Too Hot…Too Cold. On Wednesday, the topic will be The Air You Breathe. Registration for each event is free and required (click on the links above). Educators will be provided with documentation for professional development records. For questions, please contact Vicky Gorman at GormanAMS@aol.com.
---
Causes and Impacts of Local / Relative Sea Level Rise on the Texas Coast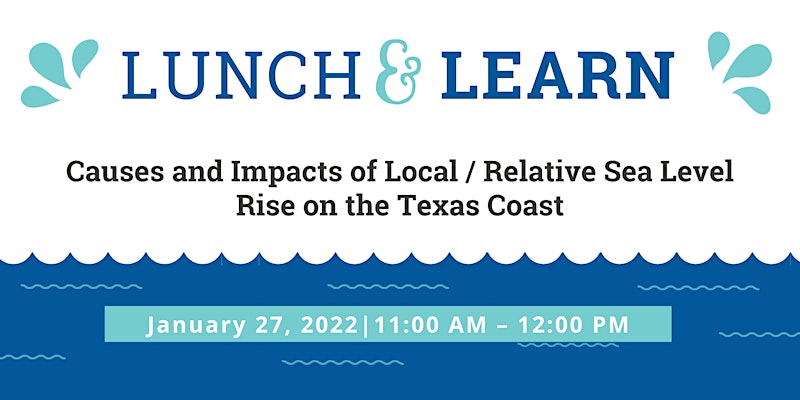 On Jan. 27, 2022, from 11 a.m.-noon, the Texas General Land Office will host a Clean Coast Texas webinar featuring Doug Marcy, coastal hazards specialist at the National Oceanic and Atmospheric Administration's Office for Coastal Management. He will discuss sea level rise and its impacts on the Texas coast. The discussion will explore the current state of sea-level change in Texas, including the causes of past and present sea-level rise, and projections for the future. For more information and to register, visit eventbrite.com.
---
Tree-rific Volunteers
On Jan. 26, 2022, beginning at 8 a.m., Mercer Botanic Gardens invites volunteers to care for nursery trees by giving them some tender love and care. The work is outdoors, so come prepared to get your hands dirty. Bring gloves and a refillable water bottle. Meet at The Mercer Society's Horticultural Propagation Center, approximately one mile from Mercer at 3602 Hirschfield Road in Spring. Register online at hcp4.net/mercer/events. For more information, call 281-353-8100 or email legacytrees@hcp4.net.
---
Bird Survey at Mercer Botanic Gardens
On Jan. 27, 2022, from 8-10 a.m., Mercer Botanic Gardens will host a birdwatching led by longtime birder Paul Gregg and Mercer staff member Christy Jones. This monthly bird survey is suited for birders of all levels and experience, ages 12 and older. Wear comfortable walking shoes and weather-appropriate clothing, as Mercer's 1.7-mile survey loop is primarily crushed asphalt trails. For more information and to register, visit apps.hcp4.net.
---
Taking Action to Improve Water Quality
On Jan. 27, 2022, beginning at 7 p.m. The Woodlands G.R.E.E.N. will hold a "Going Green Sustainability Lecture" featuring Rachel Windham, planner with the Houston-Galveston Area Council, and Teri MacArthur, environmental education specialist with the Environmental Services Department of the Woodlands Township. They will discuss the interconnectivity of local watersheds and some of the common challenges impacting the quality of water in Spring Creek. They will also outline strategies for responding to these challenges that can be carried out at individual, local, and regional levels. Learn more and find a link to the meeting at thewoodlandsgreen.org.
---
Take Care of Texas Student Video Contest open for public voting
Public voting is now open for the annual Take Care of Texas Video Contest. Hundreds of Texas students in grades 6 – 12 created 30-second videos about how they take care of the environment, using data from the website. Those entries have been winnowed to 12 finalists. The top three videos in each group will go on to the final round, with winners announced in late February. Two things to note: (1) Only one vote per person (2) The videos will not play using Microsoft Internet Explorer. Public voting closes on Jan. 28, 2022 at 4 p.m. Cast your vote at takecareoftexas.org, and share the link widely with friends and family.
---
EPA Healthy Environmental Living Program Grant opportunity
The U.S. EPA recently announced the availability of funds and solicits applications that work directly with communities to reduce environmental risk to protect and improve human health and the quality of life. The Healthy Environmental Living Program (HELP) will achieve this through identifying and funding projects that: assess, understand, and reduce environmental and human health risk; increase collaboration through community capacity to understand and solve environmental and human health problems; build institutional and community capacity to understand and solve environmental and human health problems; achieve measurable environmental and human health benefits; reduce pollution at the source; and advance emergency preparedness and resilience. The closing date for applications is Jan 28, 2022. For more information and to apply, visit grants.gov.
---
Birding 101
On Jan. 29, 2022, from 9 a.m.-noon, Mercer Botanic Gardens will host a birding class led by longtime birder and photographer Paul Gregg, who will share four key tips to quickly identify common and migratory birds seen in the Houston area. This informative and family-friendly class is for beginner to intermediate birders, so bring a friend and learn insightful birding tips from a pro. This class concludes with a bird watching field excursion. For more information and to register, visit apps.hcp4.net.
---
Bayou Preservation Association seeks nominations and applications for 2022 Board of Directors
The Bayou Preservation Association is seeking qualified nominations and applications for its 2022 Board of Directors. This is an opportunity to be part of a team shaping a long-standing environmental organization as it moves forward in strengthening its capacity and accomplishments. Board members will support the work of Bayou Preservation Association and provide mission-based leadership and strategic governance. The application outlines requirements, board member responsibilities, and qualifications. Applications are due Jan. 31, 2022 in order to be considered for board services starting in 2022. Find full information and a link to the application at bayoupreservation.org.
---
Keep Texas Beautiful Opens Governor's Achievement Awards Application
For more than 30 years, Keep Texas Beautiful, in partnership with the Texas Department of Transportation has awarded the prestigious Governor's Community Achievement Awards to Texas communities for their outstanding overall efforts to keep their communities beautiful. This year, 10 winning communities will share $2 million in landscaping awards from the Texas Department of Transportation, with the amount based on population size. The funds are used for landscaping projects along local rights-of-way. There is a $25 application fee. The deadline to apply is Feb. 17, 2022. For more information and to apply, visit ktb.org.
---
Go Birding with Sarah Flournoy and Houston Audubon Society
In the latest "Houston & Nature" podcast, Nivien Saleh talks with Sarah Flournoy of the Houston Audubon Society, who discusses her journey from beginner to expert birder. Find out why in Houston birding is such a big deal, and learn how you can connect with other bird enthusiasts through Houston Audubon. To hear the episode, visit houstonnature.com.
---
Reminders About Ongoing Opportunities
---
TV: Texas Parks & Wildlife
Broadcast on KUHT Channel 8 at 3 p.m. each Saturday and on municipal access cable channels in Baytown, Deer Park, Houston, Texas City, Galveston, Nassau Bay, Pasadena, Seabrook, Sugar Land, and on HCC TV. More info on the TPWD website (* indicates a segment about the Houston area). For a preview, visit TPWD's YouTube Page.
Sometimes the journey is as big as the destination, especially if you're carrying everything you need while camping and traveling by bicycle. Off-road bicycling meets backpacking in this adventure travelogue, as a group tests their endurance and documents their trek through Big Bend Ranch State Park
Emma Clarkson charged forward with designing an oyster farming program for the Texas Parks and Wildlife Department. Her goal is to help protect natural oyster reefs while helping cultivate a strong seafood culture in Texas
Freelance photographer, and regular contributor to the Texas Parks & Wildlife magazine, Russell Graves, shares some of his thoughts about what it takes to create quality outdoor photos
Dragonflies and damselflies are fun to watch, whether they are darting, dancing, or standing still
Additional Upcoming Events
---
Check out the latest Green Jobs at cechouston.org/green-jobs/.