Houston Bird Week, Montopolis: The Living Coast, Mandell Park Tour, Residential Solar, Parks for Pollinators, Fall Coastal Cleanup, Green Jobs and more
The fall migratory bird season is in full swing, and once again Houston Audubon is celebrating with Houston Bird Week, which runs from Friday, September 17 through Saturday, September 25, with a mix of in-person and virtual events.
The annual Bird Week was started in 2019 by Houston Audubon's inaugural Young Professionals Advisory Council to commemorate the organization's 50th birthday. Bird Week is "a celebration of the important role Houston plays in the journey of billions of migratory birds and the everyday lives of our resident birds. In addition to Houston's vital location along the Gulf of Mexico, the growing popularity of planting native plants, restoring prairies, bird-friendly education programs, and Houston's Lights Out for Birds program were among the many efforts and programs that gained Houston the Bird City designation in 2020."
This year's activities kick off with a Beer Launch Party on at Bakfish Brewing Co. in Pearland. The week includes a host of events around the region, including bird surveys, bird walks, activities that combine birding with biking and boating, volunteer beach and park clean-ups, trivia contests, photography classes and photo shoots, happy hours, chats by partnering organizations, a night of stories, bingo games, and many more. Many of the events are family-friendly. Find the full listing of events at houstonaudubon.org.
Lights Out, Houston!
Through Nov. 30, 2021, Houston Audubon invites the public to participate in Lights Out, Houston for the fall migration season. Houston Audubon's Lights Out for Birds Program started in 2017 after a large collision event in Galveston. In 2020, Houston Audubon partnered with the Cornell Lab of Ornithology, Texan By Nature, and organizations across the state to expand the program into Lights Out Texas! This program encourages individuals, organizations, companies, building managers, and cities to turn their non-essential, exterior lights off from 11 p.m.-6 a.m. throughout spring and fall migrations, with extra emphasis on these lights being out during peak migration, which continues through October 29. Learn more at houstonaudublog.org.
---
CEC NOTES
Montopolis: The Living Coast — Saturday!
We are excited to announce that The Living Coast event, planned for last year but postponed, will be shown this Saturday, Sep. 18, 2021, at MATCH. The Living Coast performance by Montopolis combines original music, live narration, and cinematic images of the Texas gulf coast. Surfers and sailors, shrimpers and oilmen, poets and scientists all share their stories about this complicated region of serene beauty, vast industry, and incredible contradictions. The show has been limited to 50% capacity and will require masks. Ticket sales will be donated to the Matagorda Bay Foundation and the Citizens' Environmental Coalition. Tickets now available.
---
Professional Development Opportunities for Teachers
Engage your students with lessons outdoors or virtually. Over 30 workshops are in the regional summer professional development calendar to connect you with local resources. Sign up today at hereinhouston.org.
---
Call for submissions: Wild About Houston Green Film Festival
The CEC is proud to host the fourth annual Wild About Houston Green Film Festival this fall. CEC hopes to use this festival to tell local environmental stories, highlight the work of CEC's member organizations, and to inspire our residents and visitors to make a difference in the environment and our quality of life. The festival will be held virtually to protect the health and safety of our community in these times. We invite you to submit a film for consideration. Films should be specific to the environment in the Houston/Gulf Coast Region, should be no more than seven minutes long, and must be of suitable quality to be shown publicly. View the Submission Guidelines, and make submissions using this Google Form.
---
Please scroll down to read about public engagement opportunities and notes from our member organizations and the community.
---
OPPORTUNITIES FOR PUBLIC ENGAGEMENT
---
Public comment sought on Hurricane Harvey flood mitigation projects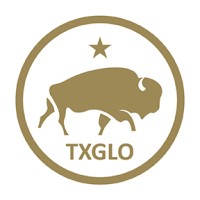 The Texas General Land Office is seeking public comment on Amendment 1 to the Mitigation State Action Plan for $4.3 billion in Community Development Block Grants for Mitigation (CDBG-MIT) relating to Hurricane Harvey flood mitigation for a federally required 30-day public comment period. All public comments submitted to cdr@recovery.texas.gov by 5 p.m. on September 22, 2021, will be considered. Per federal requirements, the GLO will respond to public comments before the amendment is sent to HUD for final approval. For information, including how to attend the public hearing and to submit comments, visit recovery.texas.gov.
---
Public Meeting for proposed Municipal Solid Waste Permit No. 2406 in San Jacinto County
PC-II, LLC, of Madison County, Mississippi, has applied to the Texas Commission on Environmental Quality (TCEQ) for a permit to authorize a new Municipal Solid Waste Type I Landfill. The facility is proposed to be located approximately six miles northwest of the intersection of US 59 and Business SH 105, in San Jacinto County, Texas. This proposed landfill affects Peach Creek, Lake Houston, Sam Houston Forest. TCEQ's Executive Director has determined that the application is administratively complete and is conducting a technical review of the application. A public meeting will be held on Tuesday, September 28, 2021 at 7:00 PM. Members of the public who would like to ask questions or provide comments during the meeting may access the meeting via webcast by following this GoToMeeting link. Members of the public are encouraged to submit written comments anytime during the public meeting or by mail before the close of the public comment period to the Office of the Chief Clerk, TCEQ, Mail Code MC-105, P.O. Box 13087, Austin, Texas 78711-3087 or electronically at tceq.texas.gov. The public comment and meeting notice–along with information about the proposed permit–may be viewed at tceq.texas.gov.
---
Input Requested: San Jacinto Regional Flood Planning Group
The San Jacinto RFPG seeks input from the public regarding the development of a regional flood plan, part of a statewide flood plan. Learn more, submit input, and sign up for updates at sanjacintofloodplanning.org.
---
COALITION & COMMUNITY NOTES
We have endeavored to confirm the opportunities listed below. Please consider confirming directly with the hosts, particularly in light of concerns about the novel coronavirus (COVID-19).
---
Kenneth Allen named Director of the Houston Parks and Recreation Department
On Sept. 1, 2021, Houston City Council voted to confirm Mayor Sylvester Turner's appointment of Kenneth Allen as Director of the Houston Parks and Recreation Department and Houston City Council voted to confirm the appointment this morning. In December, Allen was named interim director and previously worked as the Parks Department's Assistant Director/Recreation and Wellness. As Director of the Parks and Recreation Department, Allen is responsible for overseeing the stewardship of the City's 380 parks, 60 community centers, 163 miles of trails, urban forests, recreational programming and activities, budget and facilities management, and a staff of about 700 full-time and seasonal employees. Read the full press release at houstontx.gov.
---
H-GAC Clean Rivers Program releases 2021 Basin Summary Report, other reports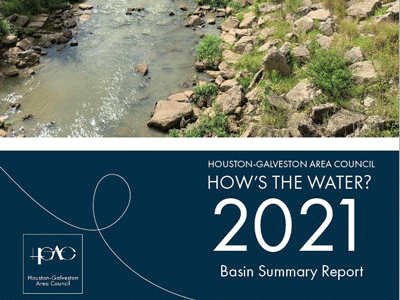 The Houston-Galveston Area Council's Clean Rivers Program has released its 2021 Basin Summary Report, titled "How's the Water?". The report serves as a comprehensive review of water quality within the Houston-Galveston region. The report can be found as a PDF or an interactive StoryMap at datalab.h-tac.com/bsr2021. Also during this year, H-GAC conducted a Monitoring Efficiencies Analysis to identify areas within the Clean Rivers Program where efficiencies may be implemented. The final report produced for the Monitoring Efficiencies Analysis project is available for download on H-GAC's website under the Special Studies section of the Water Resource Publications page. The final report can be found at h-gac.com. H-GAC also worked with the Environmental Institute of Houston-Clear Lake to develop a report for the Targeted Monitoring Project. This project, focused on identifying potential sources of bacteria, examined ten watersheds in the Houston-Galveston region. The project final report can be found at h-gac.com.
---
Texas Climate News: No doubt climate change made Ida more destructive, scientists say
"Hurricane Ida's long trek of death and destruction from Louisiana to the Northeastern U.S. marked the fourth time in five years that a Gulf-striking hurricane rapidly intensified as it approached landfall – a phenomenon that scientists say is enhanced by a climate heated by fossil-fuel pollution," writes environmental journalist Bill Dawson in Texas Climate News. "Three climate experts at Texas universities – Andrew Dessler of Texas A&M, James Doss-Gollin of Rice University, and Katharine Hayhoe of The Nature Conservancy and Texas Tech – said there is no doubt that climate change aggravated the destruction brought by Ida." Read the full article at texasclimatenews.org.
---
H-GAC celebrates Commute Solutions Month
September is Commute Solutions Month, and the Houston-Galveston Area Council challenges you to attend one of its virtual fairs to learn more about alternate forms of commuting, such as biking, walking, public transportation, carpooling, or vanpooling. These alternate modes of transportation have been proven to reduce stress, improve mental and physical health, reduce overall energy consumption, and save money. Register for one of the free virtual transportation fairs on Sept. 16 and Sept. 30 (11 a.m. – 2 p.m.), where you can play games, speak one-on-one with experts, watch short videos, and grab additional information about transportation options. Also, check out our website at yourcommutesolution.org for more virtual activities and to learn about alternative commuting options available near you.
---
West University Place offers Master Recycler Course
The Recycling and Solid Waste Reduction Board of West University Place is offering a seven-week course for area residents to fine tune their recycling and waste reduction skills. The course will be held on Thursday evenings from 5:30 p.m. – 7:30 p. m., continues through October 21, and will include a Saturday field trip on October 2 from 8:30 a.m. – 12:00 p.m. Classes are held at the West University Place Recreation Center, 4210 Bellaire Blvd. Participants who complete certain requirements will receive a Master Recycler Certificate. Registration costs $35 for West U residents and $45 for non-residents. This fee will cover a course T-shirt, badge, refreshments, and transportation for the field trip. To enroll in the course visit the Recreation Center at 4210 Bellaire Blvd., or visit westutx.gov/parks. Course #3061102. For more information about the Master Recycler Course visit, westutx.gov/publicworks.
---
Take Care of Texas Video Contest
The Take Care of Texas Video Contest is back for 2021! Texas students in grades 6 – 12 are invited to create a 30-second video about how they take care of the environment, using data from our website. The sky is the creative limit, so the most original, entertaining, and thought-provoking young filmmakers will receive prizes and scholarships. The contest begins September 13, Participating students must upload their entry on or before 4 p.m. CST Friday, Dec. 3, 2021 CST, with the required documents. For some inspiration, see previous winning entries here. Find the full contest rules and other important information at takecareoftexas.org.
---
French American Innovation Days – Physics and Environment
The Consulate of France in Houston and the Office for Science & Technology of the French Embassy in the USA are holding a series of discussions on energy and the environment. On Sept. 17, the focus of the final program will be on "Resilience in the Built Environment" – How do we balance population growth, economic development and the environment in the face of climate change? For full descriptions of the programs and to register, visit Eventbrite.com.
---
Understanding Houston 2.0 Visioning Lab
On Sept. 16, 2021, from 9-10:30 a.m., Understanding Houston, an initiative of Greater Houston Community Foundation, invites you to attend a virtual interactive Visioning Lab. in this Visioning Lab, they will seek your feedback on our vision of Understanding Houston 2.0 — its first major website update — and your input on what you'd like to see from the updated and enhanced site, which is set to launch late-Spring 2022. To register, visit understandinghouston.org.
---
International Guidelines on Natural and Nature-Based Features for Flood Risk Management
On Sept. 16, 2021, beginning at 10 a.m., Engineering With Nature will hold a launch event for its International Guidelines on Natural and Nature-Based Features for Flood Risk Management. The international NNBF Guidelines provide practitioners with the best available information concerning the conceptualization, planning, design, engineering, construction, and maintenance of NNBF to support resilience and flood risk reduction for coastlines, bays, and estuaries, as well as river and freshwater lake systems. The event will be live-streamed on YouTube – integrating a live host with recorded guest speakers, imagery from the document, a keynote address, and a live web-ex panel. For more information, visit ewn.erdc.dren.mil.
---
Regulating Shellfish Growing Areas: Texas Coastal Water Quality and Oyster Harvest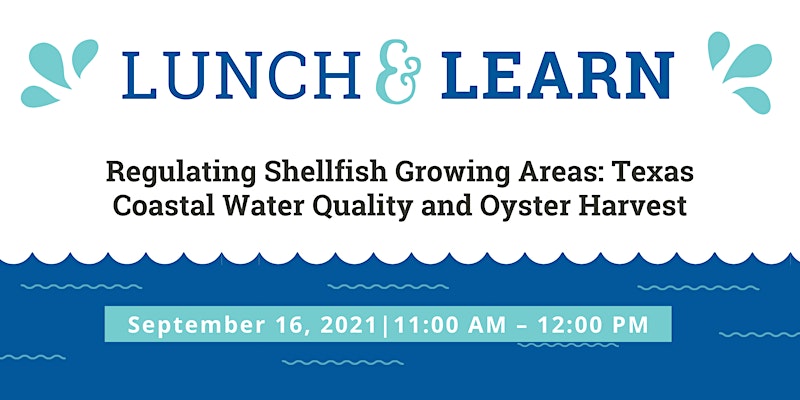 On Sept. 16, 2021, from 11 a.m.-noon, Clean Coast Texas — a new GLO initiative that supports sustainable stormwater management in coastal communities — will present a webinar featuring Andrew Myers, environmental protection specialist with the Texas Department of State Health Services (DSHS) Seafood and Aquatic Life Branch, about the agency's role in regulating marine shellfish growing areas to ensure they are safe to eat. He will discuss how the DSHS conducts water quality studies and utilizes water quality data to classify shellfish growing areas, develop sanitary surveys, take regulatory action, and work cooperatively with other state and federal agencies. For more information and to register, visit eventbrite.com.
---
USACE Galveston District Flood Risk Management and Coastal Resiliency Efforts
On Sept. 16, 2021 from noon-1 p.m., the Texas Association of Environmental Professionals will hold a virtual luncheon featuring a presentation by Lisa Mairs, Project Manager, on the U.S. Corps of Engineers Galveston District's flood risk management and coastal resiliency efforts. For more information and to register, visit taep.memberclicks.net.
---
Texas Parks and Wildlife's Recreation Grant Opportunities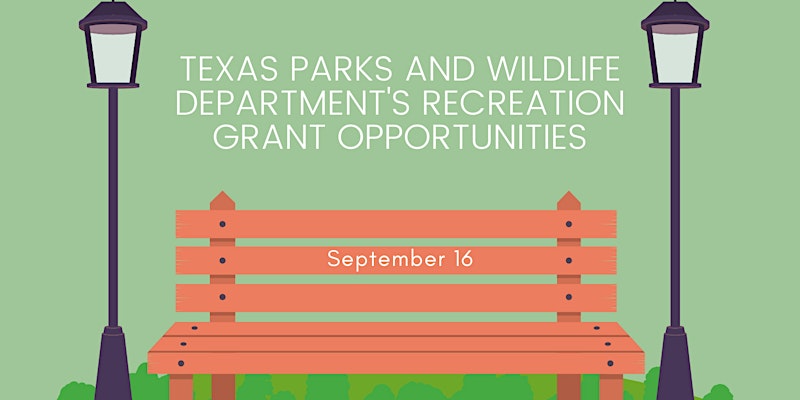 On Sept. 16, 2021, from 2-3 p.m., Texas Children in Nature will host a webinar featuring staff of the Texas Parks & Wildlife's Recreation Branch, who will provide an overview of grant programs available to help to build new parks, conserve natural resources, provide access to water bodies, develop outdoor programs for youth, and more. Grant opportunities include Boating Access & Infrastructure, Local Parks, Recreational Trails, Target Range, and Community Outdoor Outreach Program grants. For more information and to register, visit eventbrite.com.
---
Mandell Park Tour with Native Plant Society
On Sept. 16, 2021, beginning at 6:30 p.m., the Houston chapter of the Native Plant Society of Texas will host a tour of Mandell Park, 4399 Mandell Street at Richmond Ave. Attendees will be able to make out their Wildscapes Workshop Plant Sale shopping lists as they will see many of the plants in person. For more information, visit npsot.org.
---
The Evolution of Residential Solar
On Sept. 16, 2021, from 7-8:30 p.m., the Houston Renewable Energy Group will host a virtual discussion featuring dverse panelists working in the solar industry in Houston who will describe how residential power has evolved in the city. To register, visit Eventbrite.com.
---
Urban Wild Breakfast and Volunteering
On Sept. 17, 2021, from 8 a.m.-noon, Memorial Park Conservancy and its Urban Wild group invites the public join its Horticulture team for a morning of volunteering in the field and getting your hands dirty at Clay Family Eastern Glades. Breakfast treats and drinks will be provided. Wear your Urban Wild t-shirt if you'd like! Need one? Email Makenzie at mhrabik@memorialparkconservancy.org. For more information, see the Facebook event.
---
Parks for Pollinators 2021: Sylvan Rodriguez Park
From Sept. 17-20, 2021, the Houston Parks and Recreation Department will participate in a challenge with parks across the country to see how many pollinator species can be documented this September. It is easy to participate by joining an event or making observations on your own, using the iNaturalist app. With the iNaturalist app, you simply take a picture of a pollinator (bee, butterfly, bat, etc.) or plant, and the online community will help identify the species. Sylvan Rodriguez Park is one of HPARD's biggest habitat restoration projects where are working to restore over 70 acres of prairie and riparian habitat at this site. We expect to see significant increases in pollinator activity as we restore the natural habitat function of this urban natural area. For more information on how to participate, visit inaturalist.org.
---
Adopt-A-Beach Fall Coastal Cleanup
On Sept. 18, 2021, from 9 a.m.-noon, the Texas General Land Office is hosting the 35th annual Fall Coastal Cleanup at beaches along the Texas Gulf Coast, including several in the greater Houston-Galveston region. Volunteers are asked to wear closed-toe shoes and bring plenty of drinking water. Adopt-A-Beach will provide all necessary cleanup materials.Advance reservations are preferred but onsite registration will be available. Online registration will remain open until the end of the cleanup. For more information and to register, visit glo.texas.gov.
Galveston Bay Foundation, in partnership with Port Houston, is hosting a cleanup at Morgan's Point from 9 a.m.-1 p.m. Come help clean the Galveston Bay shoreline and enjoy lunch and opportunities to win prizes afterward. This event takes place during National Estuaries Week, a celebration of estuaries like Galveston Bay.
---
TRI Webinar: Introduction to Using the RSEI Model
On Sept. 21, 2021, beginning at 1 p.m. CDT, the U.S. EPA will present a webinar about how is Risk-Screening Environmental Indicators (RSEI) model can provide important information about the potential health-related impacts of toxic chemical releases from facilities in local communites that report to the Toxics Release Inventory (TRI). The RSEI model helps policy makers, researchers, and communities explore data on releases of toxic substances from industrial and federal facilities. For more information and to register, visit abtassociates.webex.com.
---
Garden & Nature Series: Observing and Recording Wildlife in Your Neighborhood
On Sept. 22, 2021, from 6-7:30 p.m., Hermann Park Conservancy will host a presentation by Jaime Gonzalez of The Nature Conservancy, who will discuss new technology and affordable tools that make it easy to learn about the wildlife of your neighborhood. You can even record wildlife species you find in your yard, local parks, and other places in your neighborhood, and contribute to science using smartphone apps. The talk will be held at the Family Garden in the McGovern Centennial Gardens. For more information, visit hermannpark.org.
---
Photographing Prairies for Maximum Impact
On Sept. 22, 2021, beginning at 7 p.m., the Houston chapter of the Native Prairie Association of Texas will hold a virtual meeting featuring a presentation by professional nature and conservation photographer Sean Fitzgerald, who will describe how to photograph prairies for maximum impact. Attendees will learn valuable tips to take better photos but also how to better incorporate them into the stories you want to tell and the messages you want to communicate. Register for the meeting at zoom.us.
---
Mercer Botanic Gardens Bird Survey
On Sept. 23, 2021, from 8-10 a.m., Mercer Botanic Gardens will host a birdwatching survey on the riparian forest trails along the Cypress Creek flyway. Led by longtime birder Paul Gregg and Mercer staff member Christy Jones, this monthly bird survey is suited for birders of all levels and experience. Wear comfortable walking shoes and weather-appropriate clothing. Participants must be 12 or older. Children must be accompanied by a parent or guardian. For more information and to register, visit the Facebook event.
---
Virtual Lunch and Learn: Healthy Outdoor Communities
On Sept. 23, 2021, from noon-1 p.m., the Houston Parks Board will present a program featuring Activation and Volunteer Manager Kelly Burnett, who will discuss HPB's participation in the Healthy Outdoor Communities, a collaborative approach to improve mental well-being and combat health disparities in areas of need in Houston. Over the course of five years, HPB is working with Nature and Eclectic Outdoors (NEO), Texas A&M School of Public Health, local outdoor and health nonprofits, and community members, on programmatic solutions to systemic barriers to park access and health inequities. For more information and to register, visit houstonparksboard.org.
---
Mercer Botanic Gardens Volunteer Orientation
On Sept. 23, 2021, from 6-7 p.m., Mercer Botanic Gardens will hold an orientation for prospective volunteers. Mercer Botanic Gardens offers a variety of volunteer opportunities at three facilities. The orientation will provide an overview of these opportunities, from helping maintain gardens, to plant propagation and sales, to educational programs and the Mercer Ambassadors. This orientation will be off site at the Timber Lane Community Center, 1904 Naplechase Crest Drive in Spring. Participants must be 16 or older or 12-15 if accompanied by a parent or guardian. Registration is required, as space is limited. Register online at hcp4.net.
---
USGS Annual Groundwater Table Data: How Are We Doing?
On Sept. 23, 2021, from 7-8:30 p.m., The Woodlands G.R.E.E.N will present a Going Green Lecture featuring Jason Ramage of the United States Geological Survey (USGS), who will discuss 2021 regional water-level altitudes in the Gulf Coast Aquifer system for the
Houston-Galveston region, including Montgomery County. In addition, Ramage will discuss short- and longterm changes in water-levels as well as subsidence, as measured by extensometers across the region. For more information and to register, visit thewoodlandsgreen.org.
---
2022 Texas Environmental Excellence Awards applications open until Sept. 24
Each year, the Governor's Office and commissioners from the Texas Commission on Environmental Quality honor the state's most outstanding environmental projects through the Texas Environmental Excellence Awards. Winners from across the state exemplify how Texans set the standard for ensuring clean air, clean water, and the safe management of waste. The application period for the 2022 awards is now open. Applications already submitted for the previously suspended 2021 awards will also be considered. To see winners from 2013 to 2020, visit the Texas Environmental Excellence Awards webpage. Applications will be accepted through Friday, Sept. 24, 2021.
---
TAEE Conference
From Sept. 24-25, 2021 the Texas Association for Environmental Educators will hold its annual conference, themed Rooted in Environmental Education. With a mixture of in-person and virtual events, educator will be sure to find something to grow their knowledge and networks. On September 24, there will be a movie night at the Houston Arboretum & Nature Center, and a seining field trip and movie night at Galveston Bay Foundation in Kemah. On September 25, join educators on a pocket prairie and school garden tour around Houston; learn from the experts how to start your own. Find full details on the conference website.
---
Unplugged Adventure: Birding the Katy Prairie
On Sept. 25, 2021, from 7-11 a.m., the Katy Prairie Conservancy will host a walking birding tour will be led by local birding expert, John Berner, who has birded all 254 Texas counties and completed over 10,000 ebird lists over 17 years. Much of this excursion will be off trail, so make sure to dress accordingly and bring binoculars. For more information and to register, visit katyprairie.org.
---
Fall Marsh Mania
On Sept 25, 2021, from 8-11 a.m., the Galveston Bay Foundation will hold its Fall Marsh Mania volunteer event. Volunteers will help restore vital marsh habitat by planting smooth cord grass in Kemah or Galveston. The Fall Marsh Mania event takes place during National Estuaries Week, a celebration of estuaries like Galveston Bay. Space is limited. For more information and to register, visit galvbay.org.
---
Xtreme Hummingbird Xtravaganza
On Sept. 25, 2021, from 8 a.m.-noon, the Gulf Coast Bird Observatory will hold its annual Xtreme Hummingbird Xtravaganza, Taking place at the peak of hummingbird migration, XHX is a once-a-year opportunity to see these amazing birds up close. Watch as we carefully catch and band these tiny travelers and sign up to symbolically adopt one. XHX will also include guest speakers, live animals, kids' activities, door prizes exhibitor booths, snacks, GCBO garage sale and our native plant nursery. The event will be held live in person, and there will be livestream version on Facebook on Sept 24 from 9-10. For more information, see the Facebook event.
---
National Public Lands Day at Lake Houston Park
On Sept. 25, 2021, from 9 a.m.-noon, the Bayou Land Conservancy will host the largest nationwide celebration of our public lands. Hosted at Lake Houston Wilderness Park and in partnership with REI, volunteers will spruce up the park and get a guided tour from park naturalists. Wear close-toed shoes and outdoor clothing, including work gloves, a hat, and sunglasses. Bring a water bottle and snack; refills will be provided. For more information and to register, visit bayoulandconservancy.org.
---
The Akokisa: Lifeways & Native Plants of Early Inhabitants of the Houston Area
On Sept. 25, 2021, from 10-11:30 a.m., Houston Botanic Garden will host a presentation by Dan Worrall, Ph.D., author of A Prehistory of Houston and Southeast Texas: Landscape and Culture. He will describe how the Akokisa, Native Americans who lived in the Houston area in the 18th & 19th centuries, adapted to conditions along the Gulf Coast. Following the lecture, Michael Godoy, education coordinator at Houston Botanic Garden, will lead attendees on a 30-minute tour of the Garden, highlighting plants the Akokisa used in their daily lives, as well as those used by neighboring tribes, such as the Caddo and Karankawa. The lecture/tour is free with paid admission. For more information, visit hbg.org.
---
BioArt Bayou-torium
On Sept. 25, 2021, from 4-9 p.m., Buffalo Bayou Partnership will host artist Henry G. Sanchez's BioArt Bayou-torium, a social, mobile, bilingual bio-art project housed in a shipping container. The Bayou-torium's mission is to bring art and natural science activities to cultivate stewardship of the nature of Houston's bayous to the bilingual and Spanish-speaking communities of the East End. Open to all ages, the BioArt Bayou-torium's life science and art making activities are inspired by the ecosystem of Buffalo Bayou. The event takes place at Yolanda Black Navarro Buffalo Bayou Nature Park, 2300 S/Sgt. Macario Garcia Dr. This is a recurring event through Oct. 17.
---
Bugstock
On Sept. 25, 2021, from 4- p.m., Buffalo Bayou Partnership will host Bugstock, an evening of bug-inspired activities, music, and plant giveaways, at Yolanda Black Navarro Buffalo Bend Nature Park. The event will also feature the Love Motel for Insects, an interactive sculpture by Brandon Ballengée created during the artist's residency with the University of Houston Cynthia Woods Mitchell Center for the Arts. For more information, visit buffalobayou.org.
---
Party for the Prairie
On Sept. 25, 2021, beginning at 7 p.m., the Houston chapter of the Native Prairies Association of Texas will host the second annual Party for the Prairie, a virtual celebration to raise funds for the Lawther-Deer Park Prairie Education Program. The event will include a tribute to the late Charlie Lundquist, a dedicated Lawther-Deer Park Prairie volunteer, as well as a raffle, live and silent auctions, and stories about how you are helping save our native prairies by educating our youth and the general public. Sponsorships continue to be welcome. For more information and to register, visit texasprairie.org.
---
Reminders About Ongoing Opportunities
Wild Hope Book Discussion Group. Through Oct. 8, 2021, the Interfaith Environmental Network of Houston is holding a weekly virtual discussion of the book Wild Hope: Stories for Lent from the Vanishing by Gayle Boss. Learn more and register at eventbrite.com.
Your Body Your Air. The Houston Public Library invites you to learn about types and sources of air pollution in Houston and the effect they have on our bodies in The Health Museum's new exhibit Your Body Your Air. Created in partnership with the Environmental Defense Fund, Your Body Your Air can be seen at various Houston Public Library locations through February 2022. Learn more at houstonlibrary.org.
H-GAC Conservation Project List. As part of its Regional Conservation Initiative, H-GAC is collecting information on conservation projects from local governments and non-governmental organizations for inclusion on a priority project list. Learn more about the project priority list here. Email conservation@h-gac.com to set up a one-on-one meeting to discuss your conservation projects and priorities.
---
TV: Texas Parks & Wildlife
Broadcast on KUHT Channel 8 at 3 p.m. each Saturday and on municipal access cable channels in Baytown, Deer Park, Houston, Texas City, Galveston, Nassau Bay, Pasadena, Seabrook, Sugar Land, and on HCC TV. More info on the TPWD website (* indicates a segment about the Houston area). For a preview, visit TPWD's YouTube Page.
How does someone go from shy introvert to a highly respected field-guide? Shelia Hargis says birding and the birding community transformed her life by channeling her enthusiasm for ornithology onto others
Children growing up in increasingly urban areas need to understand to role that wildlife plays in our world, but not all teachers know enough to teach it. ProjectWILD is empowering teachers with the lessons and activities they need to educate the next generation of wildlife stewards
A unique recycling program is underway, and it's helping our bays. By returning old oyster shells up and down the coast, many Texas reefs are on the rebound
Additional Upcoming Events
---
Check out the latest Green Jobs at cechouston.org/green-jobs/.