Plastic dinosaur mascot named "Dino" and other debris data, Bike Month events, Introduction to the TRI, Biodiversity Benchmarks, Endangered Species Day, BIG Spring Meeting, Green Jobs and more
If you care enough about the environment in the greater Houston region, then you are probably frustrated by litter, trash, and marine debris. The following is a list of antidotes to your frustration. Many of these were highlighted in the "Houston-Galveston Regional Litter and Marine Debris Prevention Workshop" hosted not too long ago. The summary of work underway was an anodyne for the troubling trash, we are sharing some of it (and a bit extra) with you.
Partners in Litter Prevention: donttrashagoodthing.org. This website was developed to collaborate and share information about the Galveston Bay Watershed Aquatic Debris Action Plan, a regional partnership plan for addressing litter and marine debris. The purpose of this action plan is to serve as a guidance document or a central point of reference for improved collaboration and coordination among the multitude of stakeholders across the greater Galveston Bay Watershed to avoid duplication and optimize the efficiency and efficacy of efforts. This website includes a list of upcoming cleanup events (in case you need an excuse to go to the beach),
Take2ForTexas.com. Houston Advanced Research Center, Keep Texas Beautiful, and Black Cat GIS and Biological Services have partnered up to assess aquatic trash in Texas thanks to a generous grant from the Garver Black Hilyard Family Foundation. The project consists of comparing and refining techniques to assess marine debris to get estimates on the amount of plastic pollution along Texas beaches, bayous, and waterways. In the first year, data from more than 62 survey locations included 1706 bottle caps and plastic dinosaur named Dino, found on El Jardin Beach and adopted as a mascot. Take two minutes to study, track, remove, and prevent litter on texlitter.org, the Texas Litter Database.
Galveston Bay Action Network (GBAN). The Galveston Bay Foundation developed this free website and mobile app which allows anyone to report pollution–including trash and litter–to the proper authorities from anywhere in the Houston-Galveston Area. Pollution events like chemical spills, illegal discharge of boat sewage, and the dumping of waste have the potential to impact water quality and threaten the health of the local people, plants, and animals. The litter data meets the standards for EPA's trash assessment protocol.
EPA's Trash-Free Waters program. Among other resources, TFW developed the "Escaped Trash Assessment Protocol (ETAP)," a quantitative survey tool which provides a standard method for collecting and assessing litter data. Sign up for newsletters: The Rapids (monthly) and The Flow (occasional).
SPLASh, or Stopping Plastics And Litter along Shorelines, was launched in 2020 through a partnership between American Bird Conservancy, Gulf Coast Bird Observatory, and Black Cat GIS in order to address the overlapping issues of trash pollution and bird conservation in the greater Houston-Galveston region.
Trash Free Texas. The Houston-Galveston Area Council has partnered with the North Central Texas COG and The Meadows Center for Water and the Environment to establish a unified, coordinated approach to litter abatement and community engagement in the six river basins in the Dallas-Fort Worth and Houston-Galveston regions. Read and sign up for H-GAC's Trash Free Texas newsletter, visit the trashfreetexas.org website, and signup for the "Adopt-a-Spot" program to create your own litter cleanup.
The Keep Texas Beautiful Virtual Conference will be held June 28-July 1, 2021, and will provide a statewide perspective.
HARC and Keep Texas Beautiful are developing a central database to organize and store trash and marine debris data statewide. When completed, the database can be used by litter cleanup volunteers, cleanup site coordinators, or any other user to either input their trash collection data or view and download trash collection data. The database is expected to be available for use in June 2021.
Texans for Clean Water shared a legislative update.
Port Houston announced that is floatable debris collector, the Waste Shark, is now in the water.
The Plastic Pollution Prevention Partnership (P3P) provided an update on their fishing line recycling campaign (see also the Texas Master Naturalist post).
Turtle Island Restoration Network provided an update on their marine debris programs with schools and communities.
The U.S. Geological Survey provided an update on microplastic sampling in Galveston Bay.  
In April 2021, Keep America Beautiful released the largest study on litter in America. For the first time ever, the Keep America Beautiful 2020 National Litter Study provides a valid, national estimate of litter along waterways in the U.S. and insights about the relationship between litter on waterways and roadways. The study shows that, although roadway litter is down by more than 50%, there is slightly more litter along waterways.
---
CEC NOTES
Professional Development Opportunities for Teachers
Engage your students with lessons outdoors. Over 30 workshops are in the regional summer professional development calendar to connect you with local resources. Sign up today at hereinhouston.org.
---
Celebrate Earth Month by shopping at H-E-B and supporting local environmental charities
Add your $1, $3, $5, or $10 donation to EarthShare of Texas at checkout in stores and online at H-E-B & Central Market. EarthShare of Texas supports 38 Texas-based environmental and conservation nonprofits, including the Citizens' Environmental Coalition. Through May 25, 2021.
#MyEarthMyTexas #EarthMonth #EarthWeek #EarthDay #ShopLocal #HelpingHere #Texas
---
Please scroll down to read about public engagement opportunities and notes from our member organizations and the community.
---
OPPORTUNITIES FOR PUBLIC ENGAGEMENT
Public comment period for the Draft 2022 State Water Plan open through May 26
The Texas Water Development Board will receive public comments on the Draft 2022 State Water Plan until 5 p.m. on May 26, 2021. The TWDB will publish notice in the Texas Register on April 23, 2021, of the Board's intent to adopt the 2022 State Water Plan later this summer. The Board will receive public comment on the Draft 2022 State Water Plan at a hearing to be held on May 24, 2021, at 1 p.m. The hearing will be held in Austin at the Stephen F. Austin Building, 1700 North Congress Avenue, Room 170, and via GoToWebinar. The draft plan and additional information about the hearing are posted on the TWDB website.
---
National Environmental Justice Advisory Council Meeting
The National Environmental Justice Advisory Council, a federal advisory committee to EPA which provides advice and recommendations about broad, cross-cutting issues related to environmental justice will hold a virtual public meeting on June 17, 2021, beginning at 11:30 a.m. CST. Learn more and register at epa.gov.
---
COALITION & COMMUNITY NOTES
We have endeavored to confirm the opportunities listed below. Please consider confirming directly with the hosts, particularly in light of concerns about the novel coronavirus (COVID-19).
---
Bike Month
Bike Houston, in partnership with with LINK Houston and Houston BCycle, presents the Houston Bike Summit in May. Check out the full details at houstonbikesummit.org. Also visit the League of American Bicyclists website and the Houston-Galveston Area Council compilation of Bike Month events, in addition to the Houston Bike Summit:
---
SFA Conservation Careers Camp
Stephen F. Austin State University's Arthur Temple College of Forestry and Agriculture will host a Conservation Careers Camp June 20-24, 2021. The camp is open to students age 14 to 17 who are interested in exploring career opportunities in natural resource management through engaging, hands-on experiences led by SFA professors and industry professionals. More information and a link to registration can be found at sfasu.edu. Camp activities will focus on air and water quality monitoring, unmanned aerial vehicle operation, timber cruising, wildlife identification and management techniques, and more. Field trips also will introduce campers to surrounding national forests, as well as properties managed by SFA. Students who apply by May 20 will receive a $100 scholarship to attend.
---
Solid Waste Management Workshop
On May 20, 2021, from 9-11:30 a.m., the Houston-Galveston Area Council will host a Solid Waste Management Workshop with a focus on "Managing the Difficult Aspects of Your Recycling Program." Topics will include: starting a new program; keeping a facility open; and reducing contamination. For more information and to register, visit h-gac.com.
---
Harmful Algal Blooms and the Kills and Spills Team at Texas Parks and Wildlife Department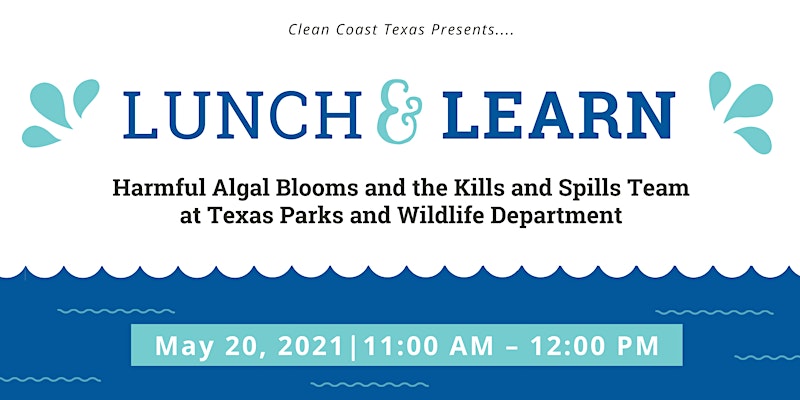 On May 20, 2021, from 11 a.m.-noon, the Texas General Land Office and Clean Coast Texas will present a webinar featuring Alex Nuñez, biologist for the Region Four Kills and Spills Team at Texas Parks and Wildlife Department. He will discuss what harmful algae bloom are, the environmental conditions in which they form, and KAST's efforts to investigate and address fish and wildlife kills resulting from pollution and natural events.
---
Introduction to the Toxics Release Inventory
On May 20, 2021, from 1-2:30 CDT, the U.S. EPA Office of Pollution Prevention and Toxics will offer a free webinar called "Introduction to the Toxics Release Inventory." The webinar will address: the right-to-know principle and the basics of the TRI Program; what data and information facilities report; ow to easily access data for a specific location right from the TRI homepage, and more. For more information and to register, visit abtassociates.webex.com.
---
Mercer Botanic Gardens Volunteer Orientation
On May 20, 2021, from 6-7 p.m., Mercer Botanic Gardens will host an orientation meeting for prospective volunteers interested in helping maintain the gardens, plant propagation and sales, or participating in educational programs and the Mercer Ambassadors. This orientation will be off site at the Timber Lane Community Center, 1904 Naplechase Crest Drive, Spring. For more information and to register, see the Facebook event.
---
Bluebonnets, Big Red Sage and Biodiversity Benchmarks
On May 20, 2021, beginning at 7 p.m., the Houston chapter of the Native Plant Society of Texas will hold a virtual meeting featuring a presentation by Minnette Marr, conservation botanist and research associate with the Lady Bird Johnson Wildflower Center. She will discuss the Wildflower Center's progress on implementing the Biodiversity Benchmarks of the Public Garden Sustainability Index to achieve environmental sustainability and explore ways to strengthen the partnerships between public gardens and NPSOT chapters. For more information, visit npsot.org.
---
Call for Presenters for Gulf Coast Green 2021 extended to May 21
The Gulf Coast Green 2021 Symposium and Expo will be held Aug. 5-6, 2021 and will explore the theme "Environmental Equity." AIA Houston welcomes presentations that relate to equity in design, environmental justice, health and wellness, placemaking, public policy, and community resilience. Presentations should be geared toward attendees with an intermediate to high level of knowledge on sustainability topics and design-related equity and inclusion. Submissions on other topics related to the art and science of sustainability and design equity are encouraged and will be categorized as appropriate. The deadline for submissions has been extended to May 21. For submission guidelines and other information, visit aiahouston.org.
---
16th Annual Endangered Species Day
On May 21, 2021, thousands of people around the world will participate in Endangered Species Day by celebrating, learning about, and taking action to protect threatened and endangered species. Wildlife refuges, zoos, aquariums, gardens, schools, libraries, museums, community groups, nonprofits, and individuals hold special programs or events for people of all ages. Due to the global coronavirus crisis, the programs organized for Endangered Species Day 2021 will primarily be online events, digital actions, and remote activities. Learn more and find local programs at endangered.org.
---
Morgan's Point Clean-up
On May 22, 2021, SPLASh (Stopping Plastic and Litter Along Shorelines) is hosting a volunteer clean-up along Morgan's Point. The cleanup will be outdoors with plenty of space for participants to spread out and socially distance, and participants will be required to wear masks. Prior to the cleanup, they will send an email with additional details about the event including where to meet, what to bring, and waivers for adults and minors. To register, use this form.
---
Hartman Park Ribbon Cutting
On May 22, 2021, at 10 a.m., Mayor Sylvester Turner, the Houston Parks and Recreation Department, and Greater Houston Partnership will host a ribbon-cutting ceremony for the first official 50/50 Park Partners project. Join the Manchester community and Valero Energy Foundation to unveil a new playground in Hartman Park, located at 9311 E Avenue P. The 50/50 Park Partners initiative brings together 50 private businesses through monetary contributions, in-kind support, ideas, and volunteers, for improvements to 50 neighborhood parks. The heart of 50/50 Park Partners is the creation of long-term relationships for sustained impact between businesses, communities, and parks, improving the quality of life for Houstonians for decades to come.
---
Bird Watching at the Coastal Heritage Preserve
Through May 23, 2021, Artist Boat welcomes the public to the Coastal Heritage Preserve for the spring bird migration. These trails are accessible by paid access only. Register at fareharbor.com for the opportunity to explore the Preserve and the 403 species that call it home including birds, otters, coyotes, swamp rabbits, fish, shrimp, and turtles.
---
Alley Theatre presents An Enemy of the People
Through May 23, 2021, Alley Theatre is presenting a free, virtual production of Henrik Ibsen's An Enemy of the People, a classic drama about the tension between economic and environmental concerns. In the play, Dr. Stockman wants to keep his community safe by shutting down the town's economy while making the necessary changes in the poisoned water supply to make sure it is safe. His brother, the mayor, fights with all his might to keep the economy open despite the health risks. According to him, the time and money to make the water supply safe would ruin the economy and bankrupt the town. For more information and to register for a free viewing link, visit alleytheatre.org.
---
A Resilient Future for All Rests on Prioritizing the Most Vulnerable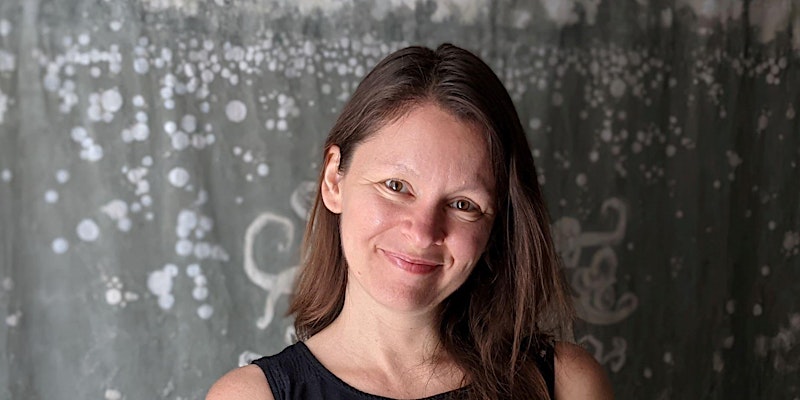 On May 23, 2021, from 6-7 p.m., Christ the King Lutheran Church will host a webinar featuring Kristen Schlemmer, legal director at Bayou City Waterkeeper, who will discuss how disasters, while affecting large portions of the Houston population, impact the vulnerable more severely and why building resilience is critical. Bayou City Waterkeeper works with local communities to protect and restore natural systems, achieve equitable policy solutions, and systematically advance change to benefit all who live within the Lower Galveston Bay watershed encompassing the greater Houston area. For more information and to register, visit eventbrite.com.
---
Texas Citizen Planner- ASFPM's No Adverse Impact Floodplain Management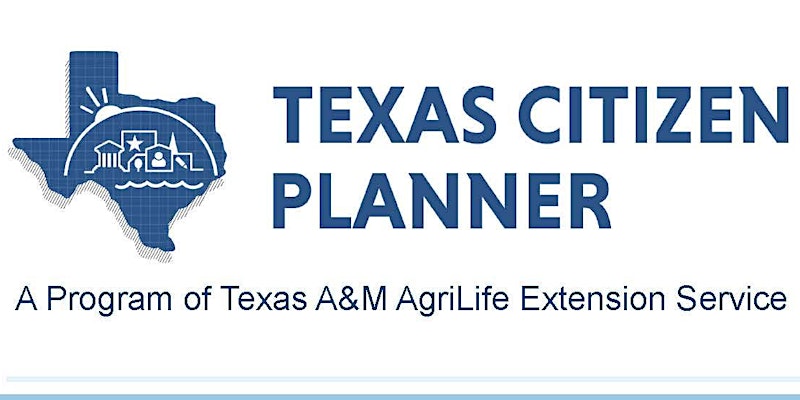 On May 24, 2021, from 9 a.m.-4 p.m., Texas Citizen Planner, a program of Texas Community Watershed Partners, will host a webinar about ASFPM's No Adverse Impact (NAI) Floodplain Management. The NAI approach ensures the action of any community or property owner, public or private, does not adversely impact the property and rights of others. The NAI approach will lead to reduced flood losses while promoting and rewarding strong water stewardship and mitigation at the local level. For more information and to register, visit eventbrite.com.
---
Picking up the Texas PACE
On May 25, 2021, from noon-1 p.m., the U.S. Green Building Council, Texas, AIA Houston and Texas PACE Authority will hold an interactive discussion about the Texas PACE program. Property Assessed Clean Energy (PACE) is a financial tool that incentivizes Texas property owners to upgrade facility infrastructure with little or no capital outlay. A panel of subject matter experts will provide an overview of the Texas PACE program, a market recap, and a deep dive into recent projects. For more information and to register, visit usgbctexas.org.
---
Bacteria Implementation Group (BIG) Spring Meeting
On May 25, 2021, from 1-3 p.m., the Houston-Galveston Area Council's Bacteria Implementation Group (BIG) will hold its annual Spring Meeting virtually. The BIG will review the status of the 2021 Annual Report and receive an update on the Implementation Plan Revision. The City of Houston will present on its Green Stormwater Incentives Program. The University of Houston at Clear Lake will present on its Targeted Monitoring Project. H-GAC staff will provide updates on local and regional projects that support BIG bacteria reduction strategies. To register, visit zoom.us.
---
Zooming with Raptors
On May 26, 2021, from 7-8 p.m., Houston Audubon will host a virtual, family-friendly program about education raptors and learn more about their natural history. Pre-registration is required. The cost is $5. For more information and to register, visit houostonaudubon.org.
---
Scenic Houston's 2021 Scenic Star Reception
On May 26, 2021, from 5:30-7 p.m., Scenic Houston will virtually host its 2021 Scenic Star Reception, featuring the Scenic Star Awards, which recognize individuals, organizations, and projects that help make Houston a more attractive place to live, work and visit. This year's recipients will be Clark Condon, Houston Botanic Garden, and the Houston Parks Board. For more information and to purchase tickets, visit scenichouston.org.
---
Air Alliance Houston presents "Poetry Breeze"
On May 26, 2021, from 6:30-7:30 p.m., Air Alliance Houston will present "Poetry Breeze," its first collaboration with Writers in Schools. Featured performers will be Emanuelee "Outspoken" Bean, Houston's newest Poet Laureate; high school members of Meta-Four Houston; and Ebony Stewart: one of the most decorated poets in Texas. For more information and to register, visit airalliancehouston.org.
---
Native Prairies Association of Texas meeting: Botanist Joel Santoro
On May 26, 2021, beginning at 7 p.m., the Houston chapter of the Native Prairies Association of Texas will hold its monthly meeting virtually, featuring a presentation by Joel Santoro, a self-taught botanist and producer of Crime Pays But Botany Doesn't YouTube channel, which he describes as "a low-brow, crass approach to plant ecology as muttered by a misanthropic Chicago Italian." For more information, visit houstonprairie.org.
---
Mercer Botanic Gardens Bird Survey
On May 27, 2021, from 8-10 a.m., Mercer Botanic Gardens will host a birdwatching survey on the riparian forest trails along the Cypress Creek flyway. Led by longtime birder Paul Gregg and Mercer staff member Christy Jones, this monthly bird survey is suited for birders of all levels and experience. Wear comfortable walking shoes and weather-appropriate clothing. Participants must be 12 or older. Children must be accompanied by a parent or guardian. For more information and to register, visit the Facebook event.
---
Mayor Turner's State of Mobility 2021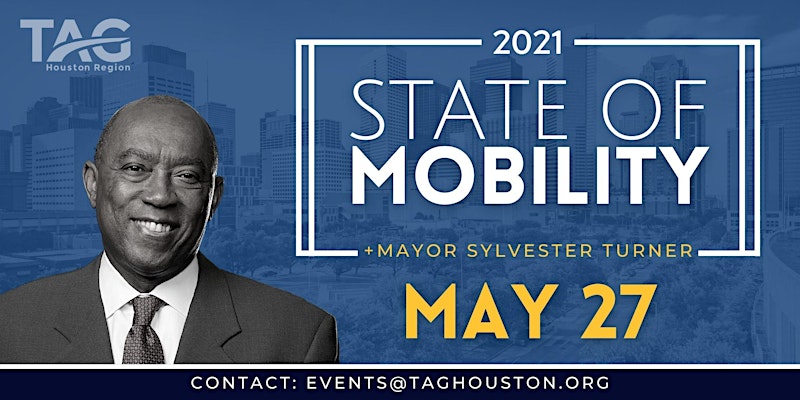 On May 27, 2021, from 11 a.m.-1 p.m., the Transportation Advocacy Group – Houston Region will host Mayor Sylvester Turner's State of Mobility 2021 event. Turner will lay out his work and vision for mobility for the City of Houston, the core of the region. This a limited in-person event for member sponsors only. There is a livestream option for members and non-members. For more information and to purchase tickets, visit eventbrite.com.
---
Wildlife on the Bayous
On May 27, 2021, from noon-1 p.m., the Houston Parks Board's Rising Leaders will host a virtual lunch program on the diverse range of wildlife that rely on the Bayou Greenways. April and May are great months to see migratory birds in Houston, and it's also the earliest we get to see local bat colonies dramatically emerge at dusk. Learn more about the wildlife you might expect to see on the Bayou Greenways this summer from HPB Board Member and bat expert, Cullen Geiselman. For more information and to register, visit houstonparksboard.org.
---
Photographic Journey through the Nature Trails of The Woodlands Area
On May 27, 2021, beginning at 7 p.m., The Woodlands G.R.E.E.N. will host Bayou Land Conservancy board member and photographer Bill Bass. He will present a slide show and talk emphasizing the importance of preserving our natural spaces, and images of the Spring Creek Nature Trail, a 14-mile, multi-use path along Spring Creek offering stunning views and a chance to see nature "up close". For more information, visit thewoodlandsgreen.org.
---
San Jacinto Regional Flood Planning Group voting member opening
The Texas Water Development Board's San Jacinto Regional Flood Planning Group has an opening for the Environmental Interest voting-membership position. Applications will be accepted by mail and email until May 28, 2021. Send applications by mail to Texas Water Development Board, 10555 Northwest Fwy, Suite 120, Houston, Texas, 77092, ATTN: SJRFPG –Fatima Berrios. Email applications to SanJacFldPG@eng.hctx.net.
---
Calls for submissions for CAST 2021
The Science Teachers Association of Texas will host the Conference for the Advancement of Science Teaching, or CAST 2021, in November. The format options still range from a fully in-person conference to a fully virtual conference and everything in between. STAT invites educators to turn their innovative teaching strategies and lesson plans into proposals for sessions that could benefit students across Texas and beyond. STAT is seeking proposals for sessions designed for all grade levels and science subject areas. A team of STAT members will review and score all proposals and make recommendations for which sessions to feature at CAST 2021. The Call for Presentations is open until May 30. Learn more at statweb.org.
---
Marine Debris Art Contest registration open through May 30
Artist Boat invites artists and ocean-lovers of all ages to submit pieces to display at the upcoming World Oceans Day festival. Art pieces are comprised primarily of marine debris and demonstrate the effects aquatic trash can have on our oceans and the life that depends on them. During the festival, Artist Boat judges will view all submissions, and you can get in on the action too. Registration is open until May 30, 2021. Art pieces must be brought to Artist Boat (13330 Settegast Road, Galveston) by June 9. The judging and viewing of the art pieces will be held on June 12 at Galveston's Stewart Beach during the festival. For more information and to register, visit artistboat.org.
---
Houston Heights Compostable Dropoff
Thanks to high school student and Girl Scout Monica Orozco and Zero Waste Houston, on Wednesdays through June 2, neighbors will be able to drop their food waste and compostables off at the Historic Heights Fire Station (107 W 12th St.) for FREE!This 8-week pilot program, which will serve as Monica's Girl Scouts Gold Award Project, will run on Wednesdays from 5-8 PM through June 2. Learn more on Facebook.
---
Flower Garden Banks National Marine Sanctuary seeks Advisory Council members
Flower Garden Banks National Marine Sanctuary is seeking applicants for four seats on its advisory council, a community-based group of individuals that provide advice for sanctuary management. The sanctuary is accepting applications for the following council seats: Commercial Fishing (1 seat), Dive Operations (2 seats), and Recreational Diving (1 seat). Candidates are selected based on their expertise and experience in relation to the seat for which they are applying, community and professional affiliations, and views regarding the protection and management of marine resources. Applicants who are chosen as members should expect to serve 3-year terms. Applications are due by June 7, 2021. Learn more and find application materials at flowergarden.noaa.gov.
---
Reminders About Ongoing Opportunities
---
Recurring Events with Changing Content
Virtually WILD! field trips
Virtually WILD! offers the community a chance to interact with conservationists and wildlife. Visit our virtual field trip videos on the CEC YouTube channel; new videos posted weekly. Corresponding educational activities are found at hereinhouston.org.
---
TV: Texas Parks & Wildlife
Broadcast on KUHT Channel 8 at 3 p.m. each Saturday and on municipal access cable channels in Baytown, Deer Park, Houston, Texas City, Galveston, Nassau Bay, Pasadena, Seabrook, Sugar Land, and on HCC TV. More info on the TPWD website (* indicates a segment about the Houston area). For a preview, visit TPWD's YouTube Page.
Sea Center Texas is the largest redfish hatchery in the world. Now biologists hope to replicate that success with spotted seatrout
Heralded for their awe-inspiring jumps and tenacious power, tarpon are the stuff from which fish tales are spun. But over the last couple decades, their populations have taken a serious dive. Today, a group of scientists are trying to learn about the biology of this secretive fish in hopes of raising its' presence in the Gulf
Postcard from Texas: Enjoy the end of the day at Jamaica Beach*
Additional Upcoming Events
---
Check out the latest Green Jobs at cechouston.org/green-jobs/.