Virus Vigil, Earth Day, Professional Development for Teachers, Houston 2020 Visions: Green Corridors, Fireflies, Rain Barrel Workshop, Biodiversity Loss, Nature4Health Week, Green Jobs and more
Last year, our first newsletter in April featured a collaboration, inspired by a summer tanager, by poet (and environmental attorney, activist, and professor) Jim Blackburn and artist Isabell Scurry Chapman. They recently completed a year-long endeavor.
"I recently was involved in a 365-day writing and communication adventure I called the 'virus vigil. For over a year," Blackburn writes, in an article in the Houston Chronicle, "artist Isabelle Scurry Chapman and I were in daily communication with over 700 people via email. Each day, Isabelle prepared a painting, and I wrote a poem inspired by the painting with a rambling introduction about whatever was on my mind…." The poems often examined the spirit and essence of life and the Earth. "Search for your spirit in nature and capture it deep within your soul. You will be rewarded."
Jim and Isabelle have been collaborating for many years, and plan to continue to do so, albeit not on a daily basis for a year during a pandemic. You can read more about their work at https://www.jimblackburninfo.com/virus-vigil.html. The banner image above is a collage of just a few of the many paintings created by Isabelle Scurry Chapman as part of the virus vigil.
Please scroll down to read about public engagement opportunities and notes from our member organizations and the community.
---
CEC NOTES
Earth Day Houston, Sunday, April 18, 2021
Earth Day Houston at Discovery Green, presented by Green Mountain Energy in partnership with the Citizens' Environmental Coalition is designed to educate, inspire and encourage action. The event features exhibitions, a panel discussion and live mural painting. Exhibitors will be spaced out to allow for social distancing and masks are required. Online viewing options of the panel discussion will be provided.
Volunteer opportunities available! Families and groups welcome. Sign up on volunteerhouston.org:
---
Virtually Wild! Field Trips
Need a virtual field trip about Houston's environment for your students? Visit hereinhouston.org/virtual-field-trips for live and asynchronous options with the Virtually Wild program.
CEC, through an Open OutDoors for Kids grant from the National Park Foundation and in partnership with USFWS Houston Community Partnerships & Engagement Program and the Girl Scouts of America, is offering Virtually Wild! programs specifically designed for Girl Scouts (Brownie/ Junior/ Cadette/ Senior/ Ambassador).
The next presentation will be on April 8, 2021: City Nature Challenge (C/S/A). The City Nature Challenge from April 30 – May 2. Be part of an international project, support outdoor learning and exploration, and integrate technology into the classroom. See the Educator Toolkit and a student-friendly explanation video here: Check out the Educators Toolkit for tips and tricks to host a challenge with your students, either on campus or from home: citynaturechallenge.org. Also, check out this video that explains the Houston challenge to students.
---
Environmental Educators Exchange
Join the Environmental Educators Exchange from 9- 9:30 a.m. on April 9 for a discussion with Julia Shank from the San Jacinto Council of the Girl Scouts. Email alicia@cechouston.org for the virtual Zoom meeting link.
Region 4 Education Service Center and our environmental educators are teaming up to create videos about Houston STEM resources for our teachers. If you want to submit a video, contact alicia@cechouston.org for more details.
---
Professional Development Opportunities for Teachers
Engage your students with lessons outdoors. STEM Applications, Project Based Learning, Wildlife Climate Resiliency, Local Data Analysis, Watersheds, and more. Workshops begin on April 8, and over 30 workshops are in the regional summer professional development calendar to connect you with local resources. Sign up today at hereinhouston.org.
Celebrate Earth Month by shopping at H-E-B and supporting local environmental charities
Add your $1, $3, $5, or $10 donation to EarthShare of Texas at checkout in stores and online at H-E-B & Central Market. EarthShare of Texas supports 38 Texas-based environmental and conservation nonprofits, including the Citizens' Environmental Coalition. April 14-May 25, 2021.
#MyEarthMyTexas #EarthMonth #EarthWeek #EarthDay #ShopLocal #HelpingHere #Texas
---
OPPORTUNITIES FOR PUBLIC ENGAGEMENT
Texas Water Development Board meeting on April 8
On April 8, 2021, beginning at 9:30 a.m. the Texas Water Development Board will hold a board meeting open to all stakeholders and the public. The Board will meet to consider approving publication of the Draft 2022 State Water Plan for public comment and posting notice of public hearing, public comment period, and intent to adopt the 2022 State Water Plan. Additionally, the Board will consider approving the 2021 State Water Implementation Fund for Texas (SWIFT) prioritization list and financial assistance for wastewater system and Flood Infrastructure Fund projects. The meeting agenda, including information on how to connect, may be viewed at twdb.texas.gov.
---
H-GAC to Host Virtual Public Meetings on April 8 to Discuss Regional Transportation Plan and Conformity Updates
The Houston-Galveston Area Council will hold two virtual public meetings on Thursday, April 8, 2021 to discuss proposed amendments to the 2045 Regional Transportation Plan. Additionally, H-GAC will provide updates on its process to maintain conformity with state and federal air quality goals. Meetings will be offered from 2-3 p.m. and from 6-7 p.m. Both meetings will be held online via Zoom with dial in by phone options. The public comment period for these topics opens on March 26 and will close on April 28. For more information about the meetings and submitting public comments, visit 2045rtp.com/virtual-meeting.aspx.
---
COALITION & COMMUNITY NOTES
We have endeavored to confirm the opportunities listed below. Please consider confirming directly with the hosts, particularly in light of concerns about the novel coronavirus (COVID-19).
---
H-GAC completes Regional Conservation Framework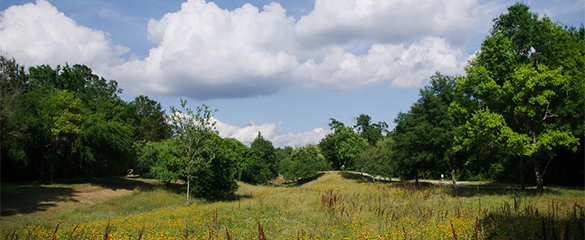 The Houston-Galveston Area Council recently completed its Regional Conservation Framework, a high-level strategy to coordinate and magnify local conservation efforts to enhance resiliency and the quality of life in the region's communities. Funded by the Houston Endowment, the project team developed this framework using input from leaders across the region through survey responses, listening sessions, and meetings over the past year. The H-GAC Board of Directors adopted a resolution supporting the Regional Conservation Framework on March 16. In addition to the framework, there are several helpful tools available at h-gac.com. For more information, contact Cheryl Mergo.
---
H-GAC launches Trash Free Texas newsletter
In March, the Houston-Galveston Area Council launched the first issue of the Trash Free Texas Monthly News and Updates. This monthly newsletter will offer information about Trash Free Texas, an initiative by HGAC and partners aimed at reducing or eliminating litter along area waterways. The newsletter will also feature litter reduction efforts from partners across the region. Join the mailing list if you are interested in receiving this monthly update or sharing news about your litter reduction activities.
---
EPA relaunches climate change website in English and Spanish
The Environmental Protection Agency recently relaunched its climate change website. For the first time in four years, EPA has a webpage to guide the public to a range of information, including greenhouse gas emissions data, climate change impacts, scientific reports, and existing climate programs within EPA and across the federal government. Explore the website in either English or Spanish.
---
#MyEarthTexas – Earth Month Challenge
EarthShare Texas invites all Texans to participate in the Earth Month Challenge throughout the month of April. All you need to do is take photos of your sustainable and environmentally friendly activities and post them online with the hashtag #MyEarthMyTexas. Then encourage your people in your network to participate too. Ideally, you should post a few times a week throughout the month of April. Amplify your posts by adding the #MyEarthMyTexas sticker to your images. EarthShare of Texas will give away outdoorsy gifts for the most dedication, creativity, and influence this Earth Month. See representative posts, downtown the sticker, and more at earthshare-texas.org.
---
Drawdown EcoChallenge
The Interfaith Environmental Alliance of Houston invites all members of the public to join its team for the Drawdown EcoChallenge during the month of April. During the EcoChallenge, you choose "challenges", from among 80 of the most substantive solutions to climate change, to implement in your life, forming new earth-care habits over the course of the month. Categories include: building resilience, healing & renewal, electricity, food, agriculture & land use, transportation, industry, buildings, land sinks, coastal, ocean & engineered sinks, and health & education. Join the team or learn more at ecochallenge.org. If you have any questions, contact Lisa Brenskelle at gcs.lrc@gmail.com.
---
EcoCareers Conference 2021
Continuing on April 8, 2021, the National Wildlife Federation is holding its EcoCareers Conference, which prepares students and young professionals for sustainability careers. The conference provides information on the latest EcoCareer trends from leading analysts and employers, clarifying career enhancing credentials and academic offerings, and formulating a better understanding of the competencies employers seek in the green sector. Students, faculty, staff, and admin from high schools, colleges, and universities across the country and globe are invited to participate. For more information and to register, visit nwfecoleaders.org.
---
Spring Creek Watershed Partnership Public Meeting
On April 8, 2021, from 2-4 p.m., the Spring Creek Watershed Partnership, a stakeholder group supported by the Texas Commission on Environmental Quality and the Houston-Galveston Area Council, will hold a discussion of community-driven strategies for water quality improvement in preparation for the development of a Watershed Protection Plan. For more information and to register, visit springcreekpartnership.weebly.com.
---
Mercer Botanic Gardens Volunteer Orientation
On April 8, 2021, from 6-7 p.m., Mercer Botanic Gardens will host an orientation session for prospective volunteers. Learn about the volunteer opportunities they have to offer, from helping maintain our gardens, to plant propagation and sales. This orientation will be off site at the Timber Lane Utility District Building, 2615 Ciderwood Drive in Spring. Participants must be 16 or older or 12-15 if accompanied by a parent or guardian. Limited space is available, and registration is required. For more information and to register, see the Facebook event.
---
Houston 2020 Visions: Green Corridors
On April 8, 2021, from 6-7:15 p.m., AIA Houston will present the latest in its Houston 2020 Visions lecture series, titled "Green Corridors." How can Houston continue to think more holistically about urban infrastructure and create a greener and more livable future for the city? The city and its identity are being strengthened through existing and ongoing nature-based infrastructure projects including a network of green corridors that can function as both recreational areas and tools for flood mitigation. For more information and to register, visit aiahouston.org.
---
Texas Campaign for the Environment Annual Meeting
On April 8, 2021, beginning at 7 p.m. Texas Campaign for the Environment will hold its Annual Meeting, which marks the organization's 30th anniversary. The meeting will highlight TCE's accomplishments over the past year, including contributing to a climate action plan in Houston and Harris County with a commitment to expanding recycling for a circular economy. TCE leaders will discuss next steps for these and other efforts. To register for the meeting, visit zoom.us.
---
Sierra Club Meeting: Explore Nature On Houston Area Paddling Trails
On April 8, 2021, beginning at 7:30 p.m. the Sierra Club Houston Group will hold a monthly meeting featuring a talk by Tom Douglas, longtime Houston Sierra Club member and canoe/kayak outings leader, who will discuss how paddling trails on the region's local bayous offer opportunities for exploring nature – everything from one-hour family-friendly outings to longer trips for more experienced paddlers. For more information and to register, see the Meetup event.
---
A Flock/Kettle/Wake/Congress/Parliament of Birdy Events
Spring has officially sprung, and along the Texas Gulf Coast, that means we're in the beginning of the annual Great Bird Migration, as millions of birds who spent the winter in Central and South America and the Caribbean make their way across our state on their way to their homes in North America. Texas lies squarely within the Central Flyway, making it one of the world's premiere spots for watching birds. And the greater Houston environmental community has got you covered.
A Taste of Texas: The Ethnobotany of Texas Plants
On April 9, 2021, from 10-11 a.m., Mercer Botanic Gardens will host a staff-guided walk through the Herb Garden and the Endangered Species & Native Plant Garden to discover the important relationship between plants and people. Learn about historical uses of Texas native plants such as Texas mountain laurel, inland sea oats, and milkweed. For more information and to register, see the Facebook event.
---
Sustainability 101: Building Electrification
On April 9, 2021, beginning at noon, Environment Texas will host the first of four "Sustainability Friday" discussions in April for local government officials and staff members. The fist will focus on building electrification, including a review of the new report Electric Buildings 2021 and a discussion of what cities can and can't do if HB 17 passes. Speakers include Brynn Furey of Environment America and Kaiba White of Public Citizen. To RSVP and get log-in information, email Hannah Hayes at hhayes@environmenttexas.org. The remaining talks are Electric Cars (April 16), Clean Water (April 23), and Bulk Purchasing Renewable Energy (April 30).
---
Firefly Friday Hikes at Armand Bayou Nature Center
Armand Bayou Nature Center is now offering Firefly Friday Hikes for your family or social group. Hikes are offered every Friday in April, May, and June; Charter hikes are also available depending on volunteer availability. Each evening will begin with a brief presentation on our beloved lightning bugs followed by a walk in the darkness. To allow for social distancing, the maximum capacity of the hike is seven people, and masks and reservations are required. Learn more and reserve your spot at abnc.org.
---
Virtual Rain Barrel Workshop
On April 10, 2021, from 4-5 p.m., the Galveston Bay Foundation will present a virtual rain barrel workshop consisting of a virtual presentation via Zoom on the environmental benefits of collecting rainwater, as well as proper rain barrel preparation and installation instructions and tips. Rain barrels will be available for pickup between 9 a.m.-noon at 14350 1/2 Wallisville Road, Houston, at the drive-thru station in the parking lot. The $35 cost includes one barrel and one connector kit, admission to the workshop for up to two people. For more information and to register, visit galvbay.org.
---
Biodiversity Loss with Kerri Crawford
On April 11, 2020, beginning at 9:30 a.m., the Church & Society class at St. Philip Presbyterian Church will present Kerri Crawford, assistant professor of biology and biochemistry at the University of Houston. She will discuss global threats to biodiversity and why we should care. Specific topics include how biodiversity serves us by providing ecosystem services, the current state of biodiversity, and the causes of biodiversity loss. Join the Zoom meeting at zoom.us. For more information, visit saintphilip.net.
---
Pollution, Public Health and Faith Communities
On April 11, 2021, from 2-3:30 p.m., the Interfaith Environmental Network of Houston will present a webinar featuring Loren Hopkins, Chief Environmental Science Officer for the City of Houston's Health Department, who will discuss current Houston Health Department programming and policies directed toward reducing pollution and pollution-related health effects. For more information and to register, visit eventbrite.com.
---
Urban Habitat Restoration in City of Houston Parks
On April 12, 2021, beginning at 6:30 p.m., the Clear Lake chapter of the Native Plant Society of Texas and the Environmental Institute of Houston will host a monthly meeting featuring Cassidy Kempf of Houston Parks and Recreation Department's Natural Resource Management Program. She will discuss the program's approach to protect Houston's native ecosystems, urban water quality, and unique wildlife. Primary topics include prairie restoration projects, the Riparian Restoration Initiative, and the upcoming Nature Preserve Ordinance. She will also discuss the program's growing plant propagation program, new projects in green stormwater infrastructure, and the Linear Forest Initiative. Register at zoom.us.
---
Nature4Health Week
From April 12-17, 2021, Harris County Precinct 4's Kickerillo-Mischer Preserve will host Nature4Health Week, which focuses on the health benefits of connecting with nature. This annual one-day event has been stretched out over an entire week to safely allow multiple offerings of programs, activities, and guest presenters, including outdoor recreation, environmental education, a blood drive, a family-friendly movie night, a bat chat, and more. For the full schedule of events and other details, visit hcp4.net.
---
USGBC Texas Virtual Advocacy Day: Resilient Texas & Climate Action
On April 13, 2021, from 2-3 p.m., the U.S. Green Building Council Texas chapter will host a virtual advocacy day with the goal o to expanding Texas Green Building Advocacy dialogue with legislators to gain momentum during the legislative session. This webinar presentation on resilience for Texas and municipal climate action planning will feature subject matter experts Gavin Dillingham from the Houston Advanced Research Center and Elyse Zavar from the University of North Texas. For more information and to register, visit usgbctexas.org.
---
Confluence and Young Professionals Virtual Trivia Night
Buffalo Bayou Partnership has joined forces with Houston Parks Board to host Confluence, a new public artwork at the connection point between Buffalo and White Oak bayous. The mural, created by artist Jane Kim, showcases the birds that call Houston's bayous home. To celebrate Confluence, join The Currents (the young professionals of BBP), and other participating organizations for an evening of virtual trivia celebrating the new mural. Join The Currents today to learn more and to register.
---
The Gulf of Mexico Conference Virtual Preview
On April 14, 2021, beginning at 10 a.m., the Gulf of Mexico Alliance will host a virtual preview of GoMCon 2022, which will combine the annual Gulf of Mexico Alliance All Hands Meeting, the annual Gulf of Mexico Oil Spill and Ecosystems Science Conference, and the triannual State of the Gulf Summit. The virtual GoMCon preview emphasizes the intersection of scientific research and the management of Gulf Coast human and natural systems, the focus of the 2022 in-person conference. The keynote speaker will be Jack E Davis, Ph.D., Pulitzer-prize winning author of The Gulf: The Making of an American Sea. For more information and to register, visit gomcon2021.dryfta.com.
---
Hurricane Harvey's Aftermath: Place, Race, and Inequality in Disaster Recovery
On April 14, 2021, from 12:15-1:30 p.m., the Kinder Institute for Urban Research will present an "Urban Reads" discussion featuring Kevin M. Fitzpatrick and Matthew L. Spialek, authors of Hurricane Harvey's Aftermath: Place, Race, and Inequality in Disaster Recovery. They will discuss the experiences of individuals and their communities, both rich and poor, urban and rural, white, Latinx, and Black, and how they navigated the long and difficult road to recovery after Hurricane Harvey. They will share insights on how ordinary people experience and persevere through a disaster in an age of environmental vulnerability. For more information and to register, visit kinder.rice.edu.
---
Ensuring Responsible Consumption and Production Patterns
On April 14, 2021, from 5-6:30 p.m., Impact Hub Houston and Sketch City will host an open projects event focused on Responsible Consumption and Production, one of the United Nations Sustainable Development Goals. Anyone can sign up to participate (whether you have an idea/project or just want to provide feedback, advice, or support). For more information and to register, visit Meetup.com.
---
2021 Texas Land Conservation Conference
From April 14-16, 2021, the Texas Land Trust Council will hold its 25th Annual Texas Land Conservation Conference virtually. the conference is the preeminent statewide meeting for anyone working in the field of land and water conservation, private landowners interested in conserving their land, government, business and NGO agency partners, and any person interested in learning more about these important issues in Texas. For more information and to register, visit web.cvent.com.
---
Improving Water Quality Through Coastal Community Programs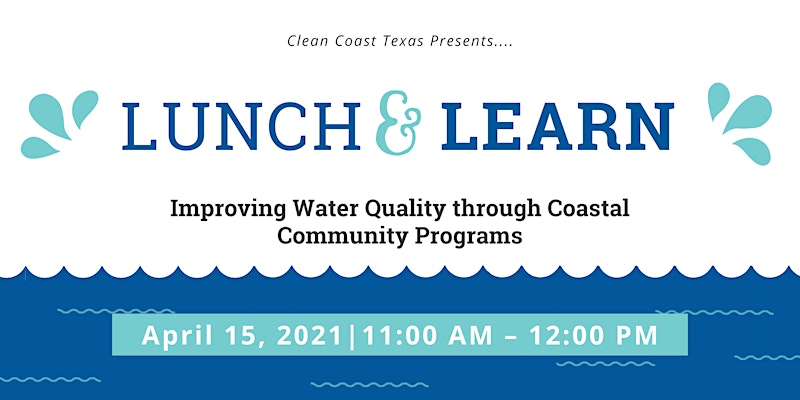 On April 15, 2021, from 11 a.m.-noon, the Houston-Galveston Area Council's Brian Sims will discuss H-GAC's Homeowner Wastewater Assistance Program as part of the Clean Coast Texas Lunch & Learn Series, a program presented by The Meadows Center for Water and the Environment (Texas State University) and the General Land Office. To register, visit Eventbrite.com.
---
FeatherFest 2021
From April 15-18, 2021, the Galveston Nature Tourism Council will host FeatherFest 2021, its annual birding event and photography contest. Thousands of birds take wing to our island each spring during an arduous northward migration across the Gulf from Central and South America. And hundreds of tourists and neighbors follow suit to see more than 200 species of brightly-colored birds strut their stuff around our hometown – a prime location along the Great Texas Coastal Birding Trail. For more information, visit galvestonfeatherfest.com.
---
Invasives Beware
On April 17, 2021, from 9-11 a.m., Jesse H. Jones Park & Nature Center will hold an event in which park staff and volunteers to assist with habitat management and enhancement projects throughout Jones Park by removing invasive species, managing the forest understory, and planting trees. Wear long pants and closed-toe shoes. Children younger than 16 must be accompanied by an adult. For more information, see the Facebook event.
---
Adopt-A-Beach Coastal Cleanup
On April 17, 2021, from 9 a.m.-noon, the Texas General Land Office is hosting the annual Spring Coastal Cleanup at beaches along the Texas Gulf Coast, including several in the greater Houston-Galveston region. Volunteers are asked to wear closed-toe shoes and bring plenty of drinking water, as well as gloves. Adopt-A-Beach will provide all necessary materials. For more information and to register, visit texasadoptabeach.org.
---
Renewable Energy and Sustainability Career Fair
On April 17, 2021, from 9 a.m.-3 p.m., the Houston Renewable Energy Group will hold a Renewable Energy & Sustainability Career Fair. Whether you're ready to jump start your career in the sustainability industry or find your next move, this career fair is for you. For more information and to register, visit eventbrite.com.
---
Earth Day Celebration at Houston Arboretum
On April 17, 2021, from 10 a.m.-4 p.m., the Houston Arboretum & Nature Center will host a free, family-friendly Earth Day Celebration featuring informative booths, nature hikes, fun displays in the Discovery Room, and Earth-friendly take-home activities. They also encourage you to check the website and social media for more ways to celebrate Earth Month. For more information, visit houstonarboretum.org.
---
Urban Harvest's 2021 Earth Day Festival
From April 17-25, 2021, Urban Harvest will host its 2021 Earth Day Festival. The festival will include plant swaps, Zoom classes, farmers market tours, and more. For more information, visit urbanharvest.networkforgood.com.
---
Climate Reality Project Leadership Corps Virtual Training (April 22-May 2, 2021)
The Climate Reality Leadership Corps Virtual US Training will feature four days of two-hour live broadcasts, with additional on-demand viewing and interactive sessions available between April 22 and May 2. During the training, you'll join broadcast sessions with some of the world's leading climate experts and activists – led by former Vice President Al Gore – along with breakout sessions designed to dive deeper into the most important climate topics of today. Learn more and register at climaterealityproject.org.
---
Moody Gardens Educator Open House
On April 24, 2021, from 10 a.m.-4 p.m., Moody Gardens will host a free Educator Open House for all active employees of a public, private, parochial school, home school educators, early childhood educators and informal educators. Activity and exhibitor stations active from 10:30 a.m.- 3.30 p.m. Pre-purchased Meal Deals will be available from noon- 2 p.m. Tickets must be purchased in advance at moodygardens.com. The registration link expires on April 22 at 5 p.m. For more information contact: Lisa Stegman 409-683-4233 or Lstegman@moodygardens.org.
---
San Jacinto Regional Flood Planning Group creates Upper Watershed member position
The Texas Water Development Board's San Jacinto Regional Flood Planning Group recently voted to create the highly anticipated new Upper Watershed voting-membership position. If you or someone you know may be interested in the position, you are invited to apply. Applications will be accepted by mail and email until May 7, 2021. Send applications by mail to Texas Water Development Board, 10555 Northwest Fwy, Suite 120, Houston, Texas, 77092, ATTN: SJRFPG –Fatima Berrios. Email applications to SanJacFldPG@eng.hctx.net.
---
Birdathon 2021
Through May 7, 2021, Houston Audubon is hosting Birdathon 2021, its annual spring fundraiser where participants compete to count as many bird species as possible in a 24-hour period while fundraising for bird conservation. All contributions support Houston Audubon's mission to advance the conservation of birds and positively impact their supporting environments. People can participate individually, in teams, or virtual teams with members in different locations birding at the same time. Learn more at houstonaudubon.org.
---
CEE-Change Fellowship
NAAEE, the US EPA, and the Cedar Tree Foundation believe in supporting innovative initiatives for using civic engagement and environmental education to address environmental issues and strengthen community resilience. Become a Civics and Environmental Education (CEE)-Change Fellow to strengthen your community through a community-based environmental education action project, gain access to opportunities for leadership training, technical assistance, and professional development, and join a growing network of community leaders. Applications for North American applicants are open until May 17, 2021, and professionals of all ages are encouraged to apply. Visit the North American Association for Environmental Education's website to apply at naaee.org/ceechangefellows.
---
Reminders About Ongoing Opportunities
---
Recurring Events with Changing Content
Virtually WILD! field trips
Virtually WILD! offers the community a chance to interact with conservationists and wildlife. Visit our virtual field trip videos on the CEC YouTube channel; new videos posted weekly. Corresponding educational activities are found at hereinhouston.org.
---
TV: Texas Parks & Wildlife
Broadcast on KUHT Channel 8 at 3 p.m. each Saturday and on municipal access cable channels in Baytown, Deer Park, Houston, Texas City, Galveston, Nassau Bay, Pasadena, Seabrook, Sugar Land, and on HCC TV. More info on the TPWD website (* indicates a segment about the Houston area). For a preview, visit TPWD's YouTube Page.
Who doesn't love a fort, fond memories of those carefree days as a kid? Well, we follow along as a bunch of first-time fort builders get together to build one from all recycled materials
Caprock Canyons State Park holds the last remnants of pure Southern Plains Bison that exists in North America. Once numbering around 60 million, now there are around 300; the history of how they came to live at the state park, on their native historic land is a long one. Because of the hard work of a few individuals, these Bison live on
Located along the Navasota River where the grasses of the Blackland Prairie meet the woodlands of the Post Oak Savannah, Fort Parker State Park offers a tranquil setting for camping, hiking, biking and fishing. There is a lot of history here, too. Located on what was once the town of Springfield, the park was built by the men of the Civilian Conservation Corps in the 1930's
Additional Upcoming Events
---
Check out the latest Green Jobs at cechouston.org/green-jobs/.