GuideStar Platinum, Prairies & Pollinators, Galas Galore, Future of Plastic, Green Jobs, and more
Citizens' Environmental Coalition is pleased to announce that it has earned a Guidestar Platinum Seal by adding information to our nonprofit profile on GuideStar. By sharing these important metrics, we're helping the sector move beyond simplistic financial ratios to assess nonprofit progress. We're proud to have earned a Platinum Seal to share our full and complete story with the world. To reach the highest level of transparency, we added extensive information to our Nonprofit Profile: basic information about our missions, programs, leadership, etc.; in depth financial information; qualitative information about goals, strategies, and vision, and the progress we are making toward our mission.
CEC's mission is to foster education, dialogue, and collaboration on environmental issues in the Houston / Gulf Coast region. In short, we work to connect our environmental community.
Check out our profile at guidestar.org. GuideStar is the world's largest source of information on nonprofit organizations. Foundation Center and GuideStar have joined forces to become a new nonprofit called Candid. Learn more at candid.org.  
---
CEC NOTES
Green Films
Join CEC, the Rice Media Center and other partners on Nov. 20, 2019, for the next installment of the Houston Green Film Series. CEC is hosting a panel discussion on "How to Tell Your Story with Film & Video." Do you have an environmental story to tell with film or video? Pitch your idea to a dozens of aspiring and experienced filmmakers at November gathering, or email your ideas to [email protected]
The Green Film Series is taking a break in December, but please join us at the Wild & Scenic Film Festival on Tour on Tuesday and Wednesday, January 28 and 29, 2020. Tickets now on sale!
---
Earth Day Houston: Exhibitor Registration now available!
On April 22, 1970, 20 million people took to the streets and college campuses and hundreds of cities to protest environmental ignorance and demand greater protections for our planet. This first Earth Day sparked the passage of major environmental legislation in the U.S. including the Clean Air, Clean Water, and Endangered Species Acts, and the creation of the Environmental Protection Agency.
October 22 marked six months to Earth Day, and on this day, CEC is pleased to announce its support for Earth Day 2020 and the EARTHRISE movement, which will mobilize across the globe. Together, we fight for a cleaner, safer, more just and sustainable world that protects and supports all of us.
Earth Day Houston, part of the 50th worldwide observance, will be held at Discovery Green on Sunday, April 19, 2020.
---
Scroll down to read notes from our member organizations and the community, or view the emailed version of the newsletter, which includes a green job listing.
---
COALITION & COMMUNITY NOTES
We have endeavored to confirm the opportunities listed below. Please consider confirming directly with the hosts.
---
Galas Galore!
As we noted in a previous newsletter, the Houston region's environmental nonprofit community is in the midst of its gala/fundraiser season. Click on the links below to learn more about the upcoming events.
---
2019 Prairies & Pollinators
A regional celebration from Mid-September through Mid-November 2019. Includes nature hikes, classes, seed collecting events, festivals, film fests, etc., that celebrate the Coastal Prairies of our region. Full event details located at http://prairiepartner.org/2019-prairies-pollinators.
---
Sunset Advisory Commission invites public input on the Texas Parks and Wildlife Department
The Sunset Advisory Commission is reviewing the mission and performance of the Texas Parks and Wildlife Department and welcomes public comments on whether the agency is still needed and ideas to improve its operations and services. The Texas Sunset Act requires the Sunset Commission to periodically review TPWD and recommend whether to continue the agency and change state law to improve the agency's efficiency and effectiveness. The Legislature ultimately will decide whether to continue TPWD and adopt Sunset's other statutory recommendations. The Sunset Commission also may adopt management directives for TPWD that do not require statutory change. The deadline for comments is Dec. 2, 2019. Learn more and submit comments by visiting tpwd.texas.gov.
---
Take Care of Texas Video Contest
The Texas Commission on Environmental Quality invites students in 6th through 12th grades to enter the annual Take Care of Texas Video Contest. Student videos should be 30 seconds long and portray positive ways Texans can help keep air and water clean, conserve water and energy, or reduce waste. The contest deadline is Dec. 6, 2019 and the public will have the opportunity to pick their favorite videos Jan. 15-29, 2020. The middle and high school students who win first place will be invited to travel to Austin, along with their teacher, parent, or guardian, to be recognized by the TCEQ and Waste Management of Texas, Inc., at the 2020 Environmental Trade Fair and Conference.
---
Embrace the Gulf Photo Competition
The Gulf of Mexico Alliance Education and Engagement Team invites you to participate in this year's "Embrace the Gulf" photo competition. They are seeking photographs that relate to any of its five campaign themes: community, environment, education, economy, and tourism. The deadline for entries is Dec. 6, 2019. For more information, visit gulfofmexicoalliance.org.
---
Harris County Flood Control District Community Engagement Meetings
The Harris County Flood Control District is holding a series of Community Engagement Meetings related to the 2018 Harris County Flood Control District Bond Program. As part of the preliminary engineering process conducted near the beginning of each project's development stage, and prior to a formal Preliminary Engineering Report being presented to Commissioners Court for approval, the Flood Control District will conduct a public meeting in a primary project watershed to solicit public comments about the project. Learn more about the Program and the meetings at hcfcd.org. Upcoming meetings include the following:
---
Fleet Electrification Workshop
On Nov. 7, 2019, from 8 a.m.-2 p.m., EVolve Houston will host a Fleet Electrification Workshop to help fleet managers, suppliers, and other commercial stakeholders learn about electric vehicle conversion, hear experiences about converting fleets to electric vehicles, and connect with electric vehicle and electric vehicle supply equipment providers. For more information and to register, visit eventbrite.com.
---
Flower Garden Banks National Marine Sanctuary Advisory Council meeting
On Nov. 7, 2019, from 9 a.m.-4 p.m., the Flower Garden Banks National Marine Sanctuary's Advisory Council will hold a public meeting at the sanctuary offices in Galveston. Scheduled presentations include Dr. Ian MacDonald on "Assessing Chronic Oil Discharge from Mississippi Canyon 20, a Platform in the Gulf of Mexico" and Dr. Benny Galloway on "Shrimp By-Catch and Shrimp Boat Interactions on Bottom." Council members will hear updates on Flower Garden Banks National Marine Sanctuary, as well as the council's various working groups. To join remotely through the webinar, visit to attendee.gotowebinar.com. For more information, visit flowergarden.noaa.gov.
---
UH Energy Symposium: Future of Plastics
On Nov. 7, 2019, beginning at 6 p.m., UH Energy will host an Energy Symposium titled "Future of Plastics: Designed Sustainability or Recycling." The future of plastics is being formulated and issues of designed-in sustainability, bio-based replacements, and improved recycling are at the core and will be discussed in this symposium, which will be held at the UH Hilton Hotel. For more information and to register, visit uh.edu.
---
Volunteers sought for Lawther-Deer Park Prairie field trip
Volunteers are sought on Nov. 8, 2019, from 9:30 a.m.- 2:30 p.m., at the Lawther-Deer Park Prairie, 1222 E. Purdue Lane. They are hosting a field trip for the Deer Park High School Special Needs class. Thirty-seven students will be divided into three stations: Insect Netting, Birding & Prairie Tour and Seed Balls or Weeding the Demo Garden. If you can help, please email [email protected].
---
CELF Citizen Science: Inquiry to Action
CELF Citizen Science: Inquiry to Action is a semester-long program that engages educators and students in project-based STEAM learning outside of the classroom. On Nov. 8, 2019, from 12:30-3:30 p.m., CELF will offer a workshop on AirBeam monitoring technology at MECA in Houston. The program culminates in a Spring 2020 Student Symposium, bringing together all participating schools to present their findings and pollution-prevention plans to community members and real-world policy makers. For more information and to register, visit celfeducation.z2systems.com.
---
Putting Down Roots 2019
On Nov. 8, 2019, from 9-11:30 am., Katy Prairie Conservancy will host Putting Down Roots 2019. Volunteers will work together to transplant native prairie plants in order to help restore prairie habitat. Snacks and water will be provided, but feel free to bring your own food if you have dietary restrictions. Please bring a reusable water bottle. For more information and to register, visit katyprairie.org.
---
UH film screening: Oceans: The Mystery of the Missing Plastic
On Nov. 8, 2019, from 3-6:30 p.m., the French Embassy's Office for Science and Technology and the University of Houston will present a screening of the award-winning documentary Oceans: The Mystery of the Missing Plastic (see the trailer). The film will be followed by a panel discussion with researchers form CNRS (France) and the University of Houston. For more information and to register, visit eventbrite.com.
---
The Woodlands G.R.E.E.N. Rain Barrel Sale
On Nov. 9, 2019, from 8 a.m.-noon, The Woodlands G.R.E.E.N. will host a sale of 50-gallon Ivy Rain Barrels from Rainwater Solutions available for online purchases at a special discount price. A portion of these funds will support environmental education in The Woodlands area with college scholarships, library donations, lectures, field trips, and other environmental education activities. The event will be held at The Woodlands Farmers Market. For more information, see the Facebook event
---
Repair Café 2019
On Nov. 9, 2019, from 1-5 p.m., Transition Houston will host Repair Café 2019 at TX/RX Labs in Houston's East End. Members of the public are invited to bring in a broken item and meet local people who have offered to share their skills to help you make repairs. If you have nothing to repair, you can enjoy a cup of tea or coffee. Or you can lend a hand with someone else's repair job. You can also get inspired at the reading table, by leafing through books on repairs and DIY. For more information and to register, visit eventbrite.com.
---
There's No Going Back: Environmental Degradation & the Role of the Artist
On Nov. 9, 2019, from 2-4 p.m., as part of Sculpture Month Houston, The Silos at Sawyer Yards will present a panel discussion regarding the environment, environmental degradation and the role the artists have within that realm. Panelists include Lina Dib, Margaret Smithers-Crump, Henry G. Sanchez, and Volker Eisele. A guided tour of the exhibition "Outta Space" will follow. For more information, visit the Facebook event.
---
2019 Texas Energy Summit
The 2019 Texas Energy Summit will be held Nov. 12-14, 2019 at the Texas State Capitol in Austin. This 16th annual educational conference and business expo gives attendees the opportunity to engage with industry experts, state and local policy makers, business leaders, entrepreneurs, researchers, facility and energy managers, and utility and energy service experts in a conversation about cleaner air, a better built environment and a new energy economy. Registration is required.
---
Smart Energy, Smart City, Smart Buildings: Initiatives & Best Practices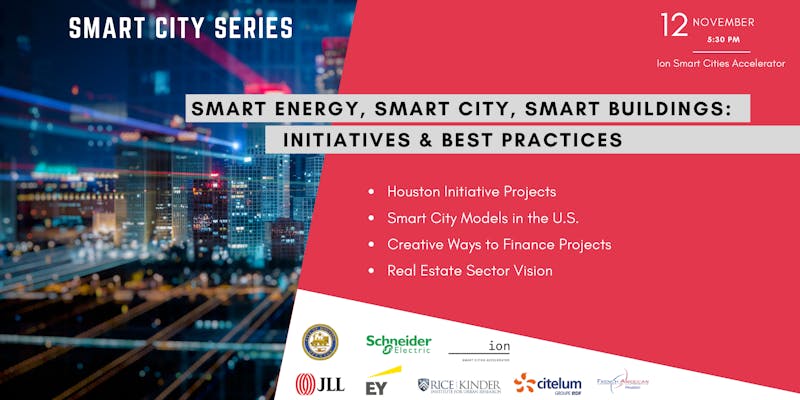 On Nov. 12, 2019, the French-American Chamber of Commerce will host a conference to present initiatives in Houston and best practices related to the smart city to fully benefit from new technologies. The conference will examine how big data analytics allow cities to imagine ways to be more efficient, resilient, sustainable in such fields as energy, building, mobility, utilities, and safety. For more information and to register, visit eventbrite.com.
---
Memorial Park 101: History Hike
On Nov. 12, 2019, from 5-6 p.m., the Memorial Park Conservancy will host a hike with MPC's cultural heritage expert Mike Quennoz who will teach visitors learn more about where Camp Logan, a World War I training base, once stood. For more information, see the Facebook event.
---
White Oak Bayou Association Annual Meeting
On Nov. 12, 2019, from 6-8:30 p.m., the White Oak Bayou Association will hold its 2019 Annual Meeting at the Historic Heights Firehouse. The featured speaker will be Cory Stull of Freese and Nichols, Inc., who will present a preliminary engineering analysis, commissioned by Harris County Flood Control District and funded by Memorial Heights Redevelopment Authority, to demonstrate the feasibility of returning the lowest one-mile reach of channelized and concrete-lined bayou to a more natural state. For more information, visit whiteoakbayou.org.
---
Switch screening at UH Clear Lake
On Nov. 12, 2019, from 6-9 p.m., the Green Hawks and the Physics and Astronomy Club at UH Clear Lake will host a screening of the documentary Swtich, about the transition to renewable energy (see the trailer), followed by a discussion with Bill Hays of the Switch Energy Alliance and Dr. Lisa Gossett, associate professor of environmental management. For more information, visit uhcl.campuslabs.com.
---
Transition Houston Meeting: Houston Landscape of Nature
On Nov. 12, 2019, from 6:30-9 p.m., Transition Houston will hold its monthly meeting featuring landscape architect Keiji Asakura, who will discuss how the Houston-Galveston is one of the most nation's diverse ecological regions. He will discuss how by protecting habitats and enriching the balance of native vegetation and wildlife, we can be more resilient in uncertain future of global warming and climate change and we can be better prepared to provide food security and for better air and water quality. The meeting will be held at St. Stepen's Pecore Hall. For more information, visit transitionhouston.org.
---
Parks and Natural Areas Roundtable Field Trip
On Nov. 14, 2019, from 10 a.m.-noon, the Houston-Galveston Area Council's Parks and Natural Areas Roundtable will host a presentation and short walk at Spring Creek Nature Trail in The Woodlands. Participants will meet at the recreation center at Rob Fleming Park. Transportation to and from H-GAC can be provided for up to 20 registrants. The group will leave H-GAC at 8:30 a.m. The field trip officially ends at noon. Anyone riding with H-GAC will return at approximately 3 p.m. For more information and to register, visit constantcontact.com.
---
Houston Audubon presents Light Right to Bring Back the Night
On Nov. 14, 2019, beginning at 7:30 p.m., Houston Audubon will host a special speaker event, "Light Right to Bring Back the Night" with Deborah Moran. She will discuss light pollution and the adverse impact from unshielded light on plants, animals and humans, including glare and visibility problems and health effects, and how to light with minimum impact for greater visibility at the least energy use and where to buy good quality lighting. The event will be held at the United Way Resource Center. For more information, visit houstonaudubon.org. Moran will give a related talk on Saturday, Nov. 16, at the Katy Prairie Conservancy.
---
Park to Port Bike RIde
On Nov. 16, 2019, the Hermann Park Conservancy will host the Park to Port Bike Ride, a 20-mile round-trip from Hermann Park's Bayou Parkland east along the Brays Bayou Greenway trail to the Port of Houston where Port Houston sponsors a turn-around party with snacks, drinks and music. Participants then ride back along the trail to Hermann Park for a celebratory Post-Ride Party. The Park to Port Bike Ride is open to riders of all levels and is not a race. For more information and to register, visit hermannpark.org.
Leopold Education Project workshop
The Leopold Education Project is an interdisciplinary environmental education curriculum targeted mainly to middle school and high school students. It can also be adapted for use with families, adults, and elementary age children. On Nov. 16, 2019 from 9 a.m.-3 p.m., there will be a Leopold Education Project workshop for teachers and informal educators at Long Acres Ranch. Six TEA continuing education hours for educators will be awarded. The $50 per participant registration fee includes lunch, a curriculum guide, and a copy of A Sand County Almanac. To register, contact Kristi Pierce with the Harris-Galveston Subsidence District at [email protected].
---
Pearland Recycles Day
On Nov. 16, 2019, from 9 a.m.-1 p.m., Keep Pearland Beautiful will host Pearland Recycles Day at the Stella Roberts Recycling Center. This is the only day that the Center will accept tires and mattresses for recycling. KPB received a grant from Keep America Beautiful of 9-Volt batteries, and will be distributing them to residents to educate about the importance of replacing smoke detector batteries and recycling all batteries properly. For more information, visit keeppearlandbeautiful.org.
---
A World Worth Running
On Nov. 16, 2019, Keep Houston Beautiful will host a "plogging" event in downtown to help clean up our community and beautify the city's streets. Plogging is an environmental fitness craze that combines "jogging" with picking up litter, and is intended to heighten awareness of the benefits of beautifying our communities, eliminating litter, and recycling. The event will begin at Allen's Landing Park. For more information and to register, visit act.kab.org.
---
TV: Texas Parks & Wildlife
Broadcast on KUHT Channel 8 at 3 p.m. each Saturday and on municipal access cable channels in Baytown, Deer Park, Houston, Texas City, Galveston, Nassau Bay, Pasadena, Seabrook, Sugar Land, and on HCC TV. More info on the TPWD website (* indicates a segment about the Houston area). For a preview, visit TPWD's YouTube Page.
New research is revealing more information about the gargantuan gar, and these misunderstood monsters of the deep are starting to get some respect
The Rolling Plains Quail Research Ranch is dedicated to study every factor that impacts quail abundance, which in turn, helps all grassland songbirds
Enjoy some of the wildlife photography of writer/photographer Russell Graves
---
Additional Upcoming Events