CEC's 48th Anniversary, Green Film: Thirst for Power, Houston Central Solar Co-Op, Tropical Symposium, Green Jobs, and more
---
The Citizens' Environmental Coalition is an integral part of the Houston area environmental community, connecting the many environmental groups with one another and bringing the community together. The CEC's work is crucial to strengthening Houston's environmental movement. It does this by publicizing and spreading awareness of its member groups and being a trusted source of information for the general public.
CEC is celebrating its 48th Anniversary on July 14th of this year. In recognition of our 48 years of service to the community, we have set a goal of $2304, or 48 donations of $48. Please join us in moving toward our goal. We welcome donations of all sizes, be it $48 or $4.80! We at CEC are extremely grateful for your support, and look forward to hearing from you soon.
You can donate securely through Paypal Giving Fund, at Network for Good (which makes it easy to set up recurring donations), or on Facebook. As always, you may send a check (payable to Citizens' Environmental Coalition) to PO Box 702, Houston, TX 77001.
CEC NOTES
Save the Dates: Green Films, Greater Houston Environmental Summit, Environmental Educators Exchange, Earth Day
---
Houston Green Films: Thirst for Power
Please join CEC, the Houston Green Film Series, the Rice Media Center, and additional partners on July 17, 2019, at 6:30 p.m. for conversation, networking, and a light meal, followed by a film at 7 p.m. and panel discussion at 8 p.m. This month's film is Thirst for Power, based on the book by University of Texas professor Dr. Michael E. Webber (see the trailer). Free to the public, though donations are kindly appreciated. Sign up for information about this event and other green film news at constantcontact.com. Events are held the third Wednesday of each month. Upcoming films: August 21–"Ay! Mariposa!" with the Director of the National Butterfly Center, September 18–"Hot Grease", October 16– Wild About Houston Green Film Festival.
---
Greater Houston Environmental Summit: Friday, August 2, 2019
Please join us for our annual Greater Houston Environmental Summit on Friday, August 2, 2019, from 8:30 a.m.-3 p.m. at the United Way of Greater Houston's Community Resource Center. In addition to excellent presentations, we will again offer small-format table talks. Details and registration will be available soon. The theme this year is the Sustainable Development Goals set forth by the United Nations. Early registration through July 26, 2019. Register on eventbrite.
---
Earth Day Houston
Earth Day Houston, part of the 50th worldwide observance, will be held at Discovery Green on Sunday, April 19, 2020.
---
Environmental Educators Exchange
The next quarterly meeting of the Environmental Educators' Exchange will be on Wednesday, August 7, 2019, at 4:30 p.m. Location TBD.
---
Candidate Forums and Questionnaires
Are you organizing a candidate forum or questionnaire for the November 2019 election? CEC is gathering information about election-related activities within our environmental communities. Let us know what you are planning, and we'll keep you in the loop. CEC is interested in either hosting, coordinating, and/or supporting the efforts of local environmental nonprofits leading up to the election. Send your comments to [email protected] Note: the filing deadline for the November City of Houston elections is August 26, 2019. We have heard that CEER Houston will be hosting a mayoral candidate forum on Saturday, September 21, 2019.
---
Interested in serving on the CEC Board or a Committee?
CEC is seeking individuals who might be interested in joining our board of directors in January 2020, or volunteering to serve on one of our committees starting this year. Over the next few months, we are hosting information sessions for prospective board and committee members to learn more about the commitment and opportunities. Upcoming sessions include the evenings of July 29, September 23, and October 15. For more information (including directions to our top secret world headquarters), please email [email protected]
---
Scroll down to read notes from our member organizations and the community, or view the emailed version of the newsletter, which includes a green job listing.
---
COALITION & COMMUNITY NOTES
We have endeavored to confirm the opportunities listed below. Please consider confirming directly with the hosts.
Proposed consent decree announced in Clean Water Act litigation
Our friends at Bayou City Waterkeeper call our attention to Houston Mayor Sylvester Turner's announcement of the City of Houston's proposed consent decree with the U.S. Environmental Protection Agency, the Department of Justice, and the State of Texas. More than a year ago, BCW sent the City its notice of intent to sue for over 9,300 potential Clean Water Act violations. Since at least 2013, the City failed to comply with its permits by allowing raw or partially treated sewage to be discharged from its wastewater treatment and collection systems into the public waterways throughout the Houston area. In September 2018, on the eve of the lawsuit's filing, the EPA and the State filed a lawsuit against the City of Houston for illegal discharges of pollutants and failure to comply with the terms and conditions of their Texas Pollutant Discharge Elimination System permits. With the announcement of the proposed consent decree, BCW is asking that City Council make sure that the City engage with communities, and embrace "future-proofed" solutions and world-class infrastructure that improves the lives of all Houstonians. For more information, including a statement from BCW executive director Jordan Macha, visit bayoucitywaterkeeper.org.
---
Texas Wildlife Association Outreach Teacher Workshops
Through July 25, 2019 in the Houston area, the Texas Wildlife Association is offering Outreach Teacher Workshops, 6-hour hands-on trainings which introduce attendees to the TWA, in-class and outdoor L.A.N.D.S. Outreach lessons and activities, and how to incorporate natural resources into classrooms or programming. Lessons focus on teaching land stewardship, native wildlife, and water conservation and are TEKS-aligned. This workshop is ideal for educators grades K-8 (ages 5-14) and is free. All educators who attend and complete the workshop will receive six CPE hours. For more information and to register, visit texas-wildlife.org.
---
Big Creek Watershed Characterization Meeting
On July 11, 2019, from 1:30-3:30 p.m., the Houston-Galveston Area Council will host a Big Creek Watershed Characterization meeting at George Memorial Library, 1001 Golfview Drive, Richmond. H-GAC staff will discuss and seek feedback on a project to evaluate water quality issues in the Big Creek Watershed of central Fort Bend County and plan for future solutions. For more information, contact Justin Bower at 713-499-6653.
---
Native Plants and Prairie Gardens
On July 11, 2019, from 7-8 p.m., Keep Pearland Beautiful will host its monthly gathering with a lecture titled "Native Plants & Prairie Gardens", explore native plants of the upper gulf coast you can use for improving your home garden habitat. The meeting will be held at the Delores Fenwick Nature Center. For more information, visit keeppearlandbeautiful.org.
---
Sierra Club Houston Group meeting: Galveston Bay Report Card
On July 11, 2019, the Sierra Club Houston Group will hold its monthly meeting featuring a presentation by T'Noya Thompson, advocacy programs manager at Galveston Bay Foundation, titled " What's the Health of the Bay? The Galveston Bay Report Card". The meeting will be held at St. Stephen's Episcopal Church, Pecore Hall. Doors open at 7 p.m., and the talk begins at 7:30 p.m. For more information, visit sierraclub.org.
---
Galveston Historical Association offers Marine Biology Tours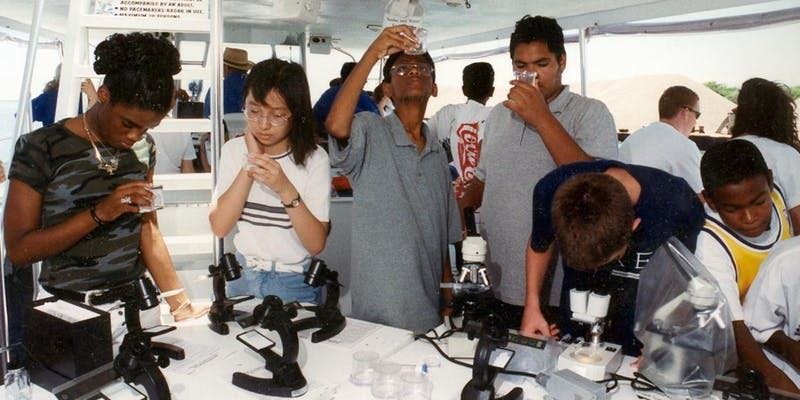 This summer, the Galveston Historical Association is offering Marine Biology Tours, where participants can observe dolphins and other species in their natural habitat, trawl for and handle marine organisms, study plankton through a microscopic lens, and explore Galveston Bay's rich history. This unique experience takes place on board the SEAGULL II, a 50′ catamaran which docks at the Texas Seaport Museum, and is led by a marine biologist. Tours, which cost $20, are available July 13 and 27, and August 10 and 24. For more information and to register, visit eventbrite.com.
---
VegFest Vegan Festival Houston
On July 13, 2019, from 11 a.m.-5 p.m., the Vegan Society of PEACE will host the 7th Annual VegFest Vegan Festival Houston at Minute Maid Park. The event includes vegan restaurants, vegan and abolitionist animal rights organizations, speakers and panel discussions. a 'Kids Zone' Makerspace with crafts, vegan food and fitness demos, free product samples, like-minded community booths and green businesses, and raffle prizes. For more information, visit vegansocietyofpeace.org.
---
Tropical Symposium at Mercer Botanic Gardens
On July 13, 2019, from 8:30 a.m.-4 p.m., The Mercer Society will host the annual Tropical Symposium at Mercer Botanic Gardens. Activities will include tropical plant presentations, a plumeria workshop, a tour of the tropical garden, and an exclusive tropical plant sale. Attendees will receive a light breakfast and a tropical-themed lunch. For more information and to register, visit themercersociety.org.
---
Texas City Rain Barrel Workshop
On July 13, 2019, from 11 a.m.-noon, the Galveston Bay Foundation will host a Rain Barrel Workshop to teach the public about the cost savings and environmental benefits of collecting rainwater, and proper rain barrel installation instructions and tips. The $35 registration fee includes one 35-gallon barrel, one connector kit, and admission to the workshop for the registrant and one guest. The workshop will be held at the Texas City Prairie Preserve. For more information and to register, visit galvbay.org.
---
Deadline extended for Draft Restoration Plan 2 comments
On May 15, 2019, the Open Ocean Trustee Implementation Group released the Draft Restoration Plan 2 for a 45-day public comment period, ending on July 1. It proposes 18 preferred restoration alternatives for fish, sea turtles, marine mammals, and mesophotic and deep benthic communities. Based on requests, the Trustees have extended the deadline to submit comments to July 15, 2019. Members of the public are encouraged to review the plan, fact sheets and other materials, and provide your comments by the July 15 deadline. More information on where to send public comments is in the latest Gulf Spill Restoration web update.
---
Houston Central Solar Co-Op rebate offer
Through November 2019, Houston Central Solar Co-Op is working with CenterPoint Energy to bring Houston-area customers an exclusive rebate on solar panel installation. Going solar with the Houston Central Solar Co-op can save an additional $200-$250 per kilowatt off the cost of a solar energy system – that could mean an additional savings of around $1,000 for a 4 kW array or around $2,000 for an 8 kW array depending on system performance. The deadline to join the Houston Central Solar Co-op is July 15, 2019. It's free to join and there's no commitment to purchase panels. For more information, visit solarunitedneighbors.org.
---
H-GAC Brown Bag Lunch Series: METRONext
On July 15, 2019, from noon-1 p.m., the Houston-Galveston Area Council will host a Brown Bag Lunch presentation by METRO CEO Tom Lambert tilted "METRONext Moving Forward Plan: A Growth Plan towards 2040." For more information, visit h-gac.com.
---
NOAA Using Flood Exposure Maps webinar
On July 16, 2019, from noon-1 p.m. CST, the National Oceanographic and Atmospheric Administration's Office of Coastal Management will host a free webinar featuring field experts who have used maps to engage stakeholders in discussions about local hazards and risk. Participants will learn how to best use local flood exposure maps when working with citizens and local officials. Continuing education credits are available. For more information and to register, visit coast.noaa.gov.
---
Memorial Park 101: Tree Talk
On July 16, 2019, from 6-7 p.m., the Memorial Park Conservancy will host a guided hike of the south side trails and discussion of the Park's native trees, the challenge of invasive species, and "Leave No Trace" outdoor ethics. The hike will begin at the Ball Fields and Dog Wash Trailhead. Participants should expect to walk about 1-2 miles on potentially uneven surfaces, please wear comfortable closed-toed walking shoes and bring water. For more information, see the Facebook event.
---
Prairie Teacher Workshop
On July 18, 2019, from 9 a.m.-3 p.m., the Houston chapter of the Native Prairies Association of Texas will hold a free Prairie Teacher Workshop at the Lawther-Deer Park Prairie Preserve. The workshop will use a multi-disciplinary approach to teach about the history and benefits of the coastal prairie. Extra credit hours are offered. Space is limited. RSVP to [email protected] or call 832-283-0383.
---
The River and the Wall screening at 14 Pews
On July, 18, 2019, beginning at 7 p.m., 14 Pews will screen the documentary The River and the Wall, directed by Ben Masters. The film follows five friends on an immersive adventure through the unknown wilds of the Texas borderlands as they travel 1,200 miles from El Paso to the Gulf of Mexico on horses, mountain bikes, and canoes (see the trailer). For more information and to purchase tickets, visit 14pews.org.
---
Texas Association of Environmental Professionals luncheon
On July 19, 2019, from 1:20 a.m.-1 p.m., the Texas Environmental Professionals Association will hold its monthly meeting at the Cadillac Bar. The featured speaker will be Michael Honeycutt, toxicology program manager for the Texas Commission on Environmental Quality, who will provide an "Environmental Regulatory Update." For more information and to register, visit taep.memberclicks.net.
---
Nature Heritage Society Hike & Fish event
On July, 20, 2019, from 8:45 a.m.-noon, the Nature Heritage Society will host a Hike and Fish event at the Hill at Sims Greenway. The trail is approximately 2.5 miles; shorter routes are available. For more information, see the Facebook event.
---
Invasives Beware
On July 20, 2019, from 9-11 a.m., Jesse H. Jones Park & Nature Center staff and the Jesse Jones Park Eradicators with host a volunteer event to remove invasive plant species as well as trail clearing and vital habitat restoration. Closed-toed shoes required; gloves and long pants are recommended. Ages 16 and up or children accompanied by an adult. For more information and to volunteer, visit hcp4.net.
---
All About Bats
On July 20, 2019, Jesse H. Jones Park & Nature Center will present naturalist John Carey, who will discuss which bat species are found in Texas, the beneficial role they play in the wild, and the threats that bat populations face today. Participants will also learn several ways to make backyards and neighborhoods more bat-friendly. For more information, visit hcp4.net.
---
Moth Night at the Deer Park Prairie
On July 20, 2019, starting at 8:30 p.m., at the Deer Park Prairie, 1222 E. Purdue Lane, the Houston chapter of the Native Prairies of Texas Association, Katy Emde and John Schneider will set up moth stations and be on hand to identify insects which are attracted to the light. The event is part of the celebration of National Moth Week.
---
TV: Texas Parks & Wildlife
Broadcast on KUHT Channel 8 at 3 p.m. each Saturday and on municipal access cable channels in Baytown, Deer Park, Houston, Texas City, Galveston, Nassau Bay, Pasadena, Seabrook, Sugar Land, and on HCC TV. More info on the TPWD website (* indicates a segment about the Houston area). For a preview, visit TPWD's YouTube Page.
A program to recycle oyster shells helps to restore Texas reefs
Desert Bighorn Sheep are rebounding in west Texas
A North Texas researcher investigates the health of bees, our most productive native pollinators
---
Additional Upcoming Events