Love is in the air? Or does love stink?
Earth Day Houston April 14, 2019–exhibitor registration now available
Environmental Education Specialist job, Divide in Concord, Transforming the Climate Crisis, and much more
Ah, Valentine's Day! For some of us, the confectionery-and-flowers oriented holiday can be summed by by the Andy Williams golden oldie "Love Is a Many Splendored Thing." For others, a better musical fit might be the J. Geils Band's "Love Stinks." (Photo at right is a fragrant stinkhorn mushroom at Jesse H. Jones Park.)
Whichever mood you're in, we here at CEC hope you'll find a way to fit your love of the environment into the mix. Our friends at EarthShare (they're looking for a new CEO, by the way — see our Green Jobs listing!) have helpfully offered a list of ways you can show your love for Mother Nature. The includes giving eco-friendly chocolate from the Rainforest Alliance; buying locally sourced flowers to give to your sweetie; and meeting a potential new sweetie at a Sierra Club meeting or by riding public transportation.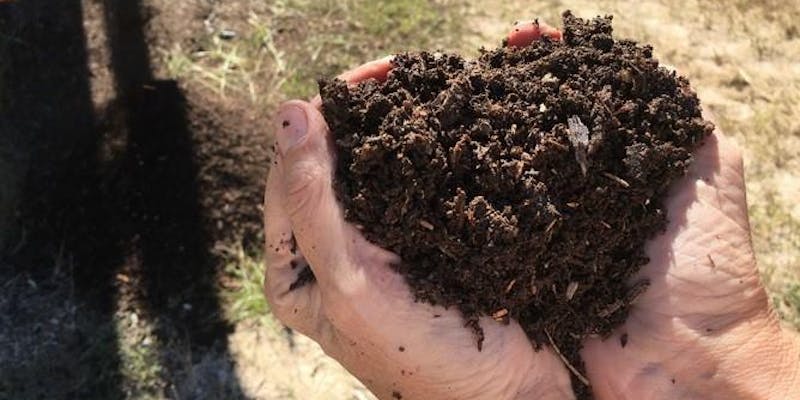 The Memorial Park Conservancy is offering a chance to turn Valentine's Day into "Voluntine's day" by allowing volunteers to help reduce invasive species, plant trees and shrubs, distribute of compost and mulch, and more, followed by free beverages (including non-alcoholic ones) from Saint Arnold's Brewery. The kid-friendly event kicks off at 5:30 p.m. and goes to 7:30 p.m. For more information and to register, visit eventbrite.com.
You might also be interested in the Frisky Fauna adult event at Nature Discovery Center on Friday, Feb. 15. Join naturalist Eric Duran for a fun and slightly off-color presentation about love and courtship in the animal kingdom. Only a few spots left!
Finally, February 14, 2019, is the last day to register for early-bird pricing as an exhibitor at the premier Earth Day celebration at Discovery Green, to be held on Sunday, April 14, 2018. More information below.
---
Scroll down to read notes from our member organizations and the community, or view the emailed version of the newsletter, which includes a green job listing
---
CEC NOTES
Earth Day returns to Discovery Green in 2019! Early Registration Deadline February 14
Presented by Green Mountain Energy in partnership with the Citizens' Environmental Coalition, Discovery Green's citywide Earth Day celebration is designed to educate, inspire and encourage action. The event features displays, exhibits and booths on topics ranging from alternative energy to recycling methods, a foodie farmers market, unplugged – a live music acoustic mini-festival, EarthTalks and more, all in a zero-waste footprint. This year's event will be held on April 14 from 12 to 5 p.m.

Featuring exhibits, bands, food, speakers, and more, the 2019 celebration promises to inspire, educate, and motivate. And it supports Discovery Green's mission of providing free events that promote a healthy environment and sustainable operations.
Haw can you be involved?
Exhibit! Register by March 14 to be an exhibitor at earthdayhouston.org/exhibit/. Opportunities are available for nonprofits and government agencies; small, local businesses; and corporations with a commitment to the environment. Early registration discounts through February 14, 2019.
Sponsor! Our sponsors range value the opportunity to demonstrate their commitment to sustainability and our community.Benefits include unique access to the green family market, exposure of you organization to over 10,000 festival attendees, and community stewardship and volunteer opportunities.The sponsorship deadline to be included in all promotion materials is March 1, 2019.
Volunteer! Opportunities are available for both individuals and groups. Sign up at earthdayhouston.org/volunteer.
Plan to Attend! Save the date on Sunday, April 14, 2019.
CEC seeks Environmental Education Specialist
The Citizens' Environmental Coalition has received support to hire an Environmental Education Specialist for two years to connect formal and informal educators with each other and with learners. The Specialist will manage Here in Houston, the Environmental Educators' Exchange, the Wild About Houston Green Film Festival, and generally connect the environmental education community. The job will include fundraising for these programs and related activities. This is a staff position funded for two years; continuation is dependent upon additional funding. Compensation, including salary, benefits, and a flexible work schedule, will start at $5,000/month, commensurate with experience. Accepting applications until Feb. 15, 2018, or until position is filled. View the full job description (pdf).
Houston Green Film Series: Divide in Concord

Please join CEC, the Houston Green Film Series, the Rice Media Center, and additional partners on Feb. 20, 2019, for Divide in Concord. The film follows Jean Hill, a fiery octogenarian, who is deeply concerned about the Great Pacific Garbage Patch. Since 2010, she has spearheaded a grassroots campaign to ban the sale of single-serve plastic bottled water in her hometown of Concord, Massachusetts. Her fiercest challenge comes from Adriana Cohen, celebrity publicist-turned-pundit, who insists the bill is an attack on freedom. In the same town that incited the American Revolution and inspired Thoreau's environmental movement, can one senior citizen make history? (See the trailer.)
6:30 p.m. conversation, networking, and a light meal, followed by the screening at 7 p.m.. Free to the public, though donations are kindly appreciated. For more information, see the Facebook event. Sign up for information about this event and other green film news at constantcontact.com.
Toward a Better Future: Transforming the Climate Crisis
CEC is pleased be a promotional partner for "Toward a Better Future: Transforming the Climate Crisis," a symposium presented by the Rothko Chapel and the University of St. Thomas from Feb. 28-March 2, 2019. The symposium will explore the current climate crisis, its impact on vulnerable communities, and mitigation efforts being implemented locally and nationally. A central focus will be on individual and institutional actions, practices and policies that must be taken to create a more livable and equitable future. To see the full schedule and to register, please visit rothkochapel.org.
CEC Seeks Summer Interns
CEC anticipates hiring several volunteer and paid summer interns in 2019. Typical internships involve Communications and Marketing, Policy & Government Relations, Publications/Journalism, Digital Media, Development, Event Coordination, Business Development & Bookkeeping, and Environmental Education; we are also open to customized internships to meet professional and academic goals. Internships include mentorship and networking opportunities, field trips, camaraderie, and chocolate.
With much gratitude for the generosity of the City of Houston's Hire Houston Youth program, CEC has the opportunity to offer paid internships, for which youth ages 16-24 may apply through hirehoustonyouth.org by March 23, 2019. To be considered for additional paid and unpaid summer internship opportunities, please submit a cover letter and resume to [email protected].
CEC welcomes the Houston Electric Auto Association as a new member
CEC Houston is pleased to welcome the Houston Electric Auto Association as one of our newest member organizations The HEAA organizes a regular meeting the first Thursday of every month from 6:30 p.m.-8:30 p.m., to allow the public to obtain expert insight on new electrical vehicle developments and innovations. These meetings feature speakers, demonstrations, and, occasionally, practical opportunities to work on electric vehicles. Read more about the organization at cechouston.org, or visit its website, heaa.org.
---
COALITION & COMMUNITY NOTES
We have endeavored to confirm the events listed below. Please consider confirming directly with the hosts.
Great Back Yard Bird Count
Launched in 1998 by the Cornell Lab of Ornithology and National Audubon Society, the Great Backyard Bird Count was the first online citizen-science project to collect data on wild birds and to display results in near real-time. Now, more than 160,000 people of all ages and walks of life worldwide join the four-day count each February to create an annual snapshot of the distribution and abundance of birds. You can be part of this extraordinary endeavor. 

For at least 15 minutes on one or more days of the count, February 15-18, 2019, simply tally the numbers and kinds of birds you see.

 You can count from any location, anywhere in the world, for as long as you wish. Learn more at gbbc.birdcount.org/about/.
Texas Stream Team Training
The Houston-Galveston Area Council is planning three Texas Stream Team Phase I and II volunteer water quality monitor trainings across the region. The first training will be from 9 a.m. to 4 p.m. on Feb. 15, 2019, at Buffalo Bayou Partnership, 1019 Commerce St. Currently more than 400 Texas Stream Team volunteers, including about 100 in the Houston-Galveston region, collect important water quality data on lakes, rivers, and streams as part of this statewide program. Registration is limited to 10 volunteers. To register and for more information, visit events.r20.constantcontact.com.
Nature Heritage Society Hill Hike
On Feb. 16, 2018, beginning at 8:45 a.m., the Nature Heritage Society will host a Hill Hike for people of all ages and fitness levels at The Hill at Sims Greenway, 11800 Scott Street. Please wear workout attire and comfortable walking/hiking shoes, ankle supportive shoes, mosquito spray and bottled water are recommended. For more information, see the Facebook event.
Pearland Community-Wide Cleanup and Cigarette Litter Awareness events
On Feb. 16, 2019, the City of Pearland and Keep Pearland Beautiful are hosting two events: a Community-Wide Cleanup (see the Facebook event) from 7:30-9 a.m. beginning at Centennial Park; and a Cigarette Litter Awareness event from noon-3 p.m beginning at the Stella Roberts Recycle Center, 5800 Magnolia St. (see the Facebook event ).
Civic Saturday: Transportation, Infrastructure, and Safety
On Feb. 16, 2019, from 9 a.m.-1 p.m., LINK Houston will cost a "Civic Saturday" event focusing on transportation, infrastructure, and safety issues, featuring newly installed Harris County Judge Lina Hidalgo. The event, held at BakerRipley, 6500 Rookin, will include an opening town hall, breakout sessions, and more. Breakfast will be provided. For more information and to register, visit eventbrite.com.
Abandoned Crab Trap Removal
On Feb. 16, 2019, from 9 a.m.-1 p.m., Galveston Bay Foundation, in partnership with the Texas Parks and Wildlife Department, will facilitate a crab trap removal event in Anahuac and Bolivar. Volunteers can bring their own boat to help pull traps out of the water, or they can wait on land for boats to come in and help unload and smash the traps. Lunch will be provided, and opportunities to win prizes will be available. To register and for more information, visit galvbay.org.
Texas Regional Alliance for Campus Sustainability 2019 Summit
From Feb. 17-19, 2019, the Texas Regional Alliance for Campus Sustainability (TRACS), a network of faculty members, students and sustainability professionals supporting higher education in Texas, will hold its 2019 Summit at Huston-Tillotson University in Austin. This year's theme is "Bringing Environmental Justice to Campus." For more information and to register, visit eventbrite.com.
"Beautify the Bucket" registration begins Feb. 18
Artist Boat's annual "Beautify the Bucket" competition allows participants to take an active role in beautifying Galveston beaches and improving stewardship behaviors. Participants paint a blue trash barrel destined for Galveston beaches based on a theme: ocean organisms, marine debris, coastal and marine ecosystems, or Galveston recreational activities. This year's completion date is April 13. For more information, visit artistboat.org.
"Climate Change" discussion with Daniel Cohan, Ph.D.
On Feb. 18, 2019, from 7-8:30 p.m., the Meyerland Democrats will present Rice University atmospheric scientist Daniel Cohan, Ph.D., who will discuss climate change, its impact on the world and Houston, and what we can do about it. The discussion will be held at Fadi's, 4738 Beechnut St. For more information, visit the Facebook event. (NOTE: CEC does not endorse any political party. This event is presented only for informational purposes.)
TxDOT Public Meetings
For the first time, the Texas Department of Transportation is reaching out to stakeholders interested in historic and environmental issues and asking them to comment on the Texas Transportation Plan (TTP) 2050. At the meetings, attendees will be introduced to the TTP 2050, discuss how environmental affairs/historic/archeology fits into that plan, and be invited to comment. On Feb. 19, 2019, from 2-4 p.m., there will be a technically-oriented meeting for stakeholders (including those who feel they should be stakeholders). A meeting geared toward the general public will be held that evening from 5:30-7 p.m. Both meetings will be held in Conference Room 105 of the TxDOT Houston District Office, 7600 Washington Ave. For more information, visit txdot.gov.
RDA Spotlight Award
On Feb. 19, 2019, at 7 p.m., join Rice Design Alliance is presenting the 2019 Spotlight Award for to DUST. The Spotlight Award considers architects from around the world within the first 15 years of their professional practice who have demonstrated design excellence and curiosity through their body of work. DUST Principals, Cade Hayes and Jesús E. Robles, Jr., will deliver the Spotlight Lecture 2019 at The Museum of Fine Arts Brown Auditorium, 1001 Bissonnet. For more information and to register, visit signup.rice.edu/SpotlightDUST.
HREG Mission Moment: City of Houston Climate Action Plan
On Feb. 19, 2019, from 6:30-7:30 p.m., the Houston Renewable Energy Group will present James Cargas, who will discuss the City of Houston's Climate Action Plan. Cargas has worked in the U.S. Congress, the Clinton White House on the President's Council on Sustainable Development, the Department of Energy, the private sector, the North American Energy Standards Board, and most recently as Senior Assistant City Attorney for Energy under Mayors White, Parker, and Turner.
The meeting will be at the United Way of Greater Houston, 50 Waugh Drive.
Houston Wilderness Annual Luncheon
On Feb. 20, 2019, Houston Wilderness, which is dedicated to preserving the region's unique biodiversity, will hold its Annual Luncheon at the River Oaks Country Club, 1600 River Oaks Blvd. The event will feature the presentation of the Annual Wildlife Award to Joe B. Allen, a longtime stalwart of greenspace in Texas. For more information and to purchase tickets, visit houstonwilderness.org.
"New Monuments for New Cities" exhibit on Buffalo Bayou
Houston's Buffalo Bayou has been selected as the inaugural site for New Monuments for New Cities, a collaborative public art project organized by the High Line Network, a coalition of visionary North American industrial reuse projects that are transforming underutilized infrastructure into new urban landscapes and redefining what parks can be. Debuting in Houston on February 20, the public art initiative's theme is meant to stimulate discussion and community discourse on the evolving nature of monuments. For more information, visit buffalobayou.org.
Water Quality Outreach Workgroup Meeting
On Feb. 20, 2019, from 2-4 p.m., the Houston-Galveston Area Council will host the Coastal Communities working group dedicated to helping small governments and communities in coastal counties engage their residents in conversations about reducing water pollution in local waterways. The meeting will be held at Alvin Community College, 3111 Mustang. For more information, visit coastalcommunitiestx.com.
Solid Waste Workshop Series: Environmental Enforcement
The Houston-Galveston Area Council's Solid Waste Program is re-imagining its past roundtable-style meetings into a new Solid Waste Workshop Series. The first workshop, on the topic of environmental enforcement, will be held Feb. 21, 2019, from 8:30 a.m.-12:30 p.m. at H-GAC Conference Room B/C, Second Floor, 3555 Timmons Lane. For more information, visit h-gac.com.
Coastal Basin Bacteria Reduction public meeting (Bay City)
On Feb. 21, 2019, from 5-7 p.m., H-GAC and the Texas Commission on Environmental Quality are holding a public meeting to discuss the Caney Creek and Linville Bayou portions of the Brazos-Colorado Coastal Basin Bacteria Reduction Project. The meeting will be held at the Bay City Civic Center, 201 Seventh Street, Bay City. Fort more information, visit h-gac.com. 
"Implementation of the Master Plan for Houston Arboretum"
On Feb. 21, 2019, beginning at 6:45 p.m., the Houston chapter of the Native Plants Association of Texas will hold its monthly meeting featuring a presentation by Emily Manderson, conservation director for Houston Arboretum & Nature Center, on the implementation of its master plan. The meeting will be held at the Center, 120 West Loop North. For more information, visit npsot.org.
Going Green Lecture Series: Pollinators
On Feb. 21, 2019, beginning at 7 p.m., The Woodlands G.R.E.E.N. will host a lecture by  Kendall Clark, environmental education specialist with The Woodlands Township tiled "Pollinators: From Bees And Bats To Butterflies." Clark will discuss the importance of pollination and pollinators and The Woodlands Township's new program to become a Monarch Champion City as recognized by the National Wildlife Federation. The event will be held at the Houston Advanced Research Center (HARC), 8801 Gosling Road. For more information, visit thewoodlandsgreen.org.
Houston Audubon Birdathon 2019 registration opens Feb. 22
Houston Audubon's Birdathon 2019, which combines a fundraiser with a great opportunity to enjoy the spring migration, will be held March 22 through May 13, with a free Kickoff Workshop on March 10.  Teams of two or more (typically 4-5) compete to count as many bird species as possible in a consecutive 24-hour period. Registration begins February 22. For more information and to register, visit houstonaudubon.org.
Conservation, Ecology, and Environmental Career Fair 2019
On Feb. 23, 2019, from 9 a.m.-2 p.m., the Center for Sciences and Health Professions at the University of Saint Thomas will cost a Conservation, Ecology, and Environmental Career Fair. The event is designed to give area college students an opportunity to learn more about careers related to the environment. It will include panel discussions from environmental experts, and also feature local organizations with current volunteer, internship, and job opportunities. For more information, visit constantcontact.com.
Katy Prairie Conservancy Ann Hamilton Trail Walking Tour
On Feb. 23, 2019, from 10-11 a.m., the Katy Prairie Conservancy will host a free walking tour of the Indiangrass Preserve along the Ann Hamilton Trail. All ages are welcome. Attendees will learn about the history and value of the coastal prairie and KPC's role in preserving these vanishing lands. For more information, visit katyprairie.org.
TV: Texas Parks & Wildlife
Broadcast on KUHT Channel 8 at 3 p.m. each Saturday and on municipal access cable channels in Baytown, Deer Park, Houston, Texas City, Galveston, Nassau Bay, Pasadena, Seabrook, Sugar Land, and on HCC TV. More info on the TPWD website (* indicates a segment about the Houston area). For a preview, visit TPWD's YouTube Page.
Picking up the pieces after a hurricane
Fighting back against the invasive Giant Reed
Kids at Texas A&M's SeaCamp solve scientific mysteries
Additional Upcoming Events