The Condor and The Eagle: Climate Justice Film. Bird Week Movie Night, Hummingbird Xtravaganza, Workplace Giving, Bioblitzes, Circular Economy, I-45 Video Game, be CEC's Neighbor, Green Jobs, and more
Join CEC for the Houston virtual premiere of the award-winning film, The Condor and The Eagle, on September 30, 2020.
Not only is Houston one of the leading industrial cities in the country, it is also one of the pollution capitals in North America. With this status comes environmental racism – leaving low-income and minority residents with unsafe living conditions. The Manchester neighborhood is one example of this; this region is bombarded with pollution and poverty. The residents in this area are exposed to high levels of environmental pollution, leaving them with a 22% higher cancer risk than others in Houston.
This film explores the ongoing collective climate awakening and the need for urgent change. Follow along with four Indigenous leaders who embark on a trans-continental journey from the Canadian plains, to the Manchester neighborhood of Houston, to deep in the heart of the Amazonian jungle. Their path takes them on an unexpectedly challenging and liberating journey; one where they will discover the power of their shared voices. 
Local Environmental Justice leaders at the forefront of this fight will join us after the premiere of The Condor and The Eagle for a Q&A session.
Get ready to come together to build effective social movements and support the fight to defend the heart of our planet. For tickets and more information, visit the ticket page. 
In a follow-up event on October 6, 2020, join CEC for a virtual event, allowing students to meet with professionals who make saving the planet their life work. Attendees will be given the opportunity to ask questions, learn how to pursue a green career, and inquire about internships/job shadowing opportunities. Learn more and volunteer as a mentor at eventbrite.com.
Please scroll down to read notes from our member organizations and the community.
---
CEC NOTES
Support the environment through workplace giving
If you work for employers such as the City of Houston, the State of Texas, or HISD, among many other public and private workplaces, remember that the fall is campaign season for most employee workplace giving programs. Employees are offered the chance to select from many charitable organizations to support through payroll contributions. You can give to CEC via EarthShare of Texas, as one of 60 local, regional and national environmental organizations supported by EarthShare of Texas. You can designate individual organizations or let EarthShare of Texas divide it equally among their participating organizations. A complete list of participating workplaces is available at www.earthshare-texas.org. For more information about EarthShare of Texas, including information about how your organization can offer workplace giving, please visit www.earthshare-texas.org or call 800-GREENTX. Look for the the CEC's code number under the EarthShare of Texas heading in workplace giving campaign literature at all state agencies (035569), at HISD (0111) and at the City of Houston (1413). Please consider CEC in your workplace giving program!
---
Houston's Virtual Green Job Program
At this unique program on October 6 from 3-5 p.m, students will have a chance to meet in small groups with professionals who make saving the planet their life work. Ask questions, learn how to pursue a green career, and inquire about internships/job shadowing opportunities. CEC is also seeking professionals to participate. For more information and to register, visit eventbrite.com.
---
Tickets on Sale: Wild About Houston Green Film Festival
The CEC is proud to host the third annual Wild About Houston Green Film Festival on Wednesday, October 21, 2020. The festival will tell the story of local environmental issues, their champions and how you can make a difference. The festival will be held virtually to protect the health and safety of our community in these times. Stay tuned for additional promotions. Purchase tickets online at eventbrite.com.
---
Trivia Night: Water World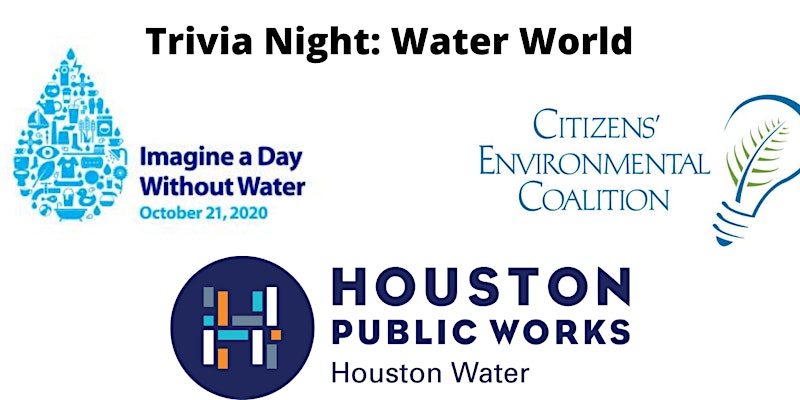 Join CEC and Houston Public Works for a night of fun as we test your knowledge of water use around the world. We're also raising money for the Houston Water Aid to Elderly Residents (WATER) Fund, which provides assistance to senior citizens in need. Learn more and sign up on eventbrite.
Be CEC's Neighbor at MECA
CEC's office is at MECA (Multicultural Education and Counseling for the Arts) in the historic Dow School in the Old Sixth Ward off of Memorial Drive just outside of downtown. Studios (aka classrooms) are available, including one right next to CEC! (We might even share our conference room.) Learn more at meca-houston.org or email [email protected] to get the scoop.
---
COALITION & COMMUNITY NOTES
We have endeavored to confirm the opportunities listed below. Please consider confirming directly with the hosts, particularly in light of concerns about the novel coronavirus (COVID-19).
Continue reading