Love is in the air? Or does love stink?
Earth Day Houston April 14, 2019–exhibitor registration now available
Environmental Education Specialist job, Divide in Concord, Transforming the Climate Crisis, and much more
Ah, Valentine's Day! For some of us, the confectionery-and-flowers oriented holiday can be summed by by the Andy Williams golden oldie "Love Is a Many Splendored Thing." For others, a better musical fit might be the J. Geils Band's "Love Stinks." (Photo at right is a fragrant stinkhorn mushroom at Jesse H. Jones Park.)
Whichever mood you're in, we here at CEC hope you'll find a way to fit your love of the environment into the mix. Our friends at EarthShare (they're looking for a new CEO, by the way — see our Green Jobs listing!) have helpfully offered a list of ways you can show your love for Mother Nature. The includes giving eco-friendly chocolate from the Rainforest Alliance; buying locally sourced flowers to give to your sweetie; and meeting a potential new sweetie at a Sierra Club meeting or by riding public transportation.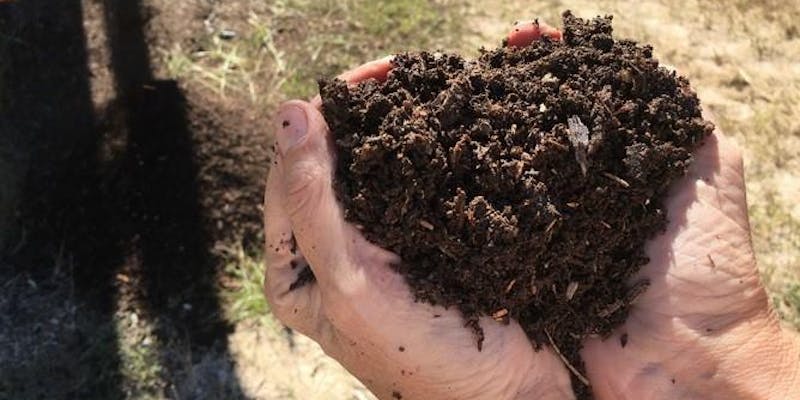 The Memorial Park Conservancy is offering a chance to turn Valentine's Day into "Voluntine's day" by allowing volunteers to help reduce invasive species, plant trees and shrubs, distribute of compost and mulch, and more, followed by free beverages (including non-alcoholic ones) from Saint Arnold's Brewery. The kid-friendly event kicks off at 5:30 p.m. and goes to 7:30 p.m. For more information and to register, visit eventbrite.com.
You might also be interested in the Frisky Fauna adult event at Nature Discovery Center on Friday, Feb. 15. Join naturalist Eric Duran for a fun and slightly off-color presentation about love and courtship in the animal kingdom. Only a few spots left!
Finally, February 14, 2019, is the last day to register for early-bird pricing as an exhibitor at the premier Earth Day celebration at Discovery Green, to be held on Sunday, April 14, 2018. More information below.
---
Scroll down to read notes from our member organizations and the community, or view the emailed version of the newsletter, which includes a green job listing
---
CEC NOTES
Earth Day returns to Discovery Green in 2019! Early Registration Deadline February 14
Presented by Green Mountain Energy in partnership with the Citizens' Environmental Coalition, Discovery Green's citywide Earth Day celebration is designed to educate, inspire and encourage action. The event features displays, exhibits and booths on topics ranging from alternative energy to recycling methods, a foodie farmers market, unplugged – a live music acoustic mini-festival, EarthTalks and more, all in a zero-waste footprint. This year's event will be held on April 14 from 12 to 5 p.m.

Featuring exhibits, bands, food, speakers, and more, the 2019 celebration promises to inspire, educate, and motivate. And it supports Discovery Green's mission of providing free events that promote a healthy environment and sustainable operations.
Haw can you be involved?
Exhibit! Register by March 14 to be an exhibitor at earthdayhouston.org/exhibit/. Opportunities are available for nonprofits and government agencies; small, local businesses; and corporations with a commitment to the environment. Early registration discounts through February 14, 2019.
Sponsor! Our sponsors range value the opportunity to demonstrate their commitment to sustainability and our community.Benefits include unique access to the green family market, exposure of you organization to over 10,000 festival attendees, and community stewardship and volunteer opportunities.The sponsorship deadline to be included in all promotion materials is March 1, 2019.
Volunteer! Opportunities are available for both individuals and groups. Sign up at earthdayhouston.org/volunteer.
Plan to Attend! Save the date on Sunday, April 14, 2019.
CEC seeks Environmental Education Specialist
The Citizens' Environmental Coalition has received support to hire an Environmental Education Specialist for two years to connect formal and informal educators with each other and with learners. The Specialist will manage Here in Houston, the Environmental Educators' Exchange, the Wild About Houston Green Film Festival, and generally connect the environmental education community. The job will include fundraising for these programs and related activities. This is a staff position funded for two years; continuation is dependent upon additional funding. Compensation, including salary, benefits, and a flexible work schedule, will start at $5,000/month, commensurate with experience. Accepting applications until Feb. 15, 2018, or until position is filled. View the full job description (pdf).
Houston Green Film Series: Divide in Concord

Please join CEC, the Houston Green Film Series, the Rice Media Center, and additional partners on Feb. 20, 2019, for Divide in Concord. The film follows Jean Hill, a fiery octogenarian, who is deeply concerned about the Great Pacific Garbage Patch. Since 2010, she has spearheaded a grassroots campaign to ban the sale of single-serve plastic bottled water in her hometown of Concord, Massachusetts. Her fiercest challenge comes from Adriana Cohen, celebrity publicist-turned-pundit, who insists the bill is an attack on freedom. In the same town that incited the American Revolution and inspired Thoreau's environmental movement, can one senior citizen make history? (See the trailer.)
6:30 p.m. conversation, networking, and a light meal, followed by the screening at 7 p.m.. Free to the public, though donations are kindly appreciated. For more information, see the Facebook event. Sign up for information about this event and other green film news at constantcontact.com.
Toward a Better Future: Transforming the Climate Crisis
CEC is pleased be a promotional partner for "Toward a Better Future: Transforming the Climate Crisis," a symposium presented by the Rothko Chapel and the University of St. Thomas from Feb. 28-March 2, 2019. The symposium will explore the current climate crisis, its impact on vulnerable communities, and mitigation efforts being implemented locally and nationally. A central focus will be on individual and institutional actions, practices and policies that must be taken to create a more livable and equitable future. To see the full schedule and to register, please visit rothkochapel.org.
CEC Seeks Summer Interns
CEC anticipates hiring several volunteer and paid summer interns in 2019. Typical internships involve Communications and Marketing, Policy & Government Relations, Publications/Journalism, Digital Media, Development, Event Coordination, Business Development & Bookkeeping, and Environmental Education; we are also open to customized internships to meet professional and academic goals. Internships include mentorship and networking opportunities, field trips, camaraderie, and chocolate.
With much gratitude for the generosity of the City of Houston's Hire Houston Youth program, CEC has the opportunity to offer paid internships, for which youth ages 16-24 may apply through hirehoustonyouth.org by March 23, 2019. To be considered for additional paid and unpaid summer internship opportunities, please submit a cover letter and resume to [email protected].
CEC welcomes the Houston Electric Auto Association as a new member
CEC Houston is pleased to welcome the Houston Electric Auto Association as one of our newest member organizations The HEAA organizes a regular meeting the first Thursday of every month from 6:30 p.m.-8:30 p.m., to allow the public to obtain expert insight on new electrical vehicle developments and innovations. These meetings feature speakers, demonstrations, and, occasionally, practical opportunities to work on electric vehicles. Read more about the organization at cechouston.org, or visit its website, heaa.org.
Continue reading